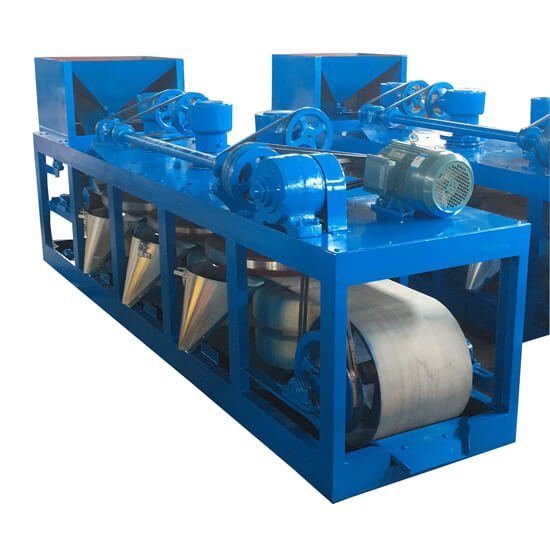 Three-Disc Magnetic Separator
Type: Dry Magnetic Separator
Capacity: 100-800Kg/h
Material Size: ≤2mm
Magnetic Disc Separators for Mining, Aggregates, and Minerals Industries
The disc separators are widely used to achieve the accurate separation of materials that have varied magnetic susceptibilities.
Our disc separator has been updated to accommodate modern manufacturing demands and incorporate new innovations in technology.
Working Principle of 3-Disc Magnetic Separator
JXSC's magnetic disc separator features up to three high-intensity electromagnetic discs, with each disc set at a different height from a feed conveyor.
The first disc is positioned the furthest from the feed material, so as to extract only the particles that are most magnetically susceptible. The second and third discs are set at lower gaps, and by increasing the magnetic force at each disc, different grades of magnetic material are able to be effectively separated.
To further adjust the magnetic intensity, the current of the coil can be adjusted to suit specific mineral separation requirements. This feature means that each disc separator can be set up and designed for individual mineral ore.
When operating mineral separation work, the processing begins with a hopper dispensing feed material onto a vibratory feeder tray, which then distributes material onto thin and even layers onto a moving conveyor. While the material is being conveyed beneath the rotating electromagnetic discs, the high gradient magnetic zones on the discs attract magnetic particles. Next, the rotating discs carry these captured particles to discharge chutes, entering a non-magnetic area where the material is then released. To ensure the total discharge of magnetic particles, scrapers are mounted on the chutes. Any non-magnetic material then moves to the second magnetic separation zone, undergoing secondary separation before finally being discharged as a clean non-magnetic product. If necessary, the third stage of separation may be added.
Typical Applications:
Tantalite and Columbite separation
Tin processing
Beach sands (separating ilmenite, garnet, monazite, and zircon sand)
Wolframite recovery
Abrasive minerals separation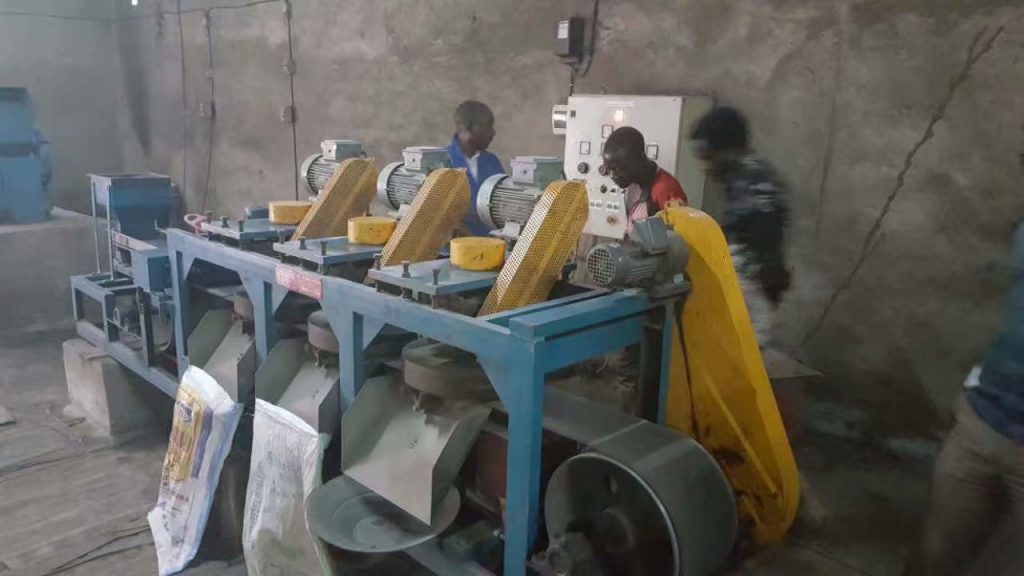 Features: 
Robustness, high efficiency, optimum performance and durability. easy maintenance

Single or multi separation zone can be provided for maximum separation performance . 

This unique compact construction suitable for use in high-volume applications,Allows for maximum recovery of ferrous metals particle 

High performance magnet design for providing effective and efficient method of metal recovery
Deep field magnet systems penetrate through product burden and remove maximum amount of ferrous metal
Wide range of models and sizes to cater for different application and capacities.
Professional Mineral Beneficiation Equipment, Solutions & Services
Talk with JXSC's mining experts to get more help, free to conslution!
Parameter
Model
Unite

 

 

3PC-500

 

 

3PC-600
Magnetic
intensity
Hauteur
Distance to beltsurface 2mm
Disk teeth 1700
Distance to beltSurface 2mm
Disk teeth 1800
Number of
magnetic disk
Piece
3
3
Diameter of
magnetic disk
mm
500
600
Revolution of magnetic disk
r/min
25-40
22-38
Power supply
V
380
380
Exciting coil
Unit
4
4
Matching motor
kw
0.75 
1.5
Exciting power
kw
1.5
1.6
Coil temperature
rise
°C
65
65
Rated current
of coil
A
1.1-1.8 
1.2-1.9
Duty rating
 
Continuous
Continuous
Feed width
mm
210
300
Feed size
mm
≤2
≤2
capacity
kg/h
100-500
120-800
Overall Size
mm
2800×800×1220
3200×870×1160
Weight
kg
1900
2200
Please fill out the contact form below to get the quotation price and engineer help.
We will response your request within 24 hours.
Notice:
We do not provide jobs, nor do we interested in investment or partnerships.
We provide equipment and mineral processing solution, we don't buy and sell mineral ores.

We value your privacy and keep your information safe.