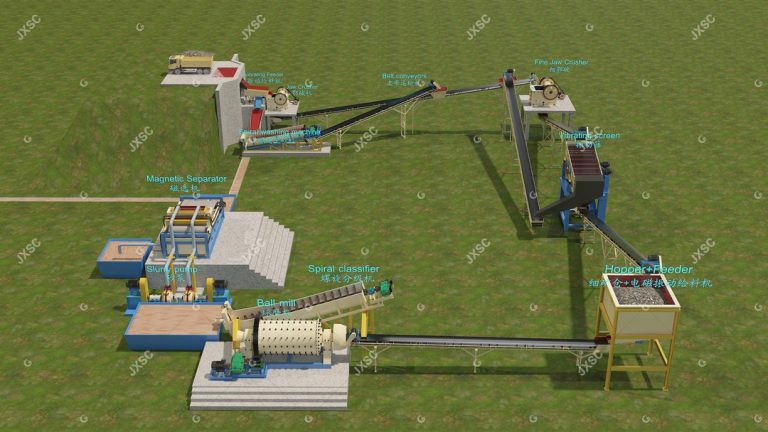 Iron Ore Washing Processing Plant
A full setup processing flow for iron ore washing and beneficiation.
Equipment Lists For Iron Ore Processing and beneficiation processing
Full Setup Flowsheet for Iron Ore Washing Processing
this setup is for the iron ore process, the size range of the iron ore is 0-230mm, main machines as below
Hopper+vibration feeder(with grizzly bar)>jaw crusher>spiral washing machine>belt conveyor>fine jaw crusher>belt conveyor>vibration screen>belt conveyor>hopper+feeder>belt conveyor>ball mill>spiral classifier>magnetic separator
the Hopper+vibration feeder(with grizzly bar) for feeding materials to the jaw crusher automatically, and sieve the size 0-50mm to the spiral washing machine. you only need to load the materials to the hopper by truck or excavator or else as you want.
the jaw crusher is for crushing the iron ore 50-230mm, then to the fine jaw crusher
the spiral washing machine is for washing the size 0-50mm then to the fina jaw crusher
the fine jaw crusher is for crushing the iron ore to 0-20mm then to the ball mill
the vibration screen is separating the size 0-20mm to the ball mill, +20mm back to the fine jaw crusher
the hopper+feeder is for feeding the materials to the ball mill more smoothly
the ball mill and spiral classifier is for grinding the iron ore and making sure the size of the final product to 0-0.074mm
the magnetic separator is for separating the iron concentrate
The capacity for these plants can be customized as per request such as 10tph, 50tph,100tph, etc
notes: if the materials are not much sticky, will not need the spiral washing machine, and the quantiy of the machines just for your reference, will depend on your capacity.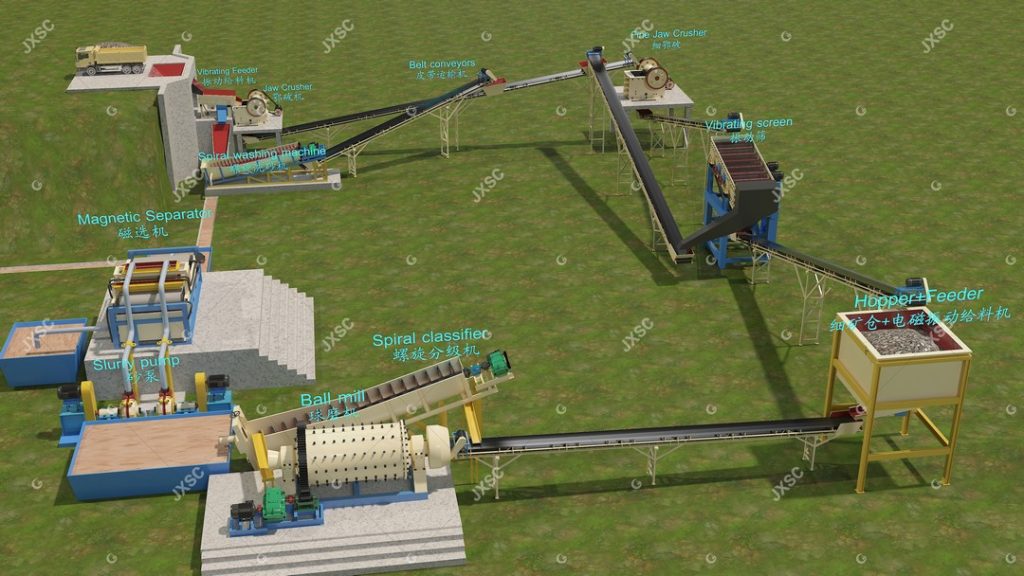 Please fill out the contact form below to get the quotation price and engineer help.
We will response your request within 24 hours.
Notice:
We do not provide jobs, nor do we interested in investment or partnerships.
We provide equipment and mineral processing solution, we don't buy and sell mineral ores.

We value your privacy and keep your information safe.