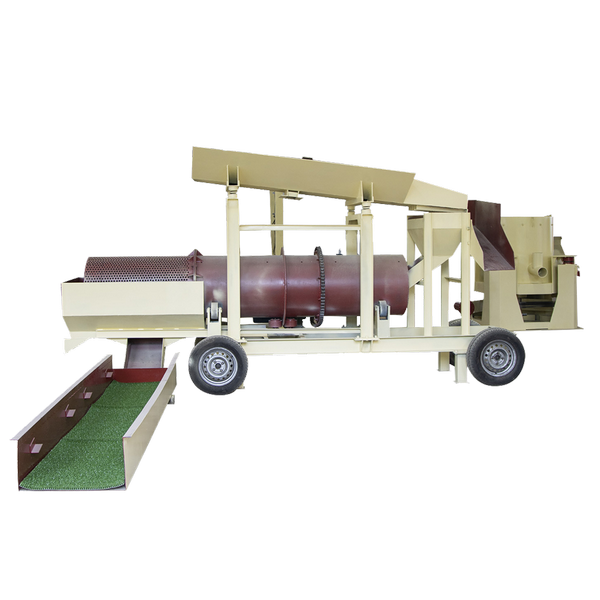 Small portable gold wash plant with trommel is a more flexible and cheaper gold washing solution, it can fully Customizable & moveable. 
JXSC has two kinds of gold mining wash plants, suitable for small and medium-scale gold wash plants:
mobile gold trommel scrubber wash plant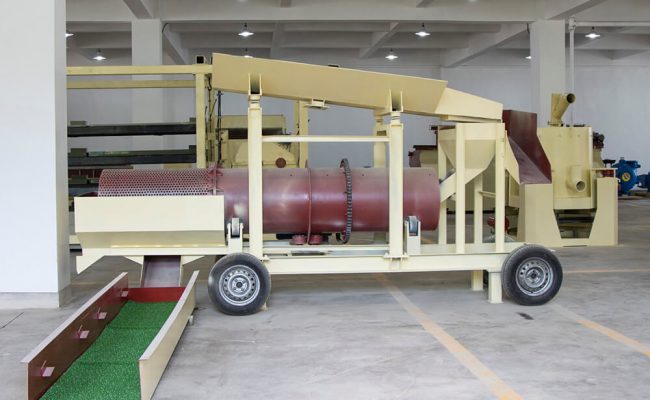 It's suitable to alluvial type mineral with much sticky clay. Trommel scrubber is designed with mobile wheels,feeding hopper and punching hole mesh. It has a very good effect for washing off clay. After washing clay, the punching screen mesh will remove oversized rocks. Under screen materials downstrain to sluice box for recovering gold.
Application:  The drum part to wash the clay, the screen part to sieve the particle size. It's widely used in gold, Diamond,Tin, Chrome, Coal etc washing plant.
Features: ♦Good washing effect for sticky clay material, sieving out different size ores. ♦Various process capacity, it can be from 5 T/H to 250T/H as per request. ♦Low operating cost, easy maintenance, low noise.
portable gold trommel screen wash plant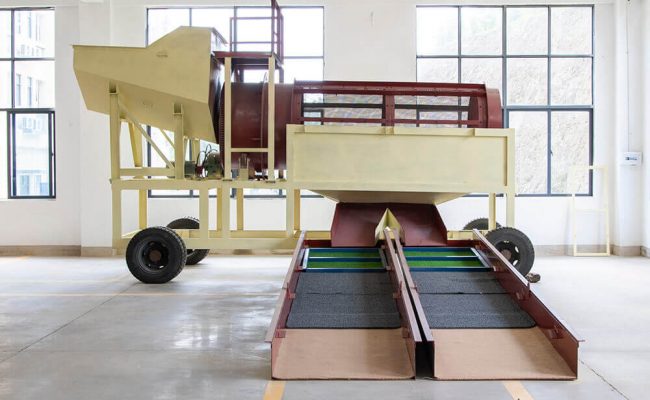 The setup is suitable for alluvial gold ore without sticky clay. Configuration with trommel screen and sluice box, trommel screen removes oversized rocks, sluice box capture fine gold and gold nuggets. The sluice box can be customized like 2m, 4m, 6m length, 1m or 0.5m width. Washing plant capacity can be customized as per request such as 10tph, 50tph, 100tph, etc.
Application: It has been widely used for alluvial gold, placer gold, tantalite, niobite, and tin ore concentration, applicable to small or medium scale of placer ore washing that needs mobile operation.
Features: ♦low investment cost, quick payback. ♦Processing capacity can be made from 1TPH to 300TPH. ♦We will design the gold mining wash plant according to your situation and requires.
The gold trommel wash plant can be made mobile type or stationary type. The mobile gold mining wash plant is composed by hopper, trommel, chassis, tires, turntable, generator, water pump, gearing, control panel and gold recovery sluice. And our small portable gold wash plant is a optimized removable equipment for gold recovery, it is the idea equipment for small or medium scale of gold washing plant.
This is a piece of common suite equipment for small scale gold wash plant with scalability and flexibility. And if you need a custom service for your mining project, please fill the form below and our experts will help you to make the best solution.
Name: Grizzly Hopper Feeder
Size (mm): 2000*2000
Grizzly screen space: 150mm or as required
Grizzly material: Railway tracks
Remark: Water spray pipes along hopper sides
Function: to feed the materials evenly to the scrubber and trommel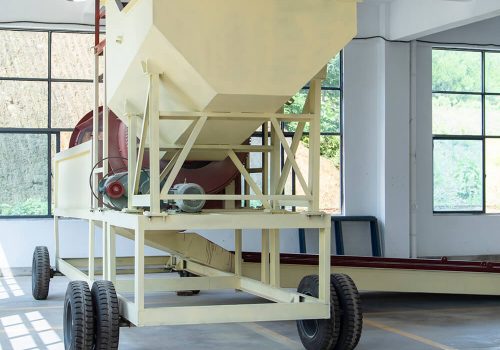 An important process before the placer gold mining operation. Its main purpose is to separate the gravel, sand and granular soil, and wash the fine mud adhering to the gravel and the gold ore mixed in it. In the ore washing operation, the ore sand wrapped in the cement block or the mud body is dissociated by first washing with water and then by mechanical agitation such as gold washing machine and trommel screen.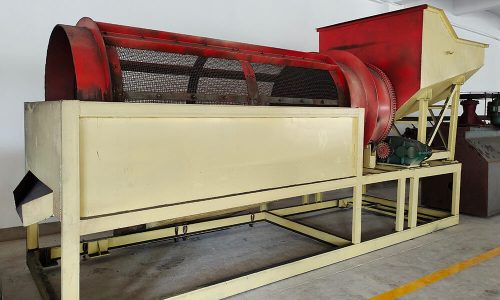 The main purpose of the screening operation is to screen the placer gold ore after washing, and to screen out large pieces of gravel without gold, so as to improve the gold selection efficiency. Generally, 20-40% of the waste rock (gravel, pebbles) can be screened out by the screening operation.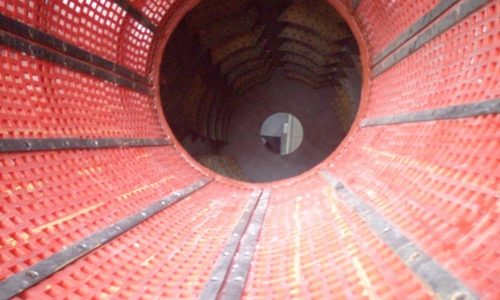 The key operation in placer gold ore mining is often to use gravity separation equipment such as jig concentrator, shaking table and sluice box to discharge most of the waste rock, so as to obtain crude gold concentrate.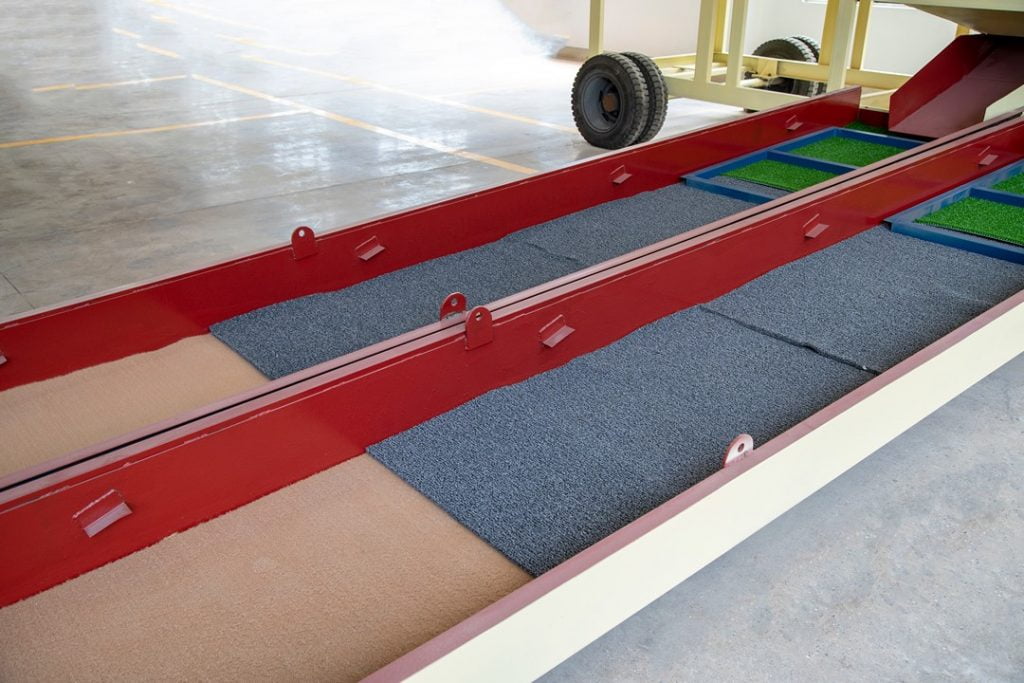 Professional Mineral Beneficiation Equipment, Solutions & Services
Talk with JXSC's mining experts to get more help, free to conslution!
Mobile gold wash plant for sale
We have professional engineers team to design gold washing machine and mining equipment based on customers' gold mine site details.
The mobile gold trommel wash plant is a kind of mining equipment that can be moved on land, it's suitable for small & medium scale gold mining wash plant. It has the characteristics of compact structure, strong integrity, light-weight, large handling capacity, simple operation, reliable operation, easy maintenance, and convenient operation.
This small mobile gold trommel can equip with the sluice box, gold centrifugal concentrator, shaker table and other gold washing machine. Also, vibrating feeders, vibrating screen, pumps, and other mining equipment can followed according to different conditions.
 JXSC mobile gold wash plant:
Mobile gold trommel scrubber/ trommel screen

Belt conveyor

Sluice box

gold centrifugal concentrator

shaking table
| | | | |
| --- | --- | --- | --- |
| Machine | Model | Capacity | Feeding Size |
| Gold washing trommel | JXSC-900 | 40 tons per hour | 150-200mm |
| Gold centrifugal concentrator | STLB60 | 8-12 tons per hour | 3mm |
| Sluice box | 1*6 m | 20 tons per hour | 3-15mm |
| Shaking table | LY2100 | 500 kg per hour | 2mm |
Please fill out the contact form below to get the quotation price and engineer help.
We will response your request within 24 hours.
Notice:
We do not provide jobs, nor do we interested in investment or partnerships.
We provide equipment and mineral processing solution, we don't buy and sell mineral ores.

We value your privacy and keep your information safe.