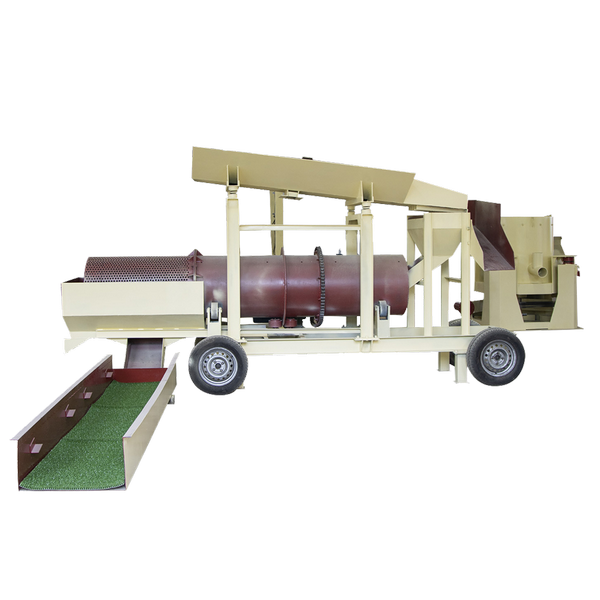 JXSC Small and Portable gold wash plant with trommel is a more flexible and cheaper gold washing solution, it can fully Customizable & moveable. This small machine can equip with the sluice box, gold centrifugal concentrator, shaker table, gold trommel, and other washer like sand washing machine. Also, vibrating feeders, vibrating screen, pumps, and other portable mining equipment can followed according to different conditions.
Mobile Scrubber Gold Washing Plant is composed by hopper, trommel, chassis, tires, turntable, generator, water pump, gearing, control panel and gold recovery sluice. And our mobile trommel screen is a optimized removable platform for gold recovery, it is the idea equipment for small or medium scale of placer gold ore processing that need mobile operation.
The whole drum adopts strong and reinforced roller support and gear side drive, or chain pulley drive. The screen using high manganese steel woven net , It has large processing capacity, high efficiency , long service life , and easy to replace, no clogging. The chassis using heavy duty beam and equipped with six tires has sturdy construction, high load capacity, moreover the front wheel can achieve 180o turn , flexible move, let the mobile platform can easily cope with all kinds of complicated road. In addition, the chassis equipped with other four mechanical support legs, they can reinforce the bearing capacity of the whole chassis, ensure the equipment run more smoothly , reliable and safe during load running . Generator & motor separated drive, or direct diesel engine drive, low failure rate, easy maintenance. The gold recovery sluice covered by professional gold recovery carpet made of polyethylene non-woven, strong catch ability, high efficiency, it is also effective for fine particle gold.
According to your washing & separating processing capacity, our drum can be divided into heavy duty and light duty.
Heavy duty: the drum has a double-layer structure, inner layer with dense steel bar structure, which can prevent large material impact the screen directly, greatly improved the service life and screening efficiency for the outer screen.
Light duty: the drum has a single layer screen, it is used in the material that no large material included, its advantage is light, which can reduce the weight of the whole equipment and energy consumption.
Iight duty gold washing plant
| | | | |
| --- | --- | --- | --- |
| Machine | Model | Capacity | Feeding size |
| Gold Washing Trommel | JXSC-900 | 40 ton per hour | 150-200 mm |
| Gold Centrifugal Concentrator | STLB60 | 8-12 ton per hour | 3 mm |
| Sluice Box | 1*6 m | 20 ton per hour | 3-15 mm |
| Shaking Table | LY2100 | 500 kg per hour | 2 mm |
Heavy duty Mobile gold washing plant
Machine
Model
Capacity
Feeding size
Gold Washing Trommel
JXSC-1800
200 ton per hour
<230 mm
Gold Centrifugal Concentrator
STLB100
50-100 ton per hour
<6mm
Sluice Box
1*6 m
x2
20 ton per hour
3-15 mm
Shaking Table
LY2100
500 kg per hour
2 mm
Professional Mineral Beneficiation Equipment, Solutions & Services
Talk with JXSC's mining experts to get more help, free to conslution!
Technical Parameters & Advantages
This is a piece of common suite equipment for small scale gold mining with scalability and flexibility. And if you need a custom service for your mining project, please fill the form below and our experts will help you to make the best solution.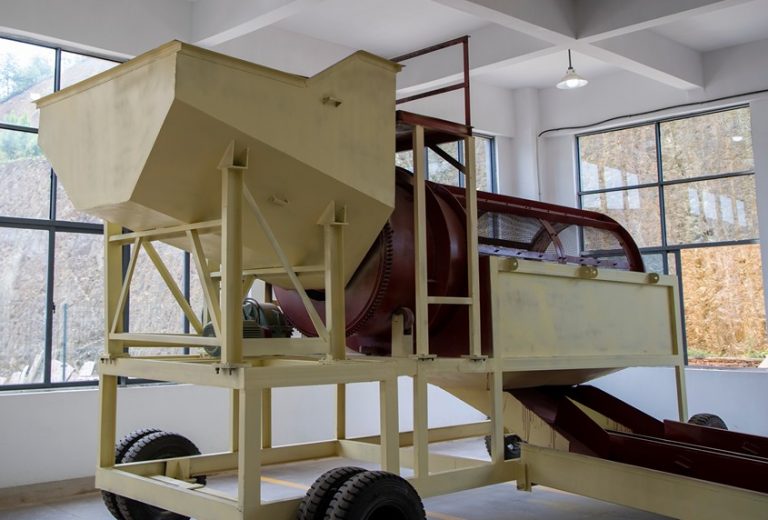 Feeding System Name: Grizzly Hopper Feeder Size (mm): 2000*2000 Grizzly screen space: 150mm or as required Grizzly material: Railway tracks Remark: Water spray pipes along hopper sides Function: to feed the materials evenly to the scrubber and trommel
Clay Processing System Name: Clay Scrubber Size (mm): φ1200*3000 or according to processing capacity Remark: with inside water spray pipes Function: to break off hard clays to increase gold recovery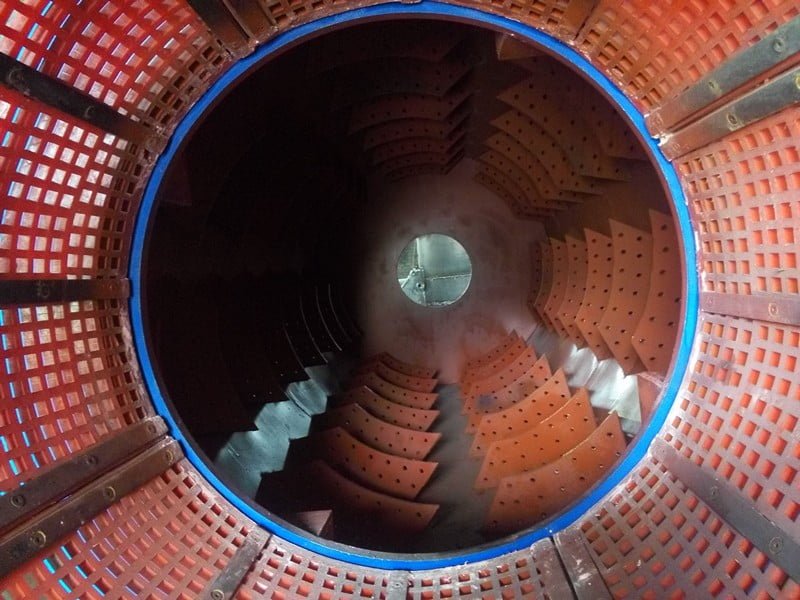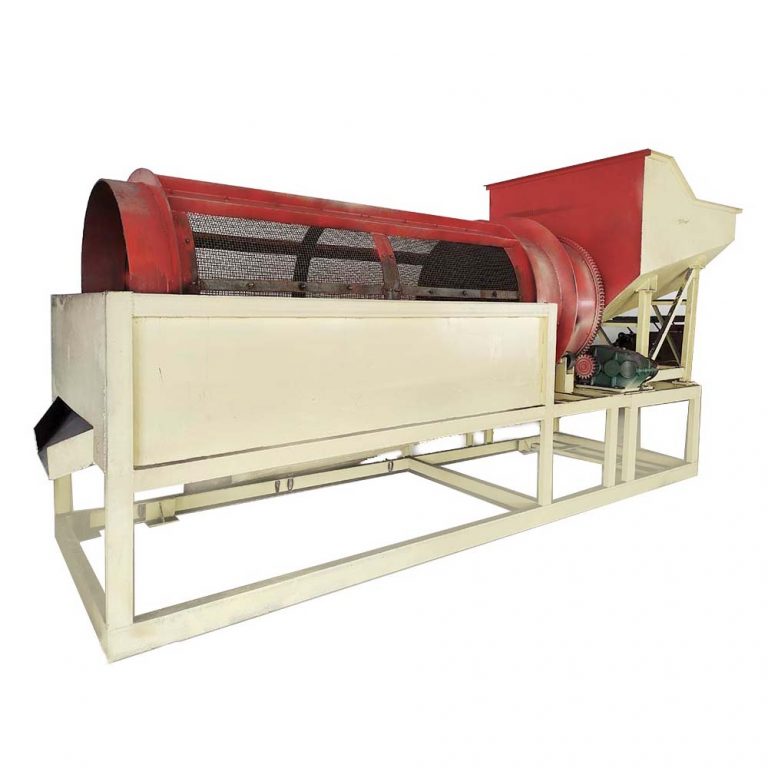 Screening System
Size (mm): φ1500*3500 or according to
processing capacity
Function: for washing, screening and separating
the minerals
Water spray pipes: on both sides of the trommel
Mesh size: 12mm and 6mm or according to clients requirement
Coarse Gold Recovery System
Name: Vibrating Sluice + sluice box
Vibrating sluice type: Hydraulic type
Size: 1m*6m
Sluice box carpet: Mitsubishi brand, imported from Japan
Function: for coarse gold recovery
Recovery rate: 99%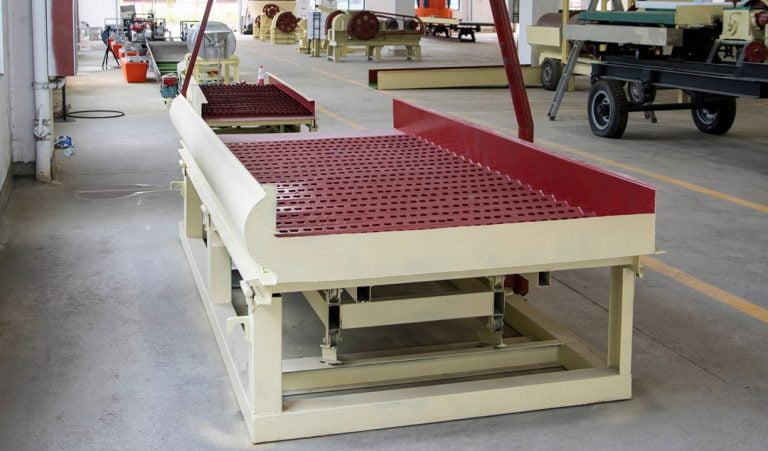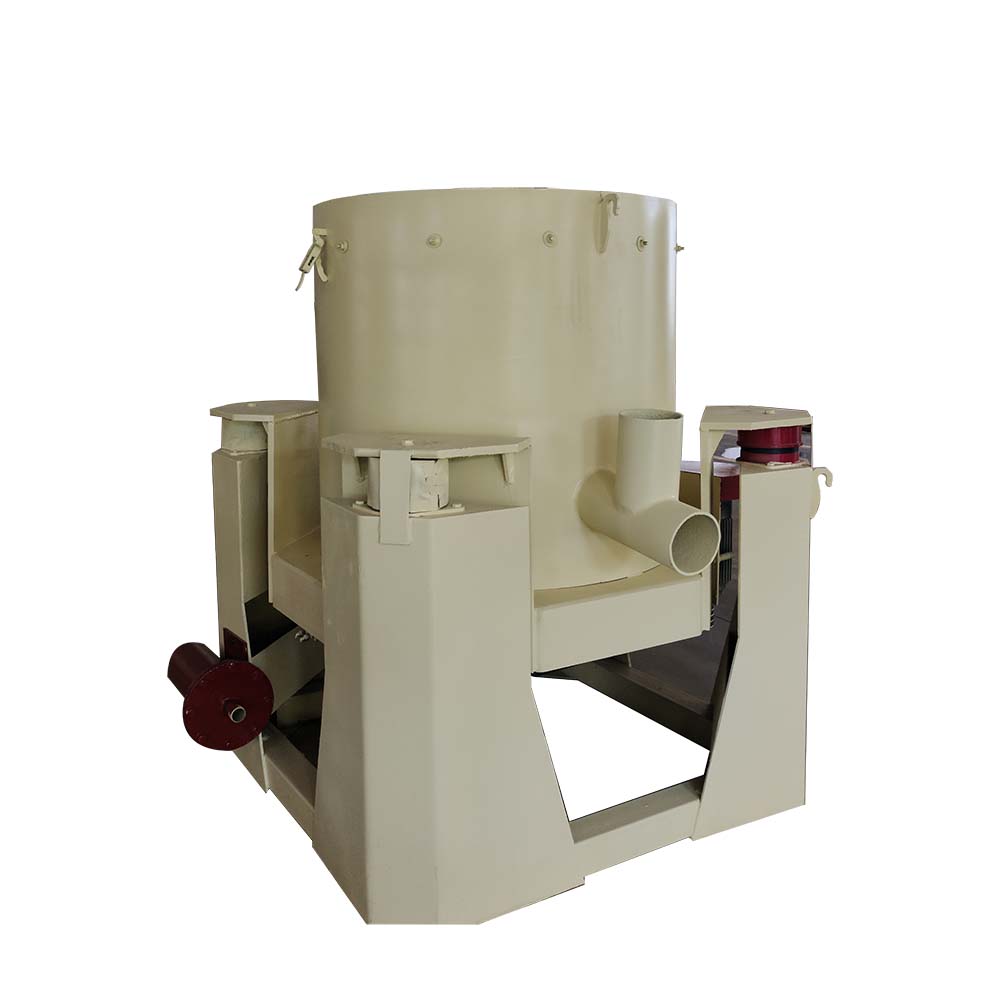 Fine Size Gold Recovery System
Name: Knelson type centrifugal concentrator
Processing capacity: 15tph-60tph dry solids
Quantity: 2-4 pcs
Remark Fully continuous type
Function: for fine size dust gold recovery (-6mm)
Recovery Rate: 99%
Clay Processing System
Name: Clay Scrubber
Size (mm): φ1200*3000 or according to
processing capacity
Remark: with inside water spray pipes
Function: to break off hard clays to increase gold recovery rate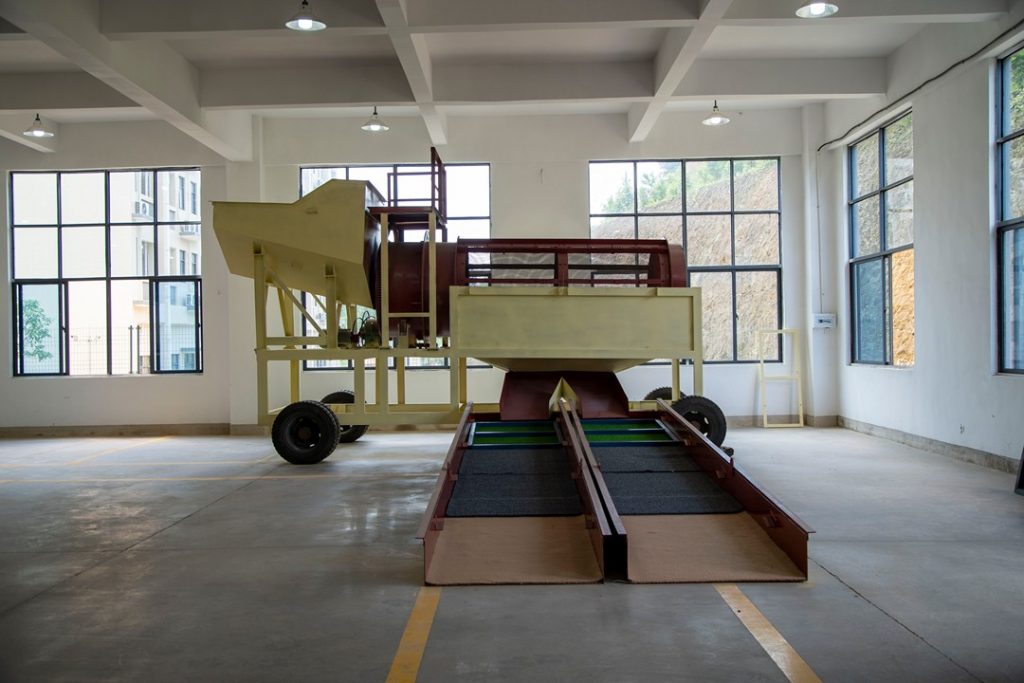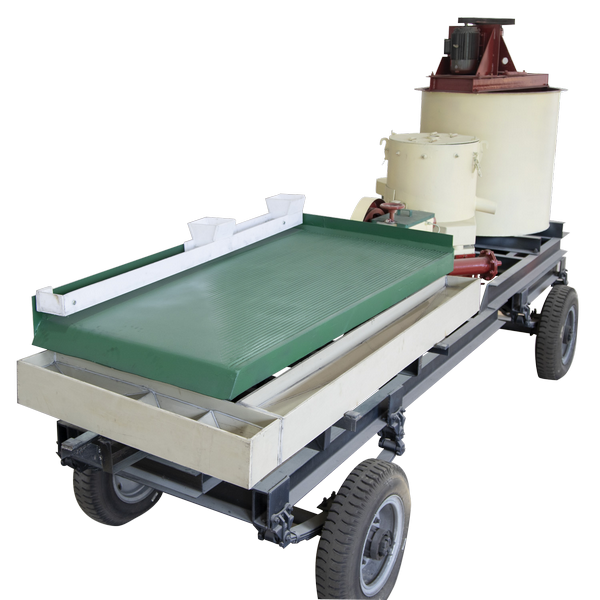 Gold Shaker Table
Model: 6S
Power: 2.2Kw
Function: to further process the concentrates from the sluice and/or concentrators
Please fill out the contact form below to get the quotation price and engineer help.
We will response your request within 24 hours.
Notice:
We do not provide jobs, nor do we interested in investment or partnerships.
We provide equipment and mineral processing solution, we don't buy them.

We value your privacy and keep your information safe.
More ways to get in touch with us.