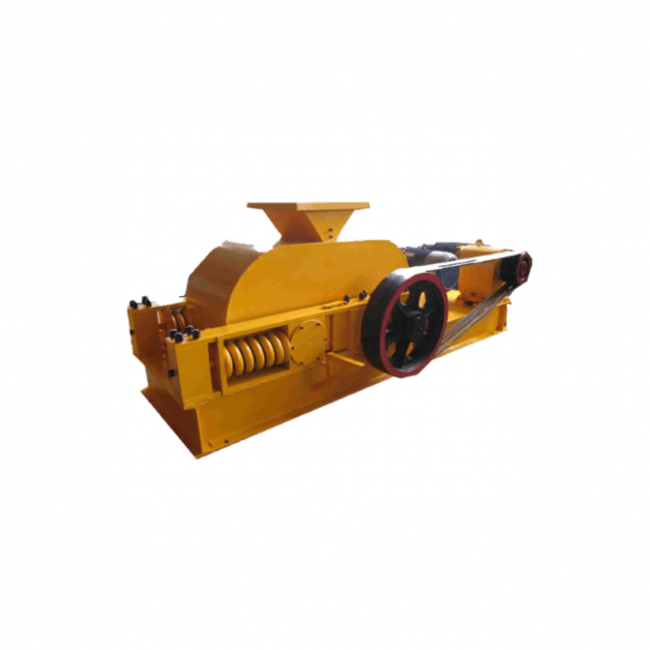 Roller crusher is suitable for coarse and intermediate crushing of brittle and massive materials in industries such as cement, chemical industry, electric power, mining, metallurgy, building materials, refractory materials, coal mines, etc. The granularity is adjustable, which can crush the material with vertical compression strength ≤160MPa.
Especially in the coal industry, using this machine to crush raw coal, it can be directly crushed only after removing iron, impurities and without gangue. The crushed materials have an average particle size and a low over-crushing rate, which simplifies the coal preparation process. Reduced investment and production costs.
When the two-roller crusher works, the two rollers rotate towards each other, and the material entering the crushing roller is affected by the friction between it and the roller. As the rollers continue to rotate, the material is brought into the crushing cavity formed by the two rollers In the process, the material is crushed by being pressed, and then discharged from the lower part of the crushing roller. The width of the discharge opening of the crusher is determined by the minimum gap between the two rollers, and the width of the discharge opening determines the maximum particle size of the crushed product.
The crushed material falls between the two rollers through the feed port and is crushed by extrusion. Finished materials fall naturally, when there are too hard or unbreakable objects, the rollers of the roller crusher can be automatically withdrawn by the action of the hydraulic cylinder or spring, so that the gap between the rollers increases, and the hard or unbreakable objects fall, thus protecting the machine from damage. The two rollers rotating towards each other have a certain gap, and changing the gap can control the maximum discharge size of the product.
Need help from engineers?
Parameter
Structure
Main Parts
Parameter
Model
Input size
Output size
Capacity
Power
(mm)
(mm)
(T/h)
(KW)
2PG0404
120
10-50
6-40
4×2
2PG0605
200
10-70
10-80
11×2
2PG0806
300
10-90
20-150
15×2
2PG1008
400
10-110
30-200
18.5×2
2PG0812
300
10-90
40-280
22×2
2PG1012
400
10-110
50-350
30×2
2PG1212
700
10-140
65-450
37×2
2PG1612
1000
10-180
80-600
75×2
2PG1618
1000
10-200
90-780
90×2
Structure
Main Parts