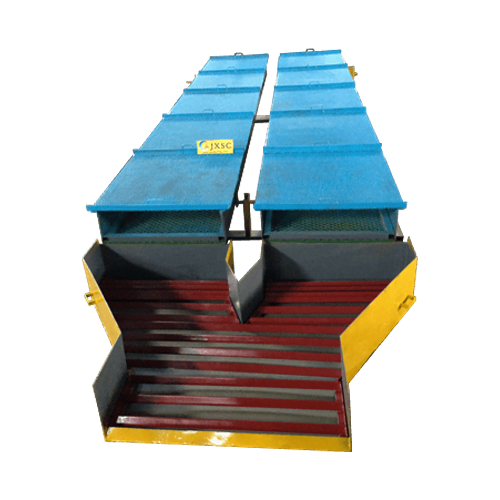 Gold sluice box is one of the most popular gold mining equipment, which consists the steel structure and carpets. Customizable sluice boxes for gold mining, all types of materials and sizes.
Application: Sluice box is normally used in gold washing plants, it's been widely used to recovery gold directly together with trommel screen.
Vibrating sluice box ( pulsating sluice ) is a new type of placer gold mining equipment developed on the ordinary fixed gold sluice box. The vibrating sluice box is a gravity separation machine, mainly used for the placer gold mines. It combines the advantages of fixed chutes and jigs, over the shortcomings of silting-up, harden, has a very good effect on recover fine gold.
Some small or medium scale plants specific in Africa rely on the gold sluice box for the primary concentration of nugget gold as well as very fine particle gold, both can be achieved in the same pass.
This is a gold wash plant that we provided for Ghana customer. as we may know that Ghana is very rich of alluvial gold ores, which contains big gold nugget of high grade, but the soil is very sticky, and not easy to wash and clean. This type of gold wash plant is a very popular design in Ghana, many miners prefer to apply it. And the final fine recovered and concentrated gold ores will be collected by the gold sluice box.
The water washed through the gold trough, bringing clay, sand and other impurities to the counter-current end. Due to the high density of gold, it will stay. Most of the gold will be left on the sticky gold blanket at the lower end of the gold sink, or it will be deposited in the slow water block. The gold trough is widely used in placer gold mining, whether it is a small or large mine.
Technical Parameter
Features
Technical Parameter
Model
JXSC 500×2000
JXSC 500×3000
JXSC 1000×5000
Capacity (m3/h)
1.0-3.0
3.0-5.0
20-35
Length (mm)
2000
3000
5000
Width (mm)
500
500
1000
Water required (m3/h)
2.0-6.0
6.0-10.0
40-70
Installation slope angle
9-12 degree
Concentrate cleaning upcycle (h)
1-2
1-2
2-3
Features
Please fill out the information below for the quotation price and engineer's help. We will reply asap!
Notice:
We do not provide jobs and have no interest in investment or partnerships.
We provide equipment and mineral processing solutions; not buy and sell mineral /ore /materials.

We value your privacy and keep your information safe.