Stone Crushing Production Line
Capacity: 30-1000TPH / Customizable
Feed size: various sizes
Application material: Stone crushing production line for crushing and screening limestone, marble, granite, basalt, cobble, andesite, river stone, dolomite, bluestone, iron ore, and various stone/ ore materials to produce building aggregates with various particle sizes.
Application fields: It's widely used in sand, rock, aggregate factories, mining, machine-made sand and gravel plant, construction and other industries.
Types of Stone Crushing Production Line
The stone crushing production line, or stone crushing plant, is a complete set of equipment that crushes large stones or minerals into sands/ smaller sizes for various purposes. JXSC will carefully equip each stone feeder and crusher based on the hardness and size of the stone, the output needed, and overall production requirements. The feeder, crusher, and vibrating screen can also be integrated into a one-stop, portable stone crushing plant.
We can provide complete crushing line equipment and support customized high-performance fixed and mobile-type stone crushing lines of various capacities.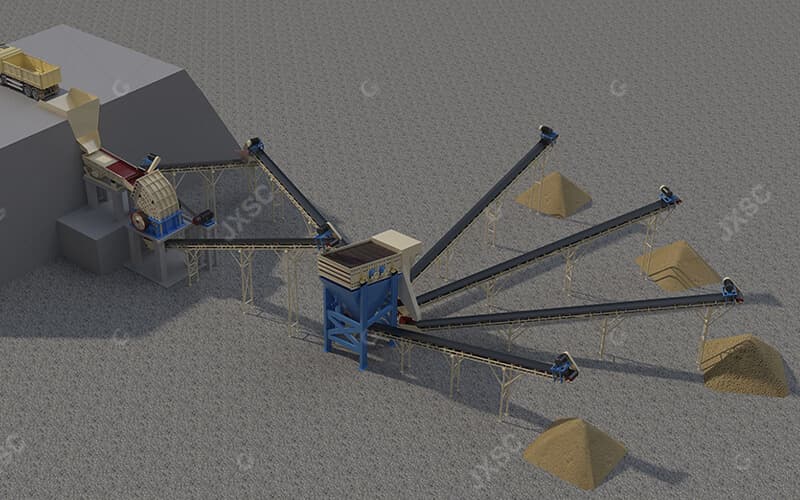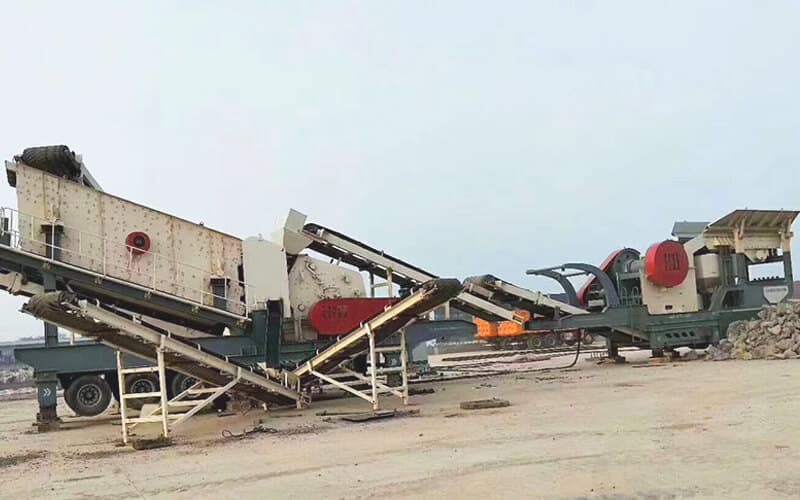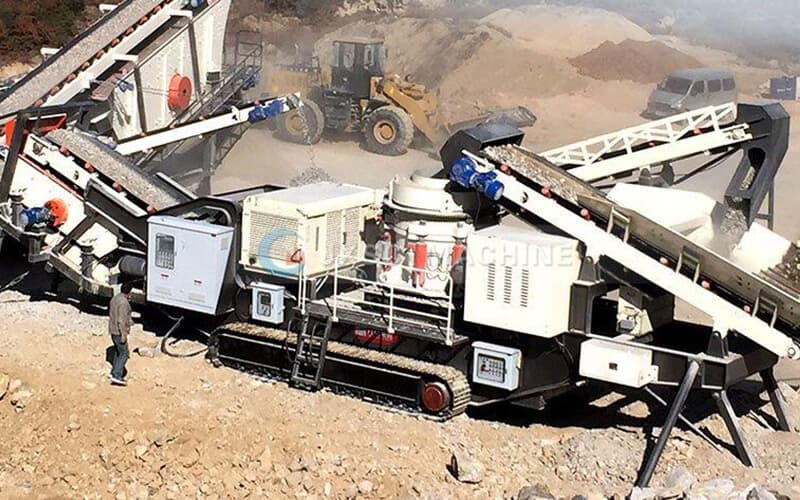 Stone Crushing Line Process
The stone crushing production line usually includes feeding – crushing – screening processes:
1. Feeding Process
This system ensures a continuous and even flow of stone into the crusher, preventing any bottlenecks or blockages that could hinder the crushing process. It usually consists of a vibrating feeder or hopper box and can be customized to meet specific requirements.
2. Crushing Process
Various stone crushers are commonly used at this stage, including jaw crushers, impact crushers, cone crushers, and hammer crushers. Each type has unique features and benefits, allowing operators to choose the most appropriate type based on their needs.
3. Screening Process
The crushed stone enters the crusher for further processing and then is sent to the vibrating screen to separate stones of different sizes. This helps achieve uniformity in the final product and ensures that only the right size sand advances through the production line.
Stone crushing lines are essential in any mining or quarrying operation, ensuring a steady gravel supply for the raw materials required by construction and other industries. We have well-designed and efficient stone crushing lines equipment; contact us to get the factory prices!
Stone Crushing Production Line Solutions
Please fill out the information below for the quotation price and engineer's help. We will reply asap!
Notice:
We do not provide jobs and have no interest in investment or partnerships.
We provide equipment and mineral processing solutions; not buy and sell mineral /ore /materials.

We value your privacy and keep your information safe.