Hardrock Gold Mining: extraction & benefication
Hardrock mining for gold involves uncovering and extracting the gold metal and mineral deposits of solid gold ores or eroded gold deposits in streambeds. 
Usually, the hardrock mining involves three basic steps: exploration, extraction, and beneficiation. And we will only discuess and focus on extraction and beneficiation process. 
JXSC Mining Machinery committed to providing customizable gold mining solutions, with over 3 decades of experience, we help our customers around the world improve their operational efficiency, reduce risks, and increase profitability.
Extraction involves removing ore deposit from the ground. The two basic types of extraction are surface mining and underground mining.
Surface Mining, the most common form of hardrock mining in use today, consists of extracting the ore by digging. The costs of machines and maintenance for surface mining are low compared to those for underground mining. The basic steps of surface mining are:
1. Overburden, or waste rock, removal: The amount of waste rock that must beremoved varies, but is often enormous. The less valuable materials normallyassociated with the more valuable ore deposits are termed gangue materials.
2. Blasting: Explosive charges are detonated to break up the waste rock and ore.
3. Mucking: Heavy machinery removes and transports the ore.
4. Primary crushing: The ore passes through primary crushing to reduce the size ofthe material to transport to the mill.
5. Hauling: Trucks, rail cars, or conveyors move the ore from the mine to the mill.
The two main forms of surface mining are open pit and strip mining:
Open pit mining is the most common method of extraction and involves aconcentated excavation. The size of an open pit mine can vary from a smalland superficial site to a pit more than 1000 feet deep and several squaremiles in area. Although the same techniques are used to develop mines, eachmine is unique and its final structure depends on topography, the locationand size of the ore, the mineralization of the ore, and other factors.
Strip mining is used to extract horizontal, near surface ore deposits (e.g.,phosphate). Strip mining progresses linearly and yields long disturbances.Figure 2 illustrates strip mining.Underground mining involves digging vertical shafts and horizontal tunnels, or adits, to recover ore deposits. Underground mining is more expensive and requires more skilled workers and specialized equipment than surface mining. Underground mines must enable workers to access, break, and remove the ore. Figure 3 illustrates an underground mining scene.

Beneficiation
Beneficiation is the processing of ore to separate the target mineral from the waste rock. Before beneficiation, nearly all crude ore must be reduced in size. Primary crushing reduces ore from 2-4 feet boulders to rocks 8-10 inches in diameter. Secondary crushing reduces the ore into pieces less than 1 inch in diameter. Large rotating cylinders grind the material, creating finely ground mill. Slurry is formed when water is added to finely ground mill.
The type and extent of beneficiation depend on the desired product. Some common types of beneficiation are:
Gravity separation relies on large differences in density between the targetmetal (e.g., gold) and the materials in which it is found. It also requires thatthe target metal cannot be bound to the surrounding rock matrix. Somedevices used in gravity separation are trommels, sluices, spiralconcentrators, cyclones, jigs, and shaker tables.
Floation is adaptable to small particals and commonly used to recover lead,copper, platinum, and zinc. In floatation, the addition of a reagent chemicalto ore slurry causes the minerals to become less dense than the gangue andrise to the top of the tank.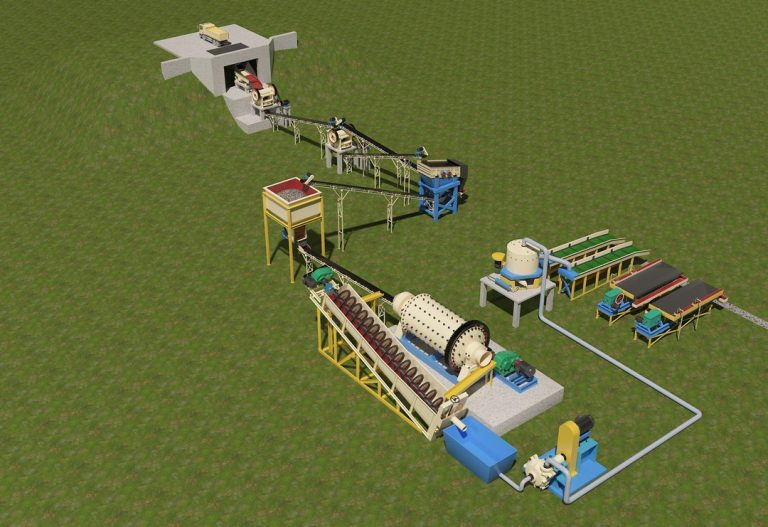 Here is the detail Flowchart Explanation For Rock Gold Processing plant:
1. Loader or Excavator feed raw ore into the hopper;
2. Vibrating feeder feed primary jaw crusher; primary jaw crusher is to crush big stone to medium size.
3. Output of primary crusher sent to fine jaw crusher by belt conveyor; fine jaw crusher is to crush medium sized stone to small size.
4. Output of fine jaw crusher sent to vibrating screen by belt conveyor;
5. Oversized rock is back to fine jaw crusher for further crushing by belt conveyor;
6. Undersized materials sent to one transit ore bin by belt conveyor;
7. Fine ore in transit bin is sent to ball mill via electromagnetic vibrating feeder+belt conveyor. ball mill is to grind ore to powder size.
8. Discharge of ball mill goes to spiral classifier for roughly size separation. Coarse particles will be back to ball mill for further grinding;
9. Fine particles will be sent to the centrifugal concentrator for concentrating fine gold by a slurry pump.
10. Tailings of centrifugal concentrator go to sluice box for recovering more gold;
11. Concentrates of sluice box and centrifugal concentrator are sent to shaking table for fine concentrating gold.
The ball mill + classifier forms a closed-circuit grinding system, which can achieve more than 90% of the discharge to 200 mesh(0.074mm)
So this flowchart is very suitable for recovering fine powder gold in rocks.
And our JXSC Mine Machinery has rich experience for design, control, and optimization of such a complex process for nearly 3 decades, with our solution, high recovery, high profit and low cyanide concentrations can be achieved simultaneously.
Please fill out the contact form below to get the price of our equipment and engineer help.
More ways to get in touch with us.