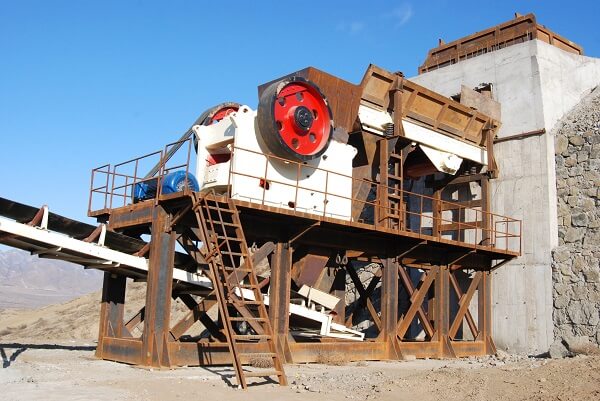 The hard rock gold (vein gold ) mining plant flow can be roughly divided into crushing, screening, grinding and separation.
JXSC Mining Machinery is committed to providing customizable hard rock gold processing plant & equipment, with over 3 decades of experience. We help our customers around the world improve their operational efficiency, reduce risks, and increase profitability.
Hard Rock Gold mining process
The current mainstream hard rock gold mining process is generally crushing, grinding, gravity separation. Gravity separation is the most traditional method of extracting gold in rock gold mining plant used widely, it's also suitable for finely crushed rock gold minerals.
Crushing: In the crushing stage, there are mainly two-stage one-closed-circuit process and three-stage-one-closed-circuit process. The jaw crusher or cone crusher is used for coarse crushing; the jaw crusher or other gold crushing machine is used for medium and fine crushing operations.
Grinding: For the requirement of gold ore grinding fineness, a ball mill is usually used together with a classifier, and the qualified particle size is below 200 mesh.
Gravity separation: At present, gravity separation is only used to select rock gold deposits with simple structure and coarse grain size, especially the oxide rock gold deposits with high density. Gravity separation relies on large differences in density between the targetmetal (gold) and the materials in which it is found. It also requires thatthe target metal cannot be bound to the surrounding rock matrix. Somedevices used in gravity separation are trommels, sluices, spiral concentrators, cyclones, jigs, and shaker tables.
hard rock gold processing plant
♦ Hard-rock gold processing plant (jaw crusher + ball mill + shaking tables)
Here is the detail flowchart explanation for hard rock gold crushing plant:
1. Loader or Excavator feed raw ore into the hopper; Vibrating feeder feed primary jaw crusher; primary jaw crusher is to crush big stone to medium size.
2. Output of primary crusher sent to fine jaw crusher by belt conveyor; fine jaw crusher is to crush medium sized stone to small size.
3. Output of fine jaw crusher sent to vibrating screen by belt conveyor; Oversized rock is back to fine jaw crusher for further crushing by belt conveyor;
4. Undersized materials sent to one transit ore bin by belt conveyor; Fine ore in transit bin is sent to ball mill via electromagnetic vibrating feeder+belt conveyor. ball mill is to grind ore to powder size.
5. Discharge of ball mill goes to spiral classifier for roughly size separation. Coarse particles will be back to ball mill for further grinding;
6. Fine particles will be sent to the centrifugal concentrator for concentrating fine gold by a slurry pump.
7. Tailings of centrifugal concentrator go to sluice box for recovering more gold; Concentrates of sluice box and centrifugal concentrator are sent to shaking table for fine concentrating gold.
This setup is a 5-10tph hard rock gold crushing plant use hammer crusher or jaw crusher:
It is configured with trough feeder to give materials to a jaw crusher, after jaw crusher grind materials size to be small to hammer crusher. Hammer crusher grind materials to be fine then to shaking table to recover gold.
The trough feeder it can feed evenly to the crusher.
The jaw crusher Preliminary crushing of large stones also can be made mobile type as per request.
The hammer crusher the output size is adjustable like 10mm,5mm, etc. for this project it's grind materials to 0-2mm. also can be made mobile type as per request.
The shaking table is gravity to recovery gold .with very high recovery rate and It is very friendly to the environment
This Plant also can be used for Hard Rock Tin ore/ Coltan ore/ Tungsten Ore/ Chrome. The capacity for this process plant can be customized as per request such as 10tph, 20tph,50tph,100tph, etc.
Hard rock gold processing plant for sale
The hard rock gold mining process and equipment provided by our company have the characteristics of high degree of automation, high crushing rate, low operating cost, energy saving and environmental protection, and fine particle size. We can provide you with a complete set of gold crushing machine and solutions, technical support according to specific production requirements to ensure that you can meet your needs.
We also custom small scale hard rock gold processing plant with small investment and quick effect, which is suitable for personal investment. The equipment is light, easy to operate and flexible. For the large-scale rock gold crushing plant, large industrial equipment shall be used, and large gold crushing machine: jaw crusher or hammer crushing shall be equipped.
hard rock gold mining equipment
Please fill out the contact form below to get the quotation price and engineer help.
We will response your request within 24 hours.
Notice:
We do not provide jobs, nor do we interested in investment or partnerships.
We provide equipment and mineral processing solution, we don't buy and sell mineral ores.

We value your privacy and keep your information safe.