3TPH Hard Rock Gold Mining Plant In Tanzania
We guarantee the high quality machine in the mineral processing industry, established in 35 years of experience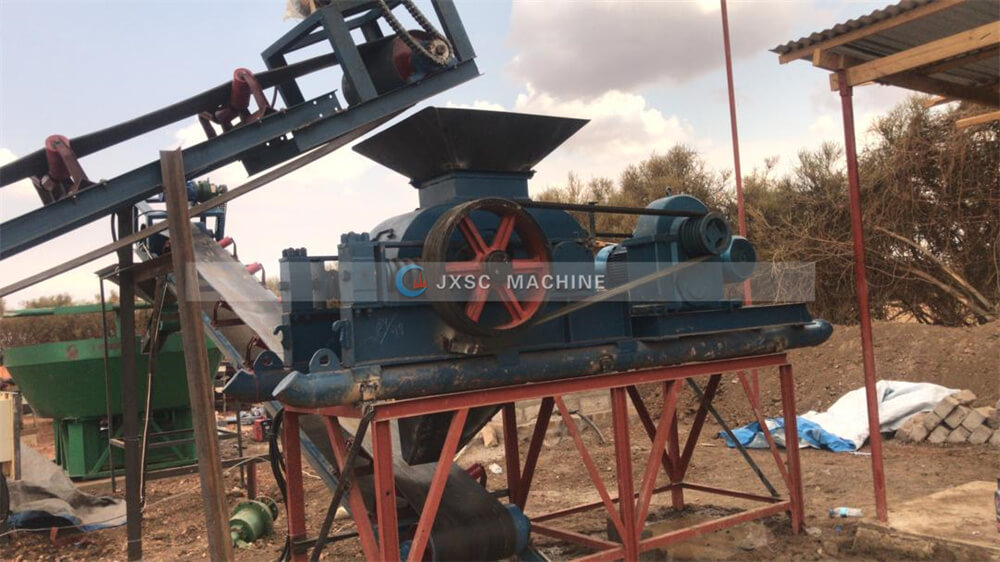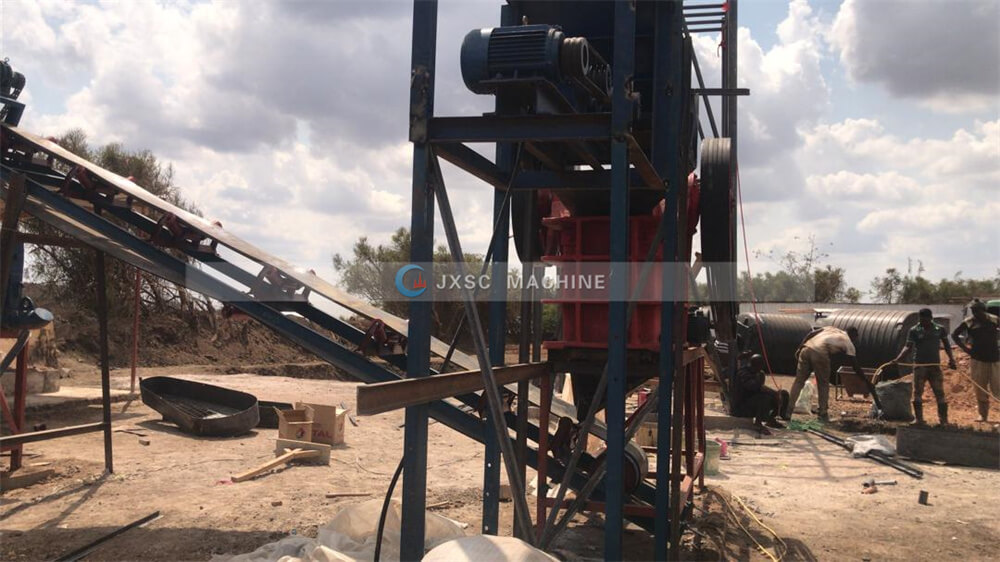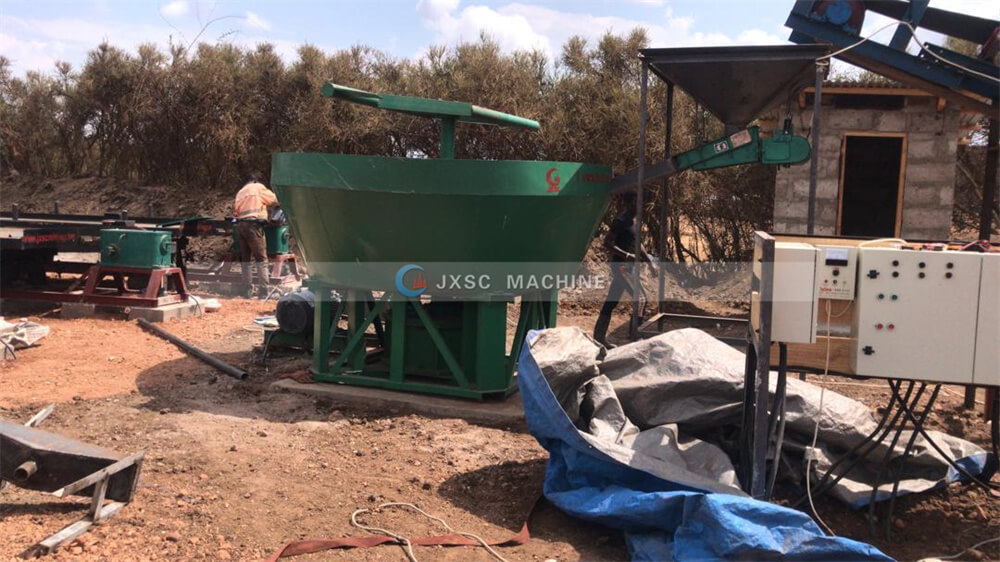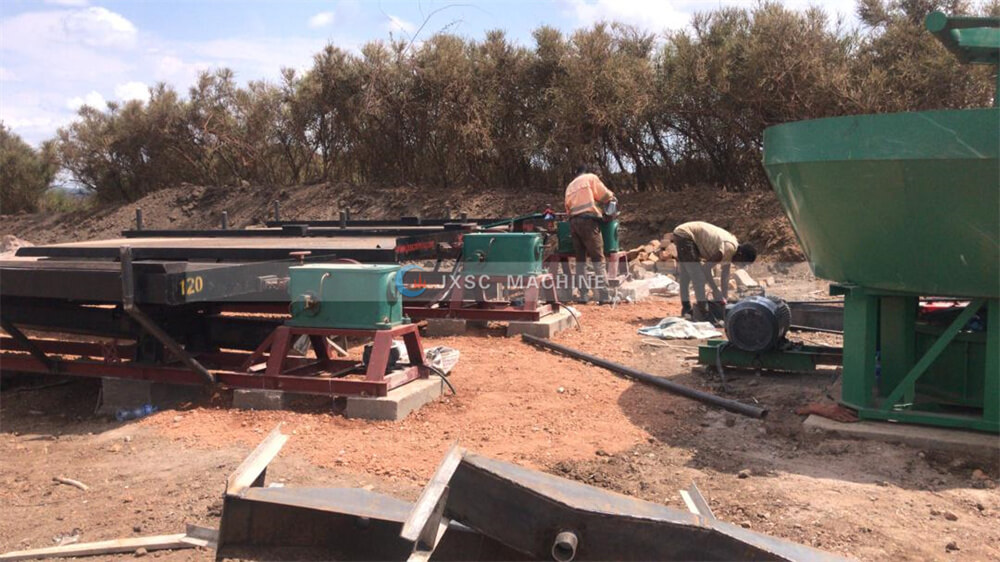 1. Raw ore: rock gold
2. Capacity: 3TPH
3. Location: Tanzania
4. Input size: 0-210mm
5. Output size: 0-0.5mm
Feeding – Crushing – Grinding – Gravity separation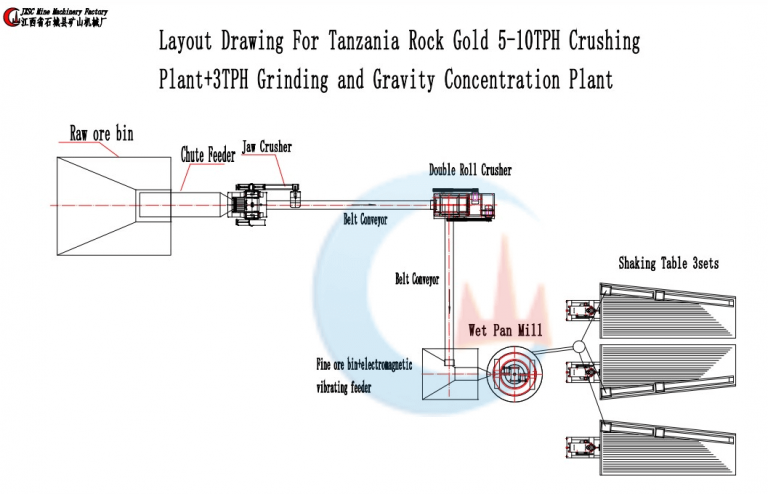 Customer's requirement: The client has a limited budget and requires an affordable solution
Crushing plant capacity: 5-10TPH
Grinding plant capacity: 3TPH
Beneficiation plant capacity: 3TPH
Rock needs are milled to 0.5mm below for releasing the gold.
3TPH Hard Rock Gold Mining Plant flow details:
1. Feeding stage: Chute feeder
Excavator or loader feed raw ore into raw ore bin. The chute feeder is installed under the raw material bin, which is convenient for feeding raw materials to the jaw crusher.
2. Crushing stage: Jaw crusher, double roll crusher
Here jaw crusher crush 0-210mm big stone to 0-50mm small stone. Output of jaw crusher feed to double roll crusher via belt conveyor. The double roll crusher crush 0-50mm small stone to 0-5mm fine size, then feed to fine ore bin via belt conveyor.
3. Grinding stage: Wet pan mill
Install electromagnetic vibrating feeder under the fine ore bin in order to evenly feed wet pan mill. Wet pan mill grind fine ore to powder size 0.5mm below for releasing gold.
4. Gravity separation: Shaking tables
The output of wet pan mill 0-0.5mm powder materials go to shaking table for recovering fine gold. (shaking table is gravity separator, it's highly efficient working on separating gold from crushed ore.)
Rock Gold Processing Plant Solutions & Flow Design
| | |
| --- | --- |
| Product Name | Model No. |
| Chute feeder | 600*500 |
| Jaw crusher | PE250*400 |
| Double roll crusher | 2PG610*400 |
| Electromagnetic vibrating feeder | GZ1 |
| Belt conveyor | 500*12000mm |
| Wet pan mill | 1600 model |
| Shaking tables | 3sets 200*200 |
Please fill out the contact form below to get the quotation price and engineer help.
We will response your request within 24 hours.
Notice:
We do not provide jobs, nor do we interested in investment or partnerships.
We provide equipment and mineral processing solution, we don't buy and sell mineral ores.

We value your privacy and keep your information safe.