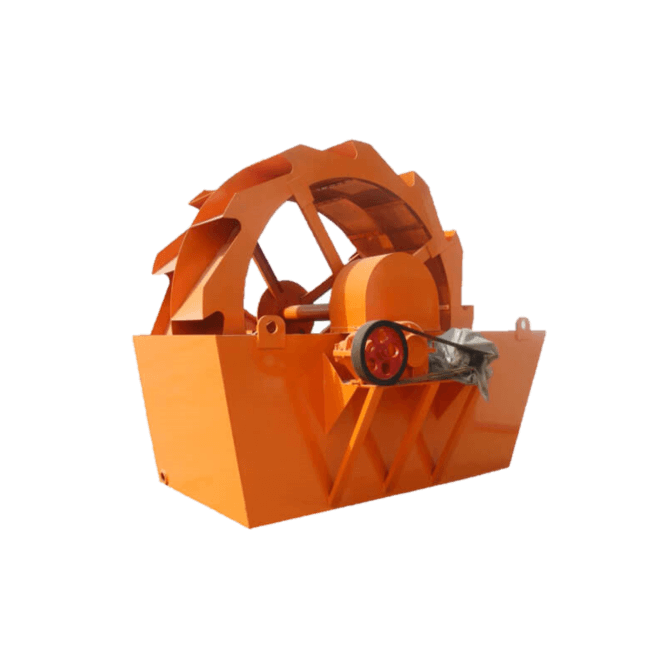 Type: wheel or spiral type


Sand washing machine is widely used for washing materials in industries such as gravel yard, mining, building materials, transportation, chemical industry, water conservancy and hydropower, and concrete mixing station. Spiral sand washer and wheel sand washer are two common sand washing equipments, which can be used for washing, grading and dewatering, with high efficiency for sand washing and cleaning, and improve the quality of products.
types of sand washing machine
spiral type sand washing machine
First, the sand is transported to the spiral sand washer by belt conveyor or rotary wheel sand washer. The next, with the help of motor and reducer, the screw structure can operate at a constant speed. More importantly, the screw blade structure's function is to agitate material and water, along with transport them.
In the washing part, dust particles and other impurities are removed with the help of water jet. The screw conveyor is installed in the container, and connected to the motor which provides power for the movement of the screw conveyor. Under the action of water flushing and screw stirring, the sand and water flow forward with the movement of the conveyor. Therefore, the washed sand is collected into the collector from the outlet.
wheel type sand washing machine
The motor-driven impeller rotates slowly after the V-belt, reducer, and gear reduce speed. The sand enters the washing tank from the feed tank and rolls under the drive of the impeller, grinding away the impurities covering the surface of the sand and gravel, and at the same time destroying the water vapor layer covered by the sand particles to facilitate dehydration.
The eject water forms a strong water flow, timely removing impurities with small specific gravity, and is discharged from the overflow port flushing tank to complete the cleaning effect. The clean sand and stone are taken away by the blade, and then the sand is poured from the rotating impeller into the discharge tank to complete the cleaning of the sand and stone.
Need help from engineers?
spira type sand washing machine
Technical parameter
Structure
Features
Technical parameter
Model
Spiral Dia.
Rotating Speed
Feeding size
Tank slope
Output
Power
Weight
(mm)
(r/min)
(mm)
(t/h)
(t/h)
(kw)
(t)
2RXL320
Φ320×3200
28
≤30
≤12
10
4
0.9
2RXL400
Φ400×4600
23
≤30
≤12
20
5.5
1.9
2RXL540
Φ540×4600
23
≤30
≤12
25
7.5
3.9
2RXL750
Φ750×7600
22.7
≤70
≤12
50
40
17.2
2RXL800
Φ800×7600
22
≤70
≤12
70
45
18.9
2RXL914
Φ914×7600
21
≤70
≤12
100
55
23
Structure
Features
wheel type sand washing machine
Technical parameter
Structure
Features
Technical parameter
| | | | | |
| --- | --- | --- | --- | --- |
| Model | Dia of bucket wheel(mm) | Capacity (T/H) | Power(KW) | Weight(KG) |
| XS2600(I) | 2600 | 20-50 | 5.5 | 2400 |
| XS2600(II) | 2600 | 30-70 | 5.5 | 2900 |
| XS2800 | 2800 | 50-100 | 11 | 4000 |
| XS3200 | 3200 | 100-150 | 15 | 6600 |
| XS3600 | 3600 | 150-200 | 18.5 | 8800 |
Structure
Features