Capacity: 1-200 TPH
Application: It is widely used to wash rock, ore, sand, gravel and aggregates that contain water-soluble clays. JXSC gold rotary scrubbers can effectively wash and screen ore with high mud content and get cleaner products.
Introduction: The gold rotary scrubber is also called trommel scrubber, or drum washer/ scrubber; It is no different from other washing machines, but with some extra advantages like producing a high degree of cleanliness, so it's been widely used in many sand and stone production lines.
The trommel scrubbers are mainly applied for washing gold, diamond, and other ore (including manganese, copper, tantalum-niobium-tin, iron ore, silica sand, fluorite, etc.). It is often called gold wash trommel or diamond wash trommel.
Main parts: Our JXSC's rotary scrubbers have two main parts: the drum scrubber and the screen. The drum scrubber part is used for washing ore, and then the screen inside is for sieving different size particles after ores washing processing. Those parts work together to remove water-soluble clays, deleterious materials, and coatings providing the final cleaner products.
working principle of trommel scrubber
Four tugs power the cleaning cylinder of the trommel washing machine, the motor drives the speed reducer, and the large and small gears drive the cleaning cylinder to rotate at a low speed. The mud and stone powder aggregate is fed from the feed inlet and enters the rotating drum. The wear-resistant rubber lining board with a specific angle installed in the cleaning drum is continuously brought down and moved from the feed port to the discharge end port.
During the washing process, it will circulate many times and feeding ores get washed by forward or reverse flushing water.
Finally, the cleaned aggregates are discharged through the screen at the discharge port and then dehydrated. Meanwhile, the wastewater-containing sludge flows through the perforated baffle at the discharge or feed end.
Highly customized rotary trommel scrubber
★ Good washing effect for sticky clay material, sieving out different size ores.
★ Various Process capacity , can be from 5 T/H to 250T/H as per request
★ Low operating cost, easy maintenance, low noise.
★ The length &diameter of drum , inside drum lined material, screen mesh, layer quantity of screen and Screen material can be customized.
★ Mobile type or stationary type
★ Diesel generator or electric motor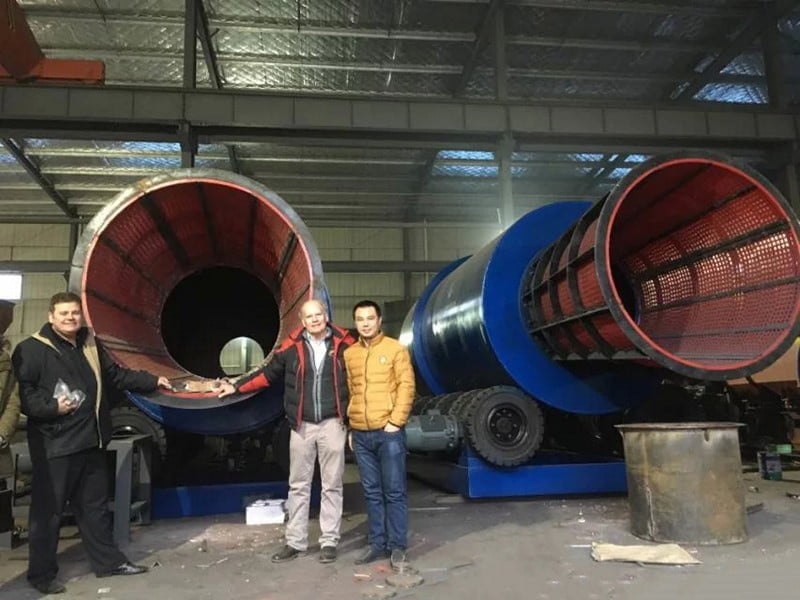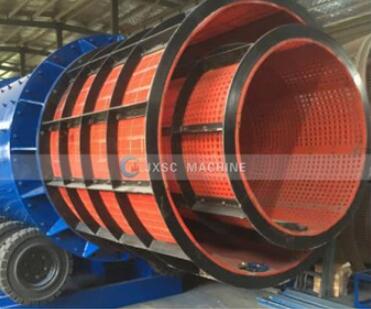 The screens of our rotary scrubbers
The screen mesh size& layer qty & screen materials can be customized.
Screen material has below choices
①PU: wear resistant, long life time, fix with screw, easy to replace
②Manganese Steel: normal material, not easy to replace, short life time
③Stainless Steel: Good quality, wear resistant.
Inner lined plates of trommel scrubber
Inside Drum scrubber can be Lined with a plate for washing more clean sticky clean material has below choice:
①Rubber lined Plates: wear-resistant, long lifetime, fix with the screw, easy to replace
②Iron Plates Welded inside Drum: normal quality, welded, So the plates are not replaceable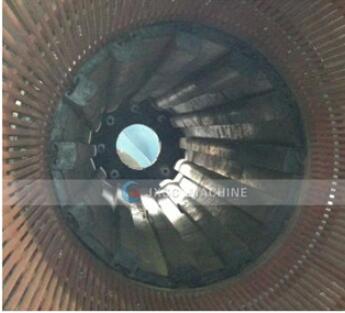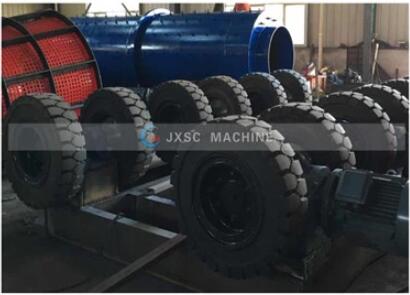 Rubber tyres driving for rotary scrubbers
The driving system rubber pneumatic tire is high quality, wear-resistant, high temperature resistant, high tolerance and famous brand.
Electric motors
Motor is high quality, Chinese famous brand, can be speed-adjustable motor with frequency conversion electric cabinet, making trommel scrubber working more stable.
Huali & Simens motor and K-series Reducer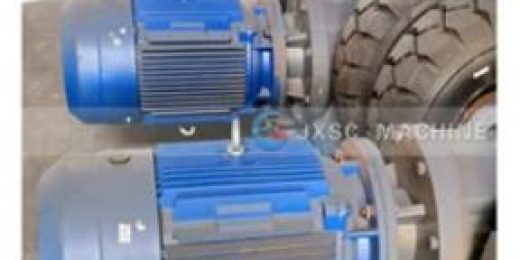 Parameter
As an OEM & ODM in gold recovery equipment with rich experience and many Independent Intellectual Property Rights, JXSC Mine Machinery provide many types of Gold trommel scrubber, from small capacity to over hundreds TPH capacity, as well as different sizes.
Here is a list of our most hottest models, if you want more specific parameters, you can directly contact us.
| | | | | | | |
| --- | --- | --- | --- | --- | --- | --- |
| Model | Screen Size (mm) | Rotation Speed(r/min) | Feeding size (mm) | Angle of inclination(degree) | Capacity (T/H) | Power (KW) |
| JXSC-400 | ≤20 | 27.9 | ≤80 | ≤10 | 1-5 | 3 |
| JXSC-600 | ≤25 | 27.6 | ≤80 | ≤10 | 5-10 | 5 |
| JXSC-750 | ≤25 | 27.6 | ≤100 | ≤10 | 10-30 | 7.5 |
| JXSC-900 | ≤25 | 27.6 | ≤100 | ≤10 | 30-50 | 11 |
| JXSC-1200 | ≤25 | 17 | ≤160 | ≤10 | 50-70 | 15 |
| JXSC-1500 | ≤50 | 16 | ≤230 | ≤10 | 70-100 | 30 |
| JXSC-1800 | ≤50 | 16 | ≤230 | ≤10 | 100-150 | 37 |
| JXSC-2100 | ≤50 | 16 | ≤230 | ≤10 | 150-180 | 45 |
Structure
Please fill out the information below for the quotation price and engineer's help. We will reply asap!
Notice:
We do not provide jobs and have no interest in investment or partnerships.
We provide equipment and mineral processing solutions; not buy and sell mineral /ore /materials.

We value your privacy and keep your information safe.