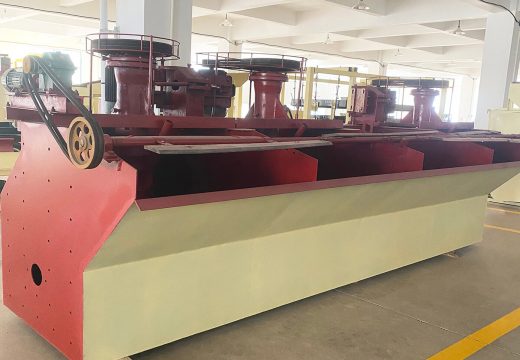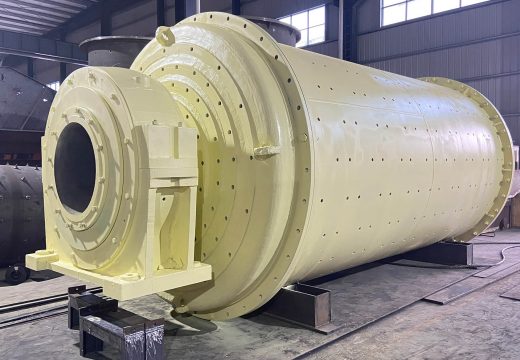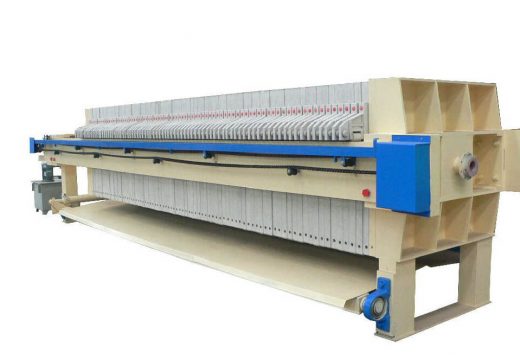 The graphite beneficiation process include flotation, electric separation and gravity separation. Because the surface of graphite is not easy to be wetted by water, it has good buoyancy, and it is easy to separate it from impurity minerals.
The graphite flotation process is widely used, mainly including multi-stage grinding, gravity-flotation combined process, and selection of mineral processing equipment.
Graphite beneficiation process
Graphite ore is divided into earthy graphite ore and flake graphite ore. Natural flake graphite collected from natural mines often contains a lot of impurities, and graphite ore with higher carbon content needs to be processed through mineral processing.
1. Crystalline (or flake) graphite: The fixed carbon content of crystalline graphite is generally 2 to 10%, and the hardness is generally medium hard or medium hard to soft. The ore grade is generally poor, and it can only be used in industry after beneficiation. It has good buoyancy and mostly adopts flotation machine.
2. Aphanitic (or amorphous, earthy) graphite: The grade of aphanitic graphite is generally relatively high, and the fixed carbon content can reach 60-80%, but it is difficult to sort. Due to the poor selectability of ore, the industry has higher requirements on the grade of raw ore, so that it can be directly ground into powder for use. Usually, after simple hand selection, it is directly processed into products by crushing, drying, grinding, grading, packaging and other processes, and the process is relatively simple.
Hand selection: The raw ore grade of aphanitic graphite is generally high, and the carbon content is 60-80%. The product can be obtained after hand selection, crushing and grinding.
Gravity Separation: The symbiotic minerals of graphite ore mainly include pyrite, pyrrhotite, limonite, etc., followed by zircon, white titanium, monazite, scheelite, diopside, and occasionally apatite and other minerals. Heavy minerals are separated by gravity separation, which is often combined with flotation to obtain rough concentrate mainly composed of graphite.
Flotation Separation: The grade of flotation graphite concentrate can usually reach 80% to 90%, and the purity can reach about 98% by using multi-stage grinding and separation. It can effectively protect graphite flakes and improve the grade of graphite.
Electric separation: graphite ore has good conductivity, while gangue minerals (such as feldspar, quartz, pyrite, etc.) have poor conductivity. Based on this difference, graphite and other minerals can be separated by electro-separation.
Graphite processing plant
The general graphite mining process flow includes crushing – screening – grinding – flotation – dehydration – drying – grinding – grading, and packaging.
1. Preparatory process (crushing, screening and grinding)
Since the hardness of graphite ore is generally medium-hard or medium-hard to soft, and the grade is generally between 2% and 10%, the crushing usually adopts three-stage open circuit, two-stage open circuit or one-stage crushing process. Ensure that the graphite flakes are not damaged, and ensure that the quality of the concentrate meets the requirements.
Commonly used coarse crushing jaw crusher, medium and fine crushing cone crusher or hammer crusher. Screening uses a vibrating screen. Graphite milling machines adopts ball mill and spiral classifier.
2. Flotation process (rough selection, sweeping and selection)
For graphite ore with heavy minerals, the combined process of gravity separation and flotation machine can be used for separation. It is mainly flotation process: it adopts a closed-circuit process of multi-stage grinding, multi-stage sorting, middle ore sequence or centralized return.
There are three forms of multi-stage re-grinding and re-separation: concentrate regrinding, middling ore regrinding and tailings regrinding. Choose a reasonable middling treatment method according to the specific beneficiation process design.
3. Concentrate treatment (dehydration, drying, screening, packaging)
Dewatering screens, filter press or rotary dryers are commonly used for the dehydration of graphite ore concentrates.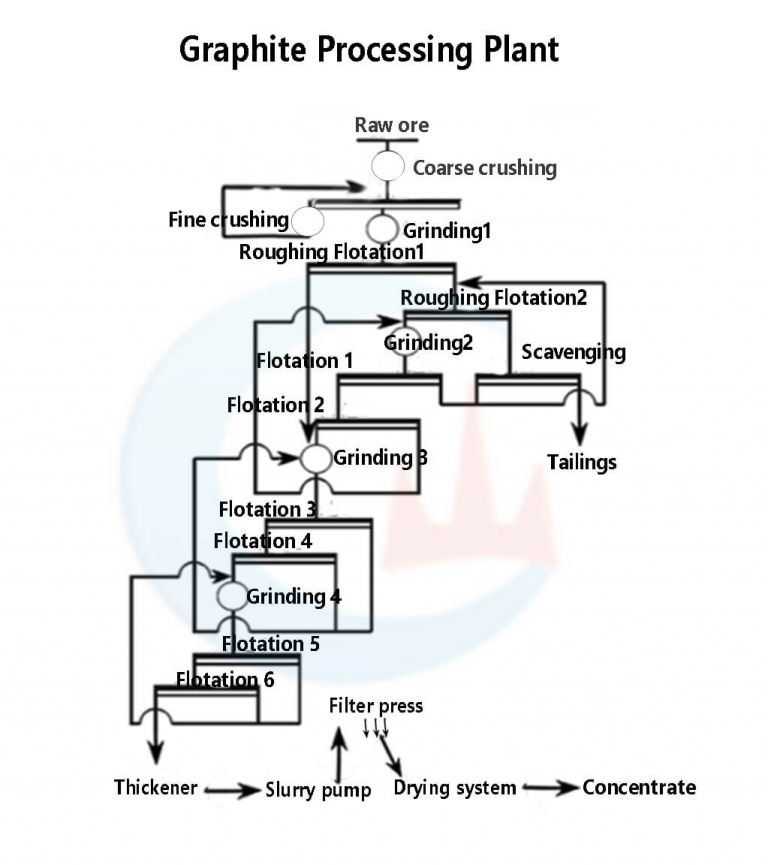 Please fill out the contact form below to get the quotation price and engineer help.
We will response your request within 24 hours.
Notice:
We do not provide jobs, nor do we interested in investment or partnerships.
We provide equipment and mineral processing solution, we don't buy and sell mineral ores.

We value your privacy and keep your information safe.