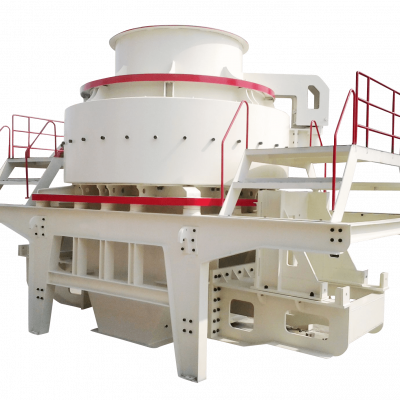 Capacity: 120-640t/h
Feeding size: 30-50mm
Application: Granite, quartz, basalt, river pebble, limestone, dolomite, calcite, quartz stone, construction waste etc., ore crushing, sand making plant
Introduction: VSI sand maker is also called VSI sand making machine, VSI crusher, vertical shaft impact sand making machine and shaping machine. This sand making machine is widely used in sand and gravel plants, concrete sand making, machine-made sand and other stone and ore crushing plants. The finished product is far more in line with construction requirements than natural sand and sand produced by ordinary hammer sand making machines, and can improve construction quality. It can provide high-quality sand and gravel aggregates for highways, high-speed railways, high-rise buildings, municipal construction, hydropower dam construction, and concrete mixing stations, which is the guarantee for artificial sand and stone production.
Usually, it can be combined with sand washing machine, crusher, vibrating screen, vibrating feeder, etc other equipment to form a sand making plant, a more economical and efficient production line. JXSC can customize fixed or mobile sand making machines.
Advantages of VSI Sand Maker
High crushing efficiency: the output is as high as tons, and the sand processing capacity meets the task requirements;
High-quality finished products: stone-on-stone crushing is formed in the crushing chamber, and the effect of stone particle shape is higher than that of ordinary sand making machines, and the product discharge is easier. The finished product of the sand making machine is completely superior to natural sand. With the function of shaping, the finished product after crushing is cubic, with uniform grain shape, reasonable gradation, adjustable fineness modulus, suitable for artificial sand making and stone shaping.
Low loss: good material technology support, reasonable crushing cavity; reduce friction between materials and wear-resistant parts, prolong service life;
Easy maintenance: The hydraulic cover opening device is easy to repair and maintain, saving time and effort. Over-vibration display and alarm device, automatic detection, reliable. 
Environmental protection: less dust, low noise, can be equipped with dust removal devices of various specifications, and increase environmental protection.
working principle of VSI sand making machine
The VSI sand making machine uses high-speed rotating materials to break each other by themselves and friction between materials. The material falls into the feed port, enters the high-speed rotating rotor through the center feed hole, and is fully accelerated and thrown out through the launch port. It first collides with the rebounding free-falling part of the material, and then hits the vortex material lining (or counter-block) in the surrounding vortex chamber.
Then, it is bounced to the top of the crushing chamber, and then turns to move downward, and impacts with the material coming out of the impeller runner to form a continuous material curtain, and finally discharges through the lower discharge port.
Parameter
Structure
Replacement
Parameter
Model

Capacity(t/h)

Best feed size(mm)

Rotation speed(r/min)

Power for double motor(kw)

Dimension

L*W*H(mm)

Weight(t)

Center and ring feeding

Center feeding

Soft material

Hard material

VSI7611

120-180

60-90

35

30

1700-1890

110

3700*2150*2100

11.8

VSI8518

200-260

100-130

40

35

1520-1690

180

4140*2280*2425

14.5

VSI9526

300-380

150-190

45

40

1360-1510

264

4560*2447*2778

17.8

VSI1140

450-520

225-260

50

45

1180-1310

400

5000*2700*3300

25.6

VSI1145

500-640

250-360

50

45

1200-1390

440

5100*2790*3320

26

Power Soppty

 

Vibrating Sensor

Lubrication hydraulic station

380V 50Hz

 

Monitering

Range: 0.1-20MMs

ContinuouselAdustabley

Dual oil bump motor power

Security Protection

Over Dimension L*W*H(mm)

Oil Tank Heating Power

JXSC can customize fixed or mobile sand making equipment

2*0.25kw

Double oil pump complements to

ensure oil supply; no ensure oil supply; no oil fow, no oil pressure automatic shutdown; water cooling and cooling. Winter motor heating start

820×520×1270

2KW
Structure
Replacement
Please fill out the information below for the quotation price and engineer's help. We will reply asap!
Notice:
We do not provide jobs and have no interest in investment or partnerships.
We provide equipment and mineral processing solutions; not buy and sell mineral /ore /materials.

We value your privacy and keep your information safe.