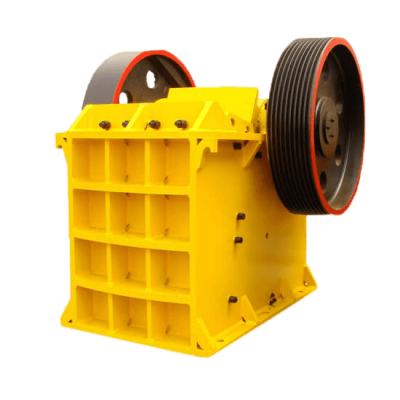 For more than a century, the jaw crusher has been the main crusher in the mining and quarrying industry, and to a large extent, this situation will continue.
Jaw crusher is a robust size reduction equipment designed to reduce large solid materials into smaller particles, widely used in the quarrying, metallurgical and allied industries. Jaw crusher is one of the most commonly used primary crushers in the ore processing plant, with the capacity range of 1-1000tph. There are two types of feeding opening design, rectangular and square shape.
The primary jaw crusher is usually designed with a square opening, while the secondary jaw crusher is designed with a rectangular opening. However, not all jaw crushers conform to this general rule.
The jaw crusher is composed of two jaws, one is fixed firmly with the crusher frame, and the another is being mount by a pitman mechanism. The moving jaw moves backwards and forwards quickly between a small throw to crush the ore.
As the moment of jaw plate is small, the crushing can be done in one stroke. Considering the high wearing rate caused by the load action on the plate, two plates are generally made of high wear resistant material like manganese steel. A heavy flywheel can provide a required inertia, a smooth reciprocating action of the moving jaws and help crush the hard material.
The jaw crusher typically crush material by using compression. The ROM is fed between two solid pieces of metal, one of which (moving jaw) move towards the rock, and causes compression. The rock is crushed because its breaking point is lower than the opposing metal piece.
The jaw crusher is a typical compression crusher, it crushes the feed by moving plate toward the fixed plate. Due to the applied great pressure and shear force, the strain exceeds the elastic limit of the raw material, and the material will break. Load acts on the plate the wearing rate is high hence the jaw crusher is rugged in design and equipped with replaceable high tensile wear resistant manganese or other alloy steel sheet.
Jaw crusher in the mineral processing plant
stock bin -> feeder -> jaw crusher -> cone crusher -> vibrating screen -> ball mill -> classifier -> concentrator -> mineral concentrate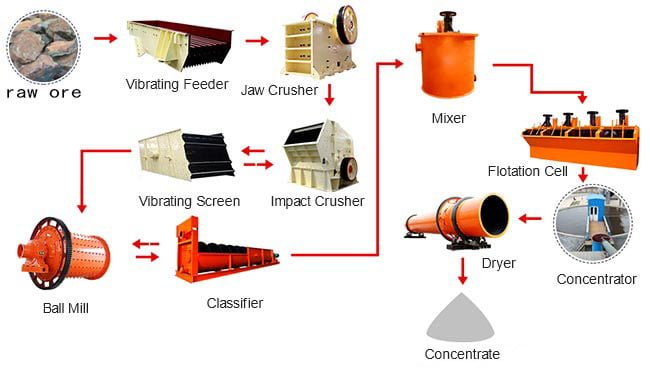 Jaw crusher in the sand crushing plant
stock bin -> feeder -> jaw crusher -> cone crusher / impact crusher -> vibrating screen -> sand washer  -> VSI impact crusher -> finished product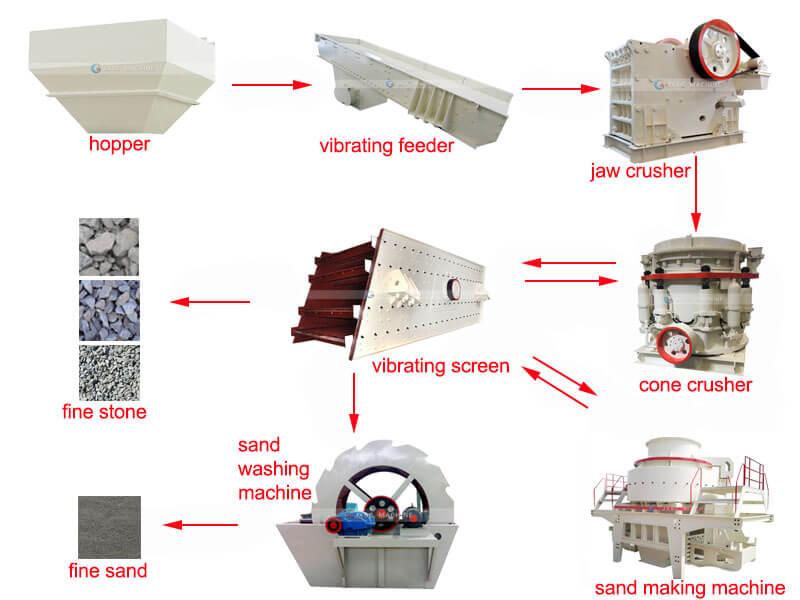 Parameter
Replacement
Structure
Features
Parameter
| | | | | | | | |
| --- | --- | --- | --- | --- | --- | --- | --- |
| Model | Feeding size(mm) | Max feeding size(mm) | Discharging size(mm) | Capacity (t/h) | Motor power(kw) | Weight (t) | Overall dimension (LxWxH)(mm) |
| PE-150*250 | 150*250 | 130 | 10-60 | 3-15 | 5.5 | 2.2 | 1000x1450x900 |
| PE-250*400 | 250*400 | 210 | 20-80 | 5-20 | 15 | 2.8 | 1450x1315x1296 |
| PE-400*600 | 400*600 | 340 | 40-100 | 16-60 | 30 | 6.65 | 1565x1732x1586 |
| PE-500*750 | 500*750 | 425 | 50-100 | 40-110 | 55 | 11.73 | 1890x1916x1870 |
| PE-600*900 | 600*900 | 500 | 65-180 | 80-180 | 55-75 | 16.13 | 2305x1840x2298 |
| PE-750*1060 | 750*1060 | 630 | 80-180 | 110-320 | 90-110 | 28 | 2450x2472x2840 |
| PE-800*1060 | 800*1060 | 680 | 100-200 | 140-340 | 90-110 | 30 | 2610x2556x2800 |
| PE-870*1060 | 870*1060 | 750 | 170-270 | 180-360 | 90-110 | 31.22 | 2660x2556x2800 |
| PE-900*1060 | 900*1060 | 780 | 200-290 | 200-380 | 90-110 | 31 | 2690x2556x2800 |
| PE-900*1200 | 900*1200 | 780 | 95-225 | 220-450 | 110-132 | 49 | 3335x3182x3025 |
| PE-1000*1200 | 1000*1200 | 850 | 195-280 | 280-550 | 110-132 | 51 | 3435x3182x3025 |
| PE-1200*1500 | 1200*1500 | 1020 | 150-300 | 400-800 | 160-220 | 100.9 | 4200x3732x3843 |
| PE-1500*1800 | 1500*1800 | 1200 | 210-360 | 525-1120 | 280-335 | 132 | 5100x4700x4300 |
| PEX-150*250 | 150*250 | 125 | 10-40 | 1-3 | 5.5 | 2 | 896x745x935 |
| PEX-150*750 | 150*750 | 120 | 18-48 | 8-25 | 15 | 3.5 | 1380x1658x1025 |
| PEX-250*750 | 250*750 | 210 | 25-60 | 13-35 | 30 | 4.96 | 1545x1667x1330 |
| PEX-250*1000 | 250*1000 | 210 | 25-60 | 16-52 | 30-37 | 6.5 | 1530x1992x1380 |
| PEX-250*1200 | 250*1200 | 210 | 25-60 | 20-61 | 37-45 | | 1900x2192x1430 |
| PEX-300*1300 | 300*1300 | 250 | 20-90 | 25-95 | 55-75 | | 1750x2320x1724 |
| PEX-350*1200 | 350*1200 | 300 | 70-140 | 25-120 | 75 | | 2162x2220x1723 |
Replacement
Structure
Features