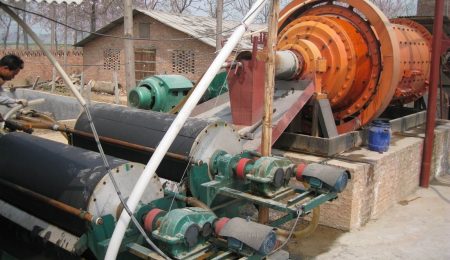 Magnetite is mostly granular aggregates with strong magnetism and wide distribution. According to the different types of iron-containing minerals, magnetite can be divided into single magnetite and mixed ore.
In general, single magnetite mostly adopts weak magnetic separation process. Polymetallic magnetite and mixed ore usually adopt a combined process of flotation and magnetic separation.
&nbsp Magnetite beneficiation Process
1. Single Magnetite: Most of the iron minerals in a single magnetite ore are magnetite. The ore composition is simple, and the weak magnetic separation process is often used:
When the grinding particle size is more than 0.2mm, most iron ore magnetic separation plants often adopt a

one-stage grinding – magnetic separation process

;

When the grinding particle size is less than 0.2mm, a

two-stage grinding – magnetic separation process

is adopted;

For arid and water-scarce areas, magnetite concentrators may consider adopting

dry grinding – dry magnetic separation process

;

For poor-rich magnetite or rich magnetite ore, dry magnetic separator can generally be used to remove gangue. To obtain massive rich ore, and then through grinding-magnetic separation process to obtain concentrate.
2. Magnetite ore containing a variety of metals: containing silicate or carbonate minerals, often associated with cobalt pyrite, chalcopyrite and apatite. Generally, the combined process of weak magnetic separation and flotation separation is adopted, that is, iron ore is recovered by weak magnetic separation, and sulfide or apatite is recovered by flotation.
For the weak magnetic separation-flotation process, the continuous body mainly enters the iron concentrate;

For the flotation-weak magnetic separation process, the continuous body mainly enters the sulfide concentrate.
In order to obtain high-grade concentrate, the magnetite concentrate can be processed by flotation or shock fine screen. In order to improve the recovery rate, tailings reprocessing and other processes can be considered for further recovery.
&nbsp Magnetite Processing plant
1. Crushing & screening: A vibrating feeder is installed in front of the crusher to evenly feed the materials into the jaw crusher; use vibrating screen and the raw ore is screened out to meet the particle size for crushing.
For high-grade magnetite, a closed circuit is usually used to obtain magnetite ore with qualified size;
For low-grade magnetite, three-stage open-circuit or three-stage closed-circuit operations are used to complete ore crushing.
3. Grinding & classifying: Ball mill combined with a spiral classifier to achieve the required grinding fineness.
4. Magnetic separation: Separation generally adopts permanent magnet drum-type magnetic separator.
Most magnetite beneficiation plants often adopt coarse-grained dry magnetic separation tailings.
If ultra-lean magnetite ore is below 20.00%, the ultra-fine crushing-wet magnetic separation tailing process can be used before entering the mill.
5. Tailings treatment: After obtaining the magnetite concentrate, the tailings must be concentrated and dehydrated.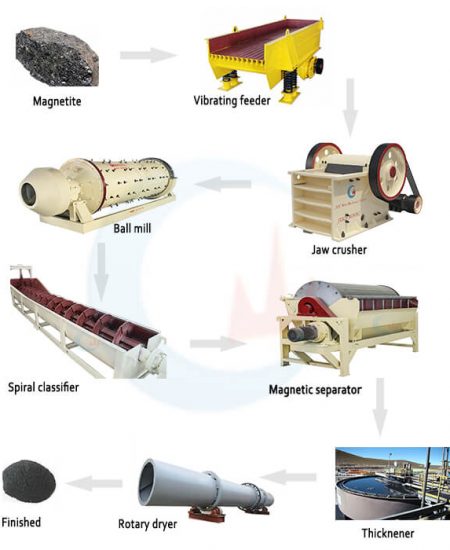 Please fill out the information below for the quotation price and engineer's help. We will reply asap!
Notice:
We do not provide jobs and have no interest in investment or partnerships.
We provide equipment and mineral processing solutions; not buy and sell mineral /ore /materials.

We value your privacy and keep your information safe.