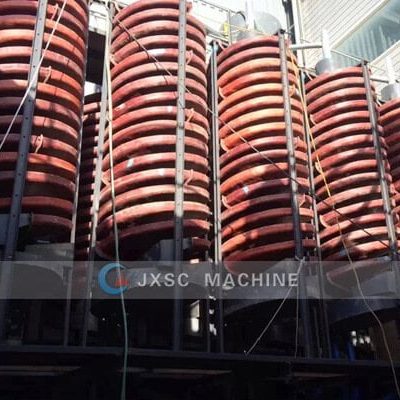 Application: fine-grained iron, tin, etc
FRP spiral chute combines the advantages of spiral concentrator, spiral chute, shaker, and centrifugal concentrator, and is the best equipment for mining and beneficiation, especially the sand mining in the seashore, riverside, sand beach and stream. Spiral chute is used to select fine-grained iron, tin, tungsten, tantalum, niobium, gold ore, coal mine, monazite, rutile, zircon and other metal and non-metallic minerals with sufficient specific gravity difference. The sorting process is stable and easy to control, the allowable range of feed concentration is wide, the enrichment ratio is high and the recovery rate is high.
The spiral chute mainly uses the inertial centrifugal force generated by the minerals of different densities in the spiral rotation to achieve the separation of light and heavy minerals. Because of its simple equipment structure, low power consumption, and large processing capacity, it is widely used in the gravity separation process. Chute beneficiation belongs to bevel flow separation process. The slurry is given to a certain inclined chute. Under the impetus of water flow, the ore particles are loose and layered. The upper layer of light minerals is quickly discharged from the tank, and the lower layer of heavy minerals is retained in the tank or discharged from the lower part at a low speed. After that, concentrate and tailings are obtained.
Need help from engineers?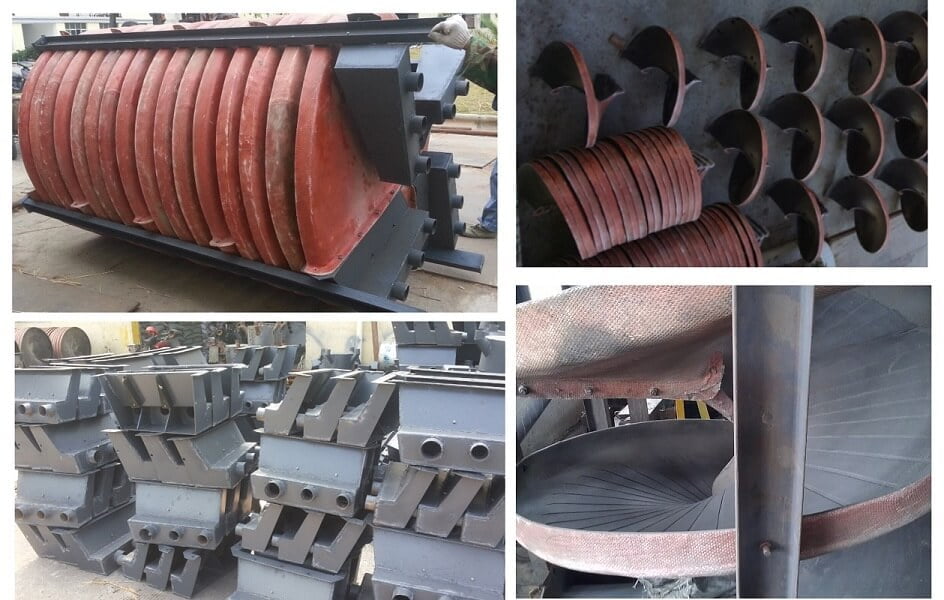 The spiral chute is composed of six parts: ore feed divider, ore feed groove, spiral groove, product intercepting groove, ore receiving hopper and groove bracket.
The spiral groove composed of spiral pieces is the main component. The spiral pieces are made of glass steel (glass fiber reinforced plastic) and are connected together by bolts. The glass fiber reinforced plastic spiral sheet is light and strong, and has a wear-resistant layer on the surface, which is durable.
The first end of the trough is equipped with a multi-tube ore-feeding splitter, which is evenly distributed and easy to control. The evenly divided pulp is slowly fed to the spiral groove surface by feeding minerals.
The end of the spiral groove is equipped with a valve block type product intercepting groove, which divides the sorted ore flow into several products according to grade. Use the position of the adjustment valve block to change the interception width of each product.
The receiving hopper is a concentric ring cylinder, which collects and exports multiple intercepted streams according to products.
Parameter
Application
Structure
Features
Parameter
| | | | | | | |
| --- | --- | --- | --- | --- | --- | --- |
| Model | 5LL-2000 | 5LL-1500 | 5LL-1200 | 5LL-900 | 5LL-600 | 5LL-400 |
| Outside dia (mm) | 2000 | 1500 | 1200 | 900 | 600 | 400 |
| pitch (mm) | 1200 | 540, 720 | 900, 720, 540 | 675, 540, 405 | 450, 360, 270 | 240, 180 |
| Pitch Dia Ratio | 0.6 | 0.75, 0.6, 0.45 | 0.75, 0.6, 0.45 | 0.75, 0.6, 0.45 | 0.75, 0.6, 0.45 | 0.6, 0.45 |
| Lateral slope | 9° | 9° | 9° | 9° | 9° | 9° |
| Maximum starts per column | 2 | 4-2 | 4-2 | 4-2 | 2 | 2 |
| Feeding Size (mm) | 2-0.04 | 0.3-0.02 | 0.3-0.03 | 0.3-0.03 | 0.2-0.02 | 0.2-0.02 |
| Feeding Density(%) | 30-55 | 25-55 | 25-55 | 25-55 | 25-55 | 25-55 |
| Capacity (T/H) | 7-10 | 6-8 | 4-6 | 2-3 | 0.8-1.2 | 0.15-0.2 |
| Length (mm) | 2120 | 1560 | 1360 | 1060 | 700 | 460 |
| Size Width (mm) | 2120 | 1560 | 1360 | 1060 | 700 | 460 |
| Height (mm) | 5600 | 5230 | 5230 | 4000 | 2600 | 1500 |
| Weight (Kg) | 1200 | 800 | 600 | 400 | 150 | 50 |
Application
Structure
Features