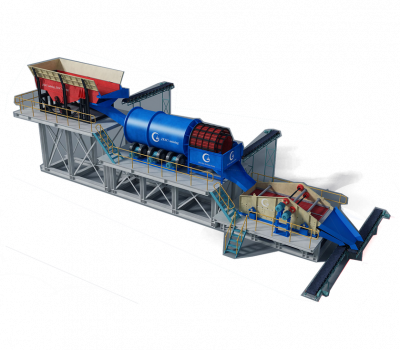 Alluvial Diamond Wash Plant
JXSC Mining Machinery offered this Alluvial Deposits Diamonds Mining Plant for washing & separating diamond from kimberlite rocks and other allivial diamond ores.
Over thousands of years, the kimberlite rocks gradually reaches the Earth's surface is eroded and weathered by wind, rain, rivers and streams.The eroded kimberlite bears rough diamonds, which are carried downstream. The first diamonds discovered in South Africa were from alluvial deposits.
Today, industrial alluvial diamond mining involves building a large wall to collect the water in one area. Diamonds are often found in the gravel layer, which collects under layers of other material, such as mud, clay and underwater plant-life. Once the gravel is collected, it is hauled to the surface and prepared for processing.
JXSC Mining Machinery offered this Alluvial Deposits Diamonds Mining Plant for washing & separating diamond from kimberlite rocks and other allivial diamond ores.
Alluvial Diamond Washing Plant details description:
Stage 1 – Crushing
Once the diamond bearing ore and gravel is collected, it is transported to a primary crusher. The primary crusher is responsible for reducing the size of the ore into smaller, more manageable pieces or chucks measuring no larger than 150mm. A secondary crusher, known as a roll-crusher, may also be used to reduce the size of the ore even further.
Stage 2 – Scrubbing
In this stage, the ore are scrubbed to remove loose excess material and is screened. Material smaller than 1.5mm is discarded because it is too costly to extract diamonds from such a small piece of ore.
Stage 3 – Cyclonic separation plant
During this stage the diamond bearing ore is mixed with a solution of ferrosilicon powder and water, which is measured to a specific relative density. This solution is fed into a cyclone, which tumbles the material and forces a separation. Materials with a high density sink to the bottom, which results in a layer of diamond rich concentrate.
Stage 4 – Recovery
Here, the diamond rich concentrate is put through a series or processes involving magnetic susceptibility, X-ray luminescence and crystallographic laser fluorescence that are calculated based on the specific properties of diamonds. These processes are designed to separate the rough diamond from any other heavy density materials collected by the cyclonic separation plant. For example, diamond's fluorescence when exposed to an X-ray. Sensors detect flashes of light emitted by the diamond and sends a signal to a microprocessor that fires a blast of air at the diamond, which spits it into a collection box.
Concentration is performed by combining dense medium separation (DMS) with XRT (transmitted X-ray), pulsed X-ray, mineral jigs according to application and condition
Stage 5 – Cleaned, weighed and packaged
The diamonds collected in the recovery process are cleaned in an acid solution, washed, weighed and packaged in sealed containers for transport. In accordance with the Kimberley process, these containers are sealed with a tamper resistant seal, numbered on site, and a certificate of origin is issued
Professional Mineral Beneficiation Equipment, Solutions & Services
Talk with JXSC's mining experts to get more help, free to conslution!
main equipment for diamond wash plant
Diamond Trommel Washing Scrubber is the core parts of this diamond washing machine. It can significantly help remove water-soluble clays, deleterious materials and coatings providing a cleaner product. Our trommels washing screen are notable for its economy and efficiency, whether it is used in cleaning sand, gravel, or washing crushed stone and various ores. What's more, It can process fine and coarse feed simultaneously.
Our machine adopts the latest cutting edge design. The outside water supply pipe for trommel scrubber is high-quality Q235 steel material, it has a big flow capacity and withstands high pressure. The continuous lifting and dropping action combined with water helps to abrade, scrub, and break down soluble contaminants. Optional trommel screen extensions can be added to provide rough product separation, screening and dewatering capabilities.
High-frequency Vibrating Screen
High-Frequency Vibrating Screening is another important part, it's used to separate material according to its size. Material is typically fed to a single-, double- or triple-deck screen to make the required sizes. The main water pipe of the vibrating screen adopts flange joint,
which can easily connect the external water pipe with the machine.
Through spray high-pressure water, it separates and washes material to obtain a good sieving effect. The material must go through or over a specified size to end up in the right pile. Unlike the crushers, Vibratory Screens cannot produce the material; they can only size material that is already reduced to the product sizes. The driving shaft of the vibration screen, is made of high-quality DIN C45 Steel material. Material is typically fed to a single-, double- or triple-deck screen to make the required sizes.
JXSC Mine Machinery Factory is a mining equipment manufacturer established in 1985, supplies an extensive range of quality mining machinery that is exported and used worldwide. We offer mining machine with competitive price and excellent service, free flow design.
Please fill out the contact form below to get the quotation price and engineer help.
We will response your request within 24 hours.
Notice:
We do not provide jobs, nor do we interested in investment or partnerships.
We provide equipment and mineral processing solution, we don't buy and sell mineral ores.

We value your privacy and keep your information safe.