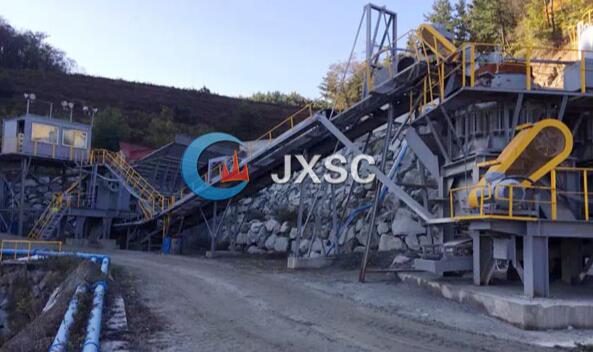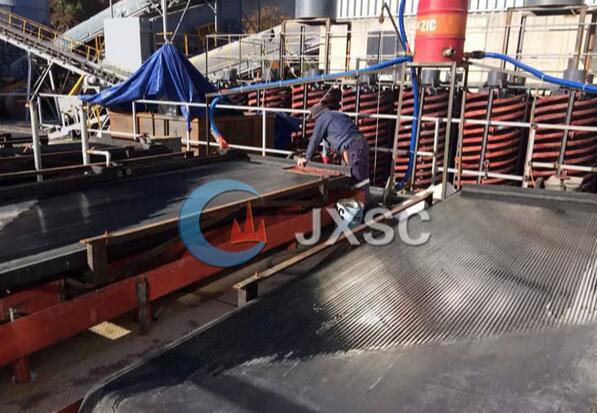 Tungsten ore has a low tungsten content. It must be used as a wealth of concentrates to be used as a smelting raw material.
Tungsten ore is divided into two types: Wolframite, Scheelite. Different tungsten ore uses different tungsten ore beneficiation processes & equipment.
Wolframite has a high density, and wolframite has weak magnetic properties, and magnetic separation technology is also widely used. Therefore, gravity separation is the main beneficiation method of tungsten, and magnetic separation is supplemented.
According to the thickness of mineral inlay, scheelite beneficiation can be divided into gravity separation and flotation method. Scheelite with smaller embedded particle size is more suitable for the flotation process.
tungsten processing plant
1. Wolframite Magnetic Separation Process
Wolframite beneficiation process mainly includes five stages: rough selection, crushing & grinding, gravity separation, concentration and fine mud treatment.
Rough selection: In the thick section of the thick separation, the hand selection method is a simple method of pre-enrichment of the wolframite mine, and it is also a must-have in the wolframite beneficiation process.
Crushing & grinding: The mining ore was initially broken by the jaw crusher. After the crushing to reasonable fineness, the ball mill was evenly sent to the mining machine. On the one hand, it can avoid over -grinding. On the other hand, the particle size of the grinding products is relatively uniform, which meets the selected granularity requirements of the gravity separation process.
Gravity separation: It is often used to use jig separator and shaking tables. The shaker is characterized by a high enrichment ratio, high-grade concentrate and waste tailings can be obtained after one separation, the operation recovery rate is 80%, and the operation is convenient.
Concentration: Generally, gravity separation combination or flotation,  gravity separation-multiple selection processes combined with magnetic separation. Wolframite magnetic separation not only recycled magnet concentrates,and improved the quality of wolframite concentrates.

Fine mud treatment: Usually perform desulfurization first, and then according to the nature of fine mud materials. After gravity separation, floatation, magnetic separation, recycle tungsten minerals and at the same time comprehensively use the accompanying metal minerals.
Scheelite has a good natural floating. Our scheelite flotation process is roughly divided into two parts: rough selection is to largely increase the recovery rate of white scheelite ore, and the selection is to obtain qualified tungsten concentrates. In order to get qualified scheelite concentrates, multiple selection is often required to achieve the expected results.
Professional Mineral Beneficiation Equipment, Solutions & Services
Talk with JXSC's mining experts to get more help, free to conslution!
Please fill out the contact form below to get the quotation price and engineer help.
We will response your request within 24 hours.
Notice:
We do not provide jobs, nor do we interested in investment or partnerships.
We provide equipment and mineral processing solution, we don't buy and sell mineral ores.

We value your privacy and keep your information safe.