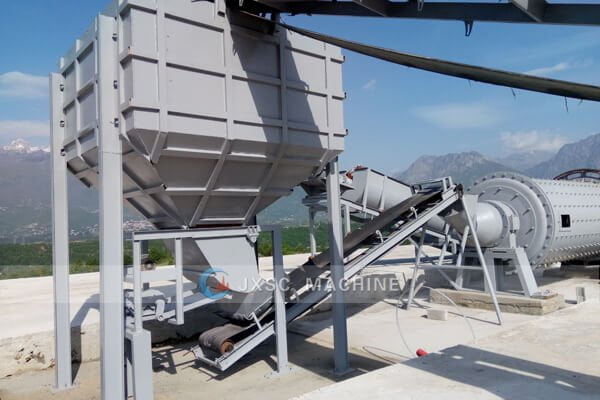 Chrome ore beneficiation processes mainly include gravity separation, flotation, and magnetic separation. The magnetic separation process can only be used to process chromite with better magnetic permeability to further improve the concentrate grade.
JXSC support custom chrome ore processing plant (including washing, crushing, grinding, gravity separation, magnetic separation) and equipment according to your mineral information, with low cost and max recovery mineral.
Chrome Beneficiation Process
Chrome ore has a strong ironophilicity. In nature, ferrochromium is always associated, and chrome ore is often called chromite.
Chromium is oxygen-philic and ferrophilic, so chrome ores with industrial value are generally chrome-magnesium spinel or ferrochrome spinel minerals, which contain a large amount of chromium oxide, and the content is about 18%~62%, does contains aluminum and nickel. Due to the nature of chromium, chrome ore beneficiation processes include gravity separation, magnetic separation, flotation, combined beneficiation and chemical beneficiation. Generally speaking, chrome ore contains a certain amount of iron, so the combined separation of gravity and magnetic separation is a relatively common chrome ore beneficiation process. It is surely that the specific beneficiation process should be determined according to the indicators obtained after the beneficiation test.
The chrome gravity separation process is suitable for almost all types of chromite beneficiation, with the advantages of low investment cost and fast return. In terms of equipment selection, spiral chute, shaking tables and jig separators are mostly used in the gravity separation stage, while the equipment selection in the magnetic separation stage is determined based on the magnetic properties of the ore. So it is very common in the field of chrome beneficiation process.
Chrome Ore Processing Plant
1. Alluvial Chrome Wash Plant
This complete system is a 150 t/h alluvial chrome wash plant, configured with
Vibrating feeder
Belt conveyor
Slurry pump
Spiral chutes
The raw ore information is as below:
Feeding capacity 150 tons per hour
Chrome concentrate size less than 2mm
0-2mm mineral in raw ore about 70%
Raw ore doesn't contain sticky clay
The whole process is as below:
1. Feeding: Excavator or truck send raw ore into the raw material hopper, through vibrating feeder evenly feed trommel screen. The vibrating feeder with grizzly bar, gap 75mm, and over 75mm rock will be sent to the waste stockpile via belt conveyor.
2. Washing stage: 0-75mm ore go to trommel screen for sieving out 0-2mm and 2-75mm. 2-75mm are sent to the waste stockpile via belt conveyor. 0-2mm go to slurry tank.
3. Gravity separation: Chrome concentrate from two stages of spiral chute groups go to the concentrated pool.
Use slurry pump send 0-2mm to first stage spiral chute group for separating out chrome concentrate, middling, tailing. And tailing enter to tailing pool.
Middling from first stage spiral chute group to second stage spiral chute group by slurry pump for further processing, this can recover more chrome concentrate.
This whole setup is suitable for large processing capacity and cost-effective with a good recovery effect. Reasonable chrome mining equipment selection and chrome wash process plant design help to improve the grade of chrome concentrate, promote the utilization of chrome ore resources and bring max your benefits.
1. Crushing stage: The raw ore stone is fed to the primary jaw crusher by a vibration feeder, so can feed rock chrome ore smoothly and evenly. The vibration feeder is with the grizzly bar to grizzly oversize to a primary jaw crusher, under grizzly bar small size material go to the fine crusher by conveyor. So as can increase the crushing effect of the primary jaw crusher.
2. Screening stage: The primary jaw crusher is for crushing big rock chrome ore to a smaller size, output material to go next fine crushing machine cone crusher. Cone crusher is crushed rock chrome to below 20mm that suitable feed to ball mill but firstly will go to a vibration screen for screening out oversize+20mm send back to cone crush crushing again. Under screen 0-20mm go to storage bin before ball mill.
2. Grinding stage: The 0-20mm powder material will be sent to the ball mill smoothly by an electromagnetic vibration feeder and belt conveyor. The ball mill is for grinding 0-20mm to small powder, it works together with the spiral classifier, so overflow slurry from the classifier is about 80% 200mesh powder, the oversize particle from classifier will go back to ball mill grinding again, to form a closed-loop.
3. Recovery stage: The 200mesh slurry will be pumped to a gravity separation machine, spiral chute, and shaking table, the spiral chute is for primary concentration. All the heavy concentrate ore that is discharged from two stages spiral group will go to shaking table for concentrate again, to get higher grade chrome concentrate.
We can be as per your request, such as 2tph,5tph,10tph,15tph,20tph, or bigger. This setup plant design can be customized according to the customer's chrome ore conditions, if need much higher grade chrome concentrate, can consider adding a high-intensity magnetic separator at the final stage.
Please fill out the contact form below to get the quotation price and engineer help.
We will response your request within 24 hours.
Notice:
We do not provide jobs, nor do we interested in investment or partnerships.
We provide equipment and mineral processing solution, we don't buy and sell mineral ores.

We value your privacy and keep your information safe.