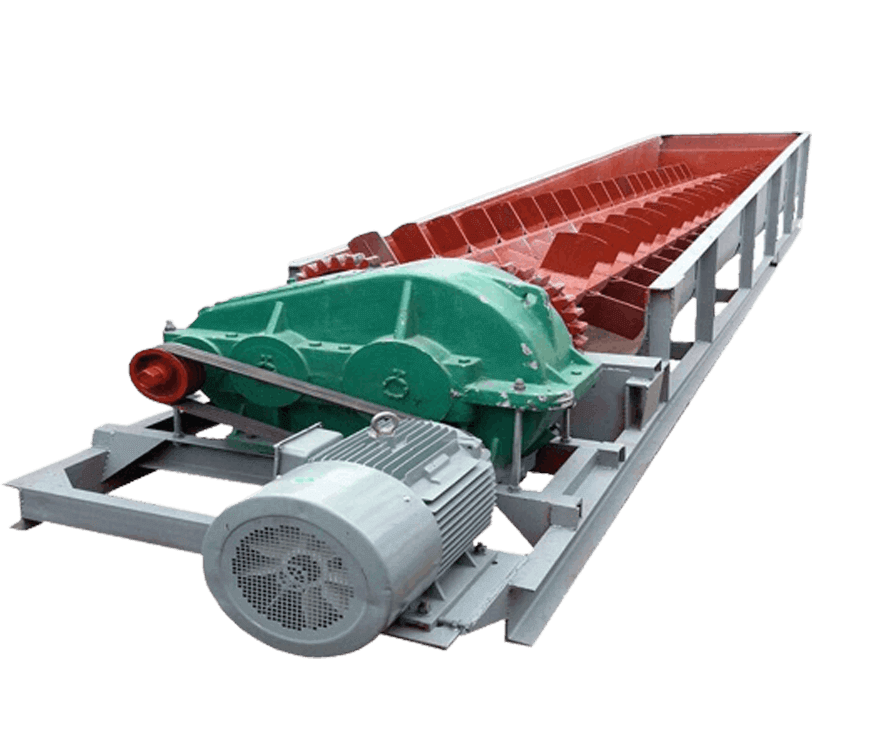 Capacity: 1-100TPH
Feeding size: ≤70
Applicable materials: washing of manganese ore, iron ore, phosphate rock, copper ore, barite, hard kaolin, river pebble, granite, basalt, limestone, calcite, quartz stone, diabase and other ores, stones
Introduction: Log washer or trough washing machine is a kind of ore washing equipment widely used in various large pieces of easy-to-wash and hard-to-wash clay, mud or soft ore/stone. Such include washing and separating mud in ferrous and non-ferrous metal mines, construction, sand and gravel, stone plants, etc. We can provide single/double shaft log washers, which are especially effective for breaking up viscous mud and stone material, and the washing and desliming effects are very significant. Its processing capacity is large, and it is an ideal washing equipment for enterprises that meet high productivity requirements on the cleanliness of ores and stones. Log washer is usually set before crushing, gravity separation, magnetic separation and flotation operations to eliminate the impact of ore sludge on these operations, improve operation efficiency and obtain good separation indicators.
The processing capacity is large, and the washing material is less lost; the cleanliness of ores and stones is high, which can well meet the requirements of high-grade materials;
It adopts thickened steel, which is not easy to wear; it adopts copper core motor, which has sufficient power and strong overload capacity;
Bearings, water, and materials are separated to avoid premature damage to the machine due to pollution and rust;
The structure is simple, the operation is stable, and it can be applied to various working environments.
The log washer is suitable for processing different types and sizes of ores. It can adapt to various ores' properties and processing requirements by adjusting water flow, slope and other parameters.
Working principle of Log washer
The log washer realizes ore separation and washing by gravity, water flow and vibration.
The ore and water enter the tank from the feed port, and are agitated by the screw shaft impeller to achieve the purpose of ore cleaning, stirring and transportation. The force of the water flow will wash away the lighter impurities and mud; while the heavier ore will be deposited at the bottom of the tank and discharged from the discharge port.
Parameter
Model

Spiral Dia.
(mm)

Rotating Speed
(r/min)

Feeding Size
(mm)

Tank Slope
(o)

Process Capacity
(t/h)


Motor Power(kw)

Weight
(T)

2RXL320

750

28

≤30

≤12

10

4

0.9

2RXL400

750

23

≤30

≤12

20

5.5

1.9

2RXL540

1000

23

≤30

≤12

25

7.5

3.9

2RXL750

1000

22.7

≤70

≤12

50

40

17.2

2RXL800

1200

22

≤70

≤12

70

45

18.9

2RXL914

1200

21

≤70

≤12

100

55

23
Structure
Please fill out the information below for the quotation price and engineer's help. We will reply asap!
Notice:
We do not provide jobs and have no interest in investment or partnerships.
We provide equipment and mineral processing solutions; not buy and sell mineral /ore /materials.

We value your privacy and keep your information safe.