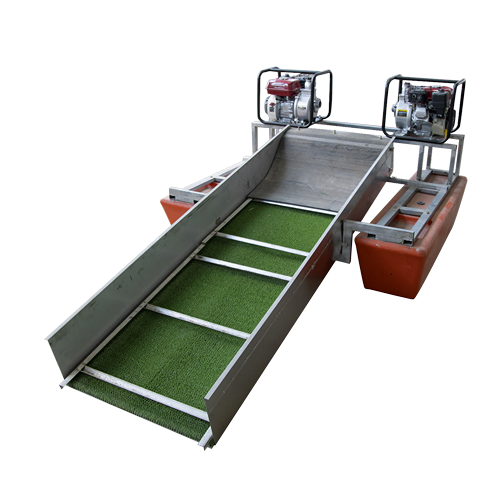 JXSC mini-series of gold dredges with a smaller volume is specifically designed to operate in extremely remote and challenging locations.
JXSC's new series of "Mini Gold Dredger" with a gold chute can achieve a high recovery rate. powered by HONDA engine with pump, float is made up of high strength and light weight plastic. There are advantages that smaller in size, easy to transportation , so it is widely used for working of gold mining in mini river channel.
Small Gold Dredger is a professional portable gold mining machine which is specially designed according to the complex riverbed conditions and has passed the ISO9001:2008 standard. This gold mining equipment is flexible to most kinds of geologic structures and has a lot of obvious advantages.
During the portable gold mining equipment working process, on the water, the sand and mud can be suck up from the river bottom through the mud pump, and then be delivered into the chute, after the separation of the sorting sieve, large stones was flowed back to the river, the sand mud with gold grains was stuck in the gold carpet.
Highlight of JXSC Mini Gold Dredges Series
Portable, small in size: easy to operate, maintain, transport and assemble, it is most ideal equipment for personal gold mining in mini river channel. 
Hot sale all over the world: Had been exported to more than 15 countries, such as Ghana, Philippines, Vienam, Russia, North Korea, Indonesia, Gabon, America and so on. 
High efficiency:   It is equipped with a gold chute with gold carpet for high recovery rate. 
Quick return, high profits:  It is highly efficient with low cost, a good gold mining machine. 
Standard quality: Diesel engine power system, float framework is made up of stainless steel structure, the floating body is made of high strength and light weight plastic, which means the main body of the machine is stong, durable and low failure rate.     
Customization design: According to the different geological condition,  capacity requirement planning and the customers budget, provid the most ideal product for investor.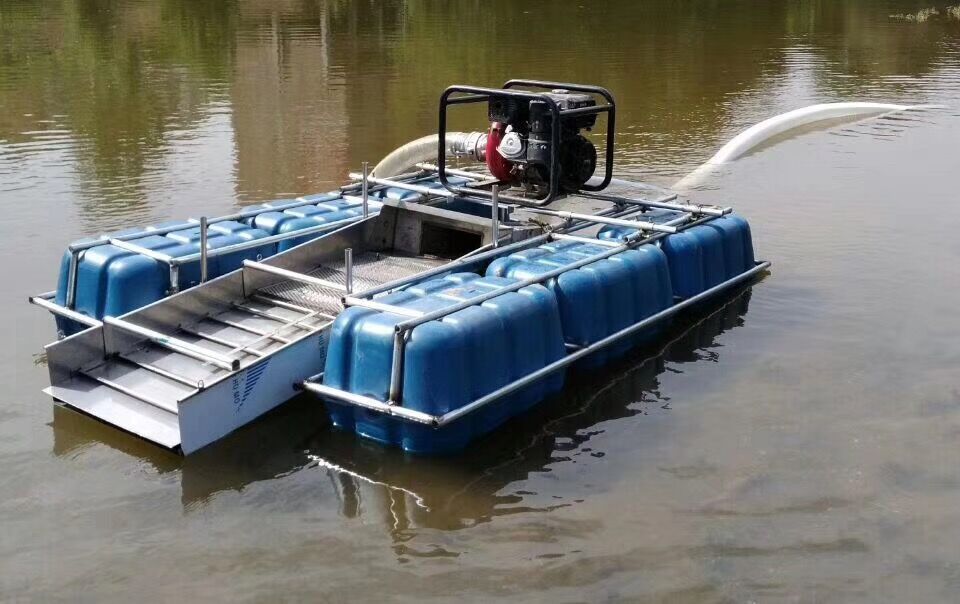 Need help from engineers?
Parameter
As an OEM & ODM in gold recovery equipment with rich experience and many Independent Intellectual Property Rights, JXSC Mine Machinery provide different models of mini gold dredge with different dimension sizes and capacity.
Here is a list of our most hottest models, if you want more specific parameters, you can directly contact us.
Portable Gold Mining Boat
Model
QFT3-2
QFT4-3
QFT5-3
Dimension
2300*1500*1000mm
2500*1500*1000mm
2500*1500*1000mm
Diesel
Model
RZ170F
RZ178F
RZ186FA
Power
5hp
7hp
12hp
Rotate speed
3600rpm
3600rpm
3600rpm
Fuel consumption
≤284g/Kw·h
≤283g/Kw·h
≤280g/Kw·h
Fuel capacity
2.65L
3.3L
5.5L
Pump
1 set
1 set
2 sets
Dimension(L*W*H)
550*450*450mm
550*470*450mm
550*500*480mm
Pump diameter
50mm(2inch)
80mm(3inch)
100mm(4inch)
Water flow
33m³/h
60m³/h
80m³/h
Head
30m
30m
25m
Dredging depth
0.5-0.8 m
0.5-0.8 m
1.5 m
Work capacity
5m³/h
8m³/h
13m³/h
Gold chute
Dimension(L*W)
400*1500mm
500*1700mm
500*1700mm
 
With gold felt
With gold felt
With gold felt
Float
Dimension(L*W*H)
1600*395*370
1600*395*370

1600*395*370

Suction pipe
3inch
4inch
5inch
Operation