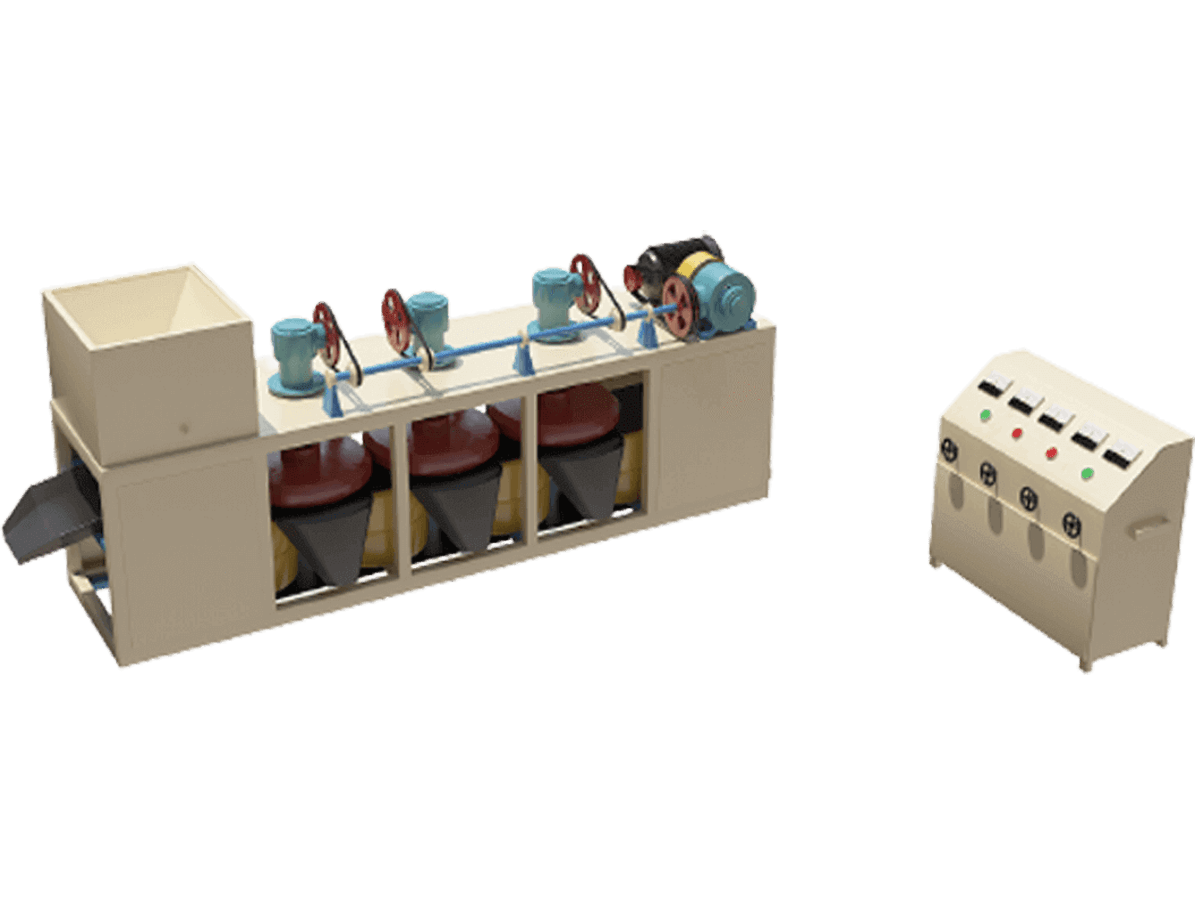 Three-Disc Magnetic Separator
Capacity: 100-800 Kg/h
Material Size: ≤2mm
Application: Suitable for dry separation of various metal minerals such as titanium ore, tungsten, tin ore, chromite, niobium-tantalum ore, limonite, zircon, rutile, feldspar and quartz; iron remover for non-metallic materials; sorting and purification of magnetic and non-magnetic minerals.
The three-disc magnetic separator is suitable for precisely separating various magnetic mineral mixed ores. It is mainly used to separate fine-grained weakly magnetic materials from non-magnetic materials, such as ilmenite, monazite, tungsten and tin, tantalum-niobium ore, and other dry separation operations. The induction distance between the magnetic disks at all levels and the selected minerals can be adjusted to obtain different magnetic field induction strengths and achieve one-time separation of multiple minerals. It has a variety of applications in the mining and mineral processing industries, significantly improving the purity of the finished product.
Features Of Three-Disc Magnetic Separator
Efficient sorting capabilities: Its high magnetic field strength can simultaneously separate minerals such as strong magnetism, weak magnetism, and non-magnetic minerals.
Automation and intelligence: It can be integrated into the mineral processing production line to realize automatic operation; it can separate continuously and have high production efficiency.
Save energy and costs: Due to its sturdy construction and reliable performance, the magnetic separator has low maintenance requirements and operating costs.
Flexibility and adjustability: Adjustable rotational speed allows the separation process to be customized and optimized according to specific mineral properties.
Environmental protection: usually no chemicals are needed, so it has certain advantages in environmental protection
working principle of Three-Disc Magnetic Separator
It mainly uses high-intensity magnetic fields to separate and purify materials. The materials to be separated are fed into the vibrating feeder, which distributes them evenly on the belt or disc conveyor. Three discs within the separator generate magnetic forces that effectively separate minerals based on their magnetic properties. As the mineral mixture enters the separator, a strong magnetic field pulls out the magnetic particles, while the non-magnetic particles continue along their path, resulting in efficient purification.
Eventually, they are carried by the rotating disk to different points where the magnetic force is weaker, causing them to separate and fall into separate collection areas.
Parameter
| | | | |
| --- | --- | --- | --- |
| Model | Unite | 3PC-500 | 3PC-600 |
| Magnetic Intensity (Adjustable) | Gauss | 0-18000 | 0-20000 |
| Number of Magnetic disk | pcs | 3 | 3 |
| Revolution of magnetic disk | r/min | 25-40 | 22-38 |
| Voltage | V | 380 | 380 |
| Exciting coil | Unit | 4 | 4 |
| Matching motor | kw | 0.75 | 1.5 |
| Exciting power | kw | 1.5 | 1.6 |
Structure
Please fill out the information below for the quotation price and engineer's help. We will reply asap!
Notice:
We do not provide jobs and have no interest in investment or partnerships.
We provide equipment and mineral processing solutions; not buy and sell mineral /ore /materials.

We value your privacy and keep your information safe.