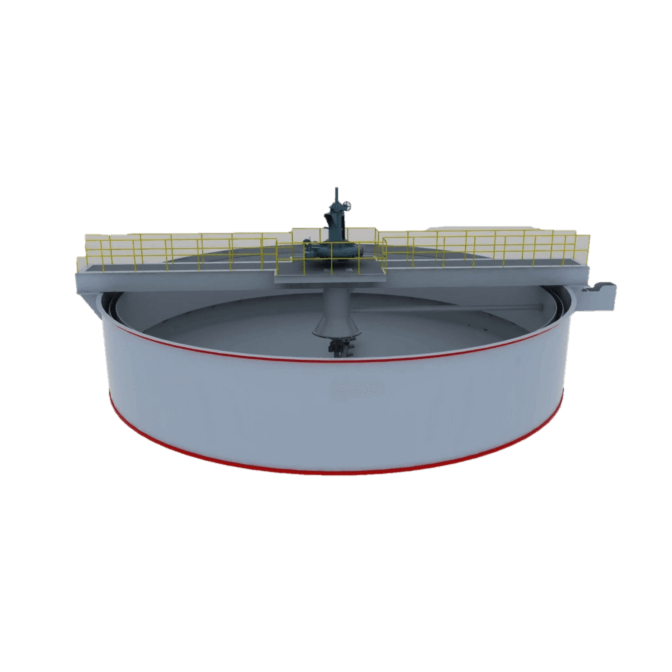 Capacity: 5-400 t/24h
Uses: dewatering process of concentrates and tailings in the mineral processing plant

Thickeners are recognized as one of the most cost-effective technologies for water recovery from concentrate and tailings streams. The concentrated slurry from the thickening process is transported to the tailings dam for disposal and the recycled water is returned to the processing plant.
In the process of thickening (also called sedimentation), the solids in a suspension settle under the influence of gravity in a tank and form a thick pulp. This pulp, and the clear liquid at the top of the tank, can be removed continuously or intermittently.
In comparison with filtration, thickening offers the advantage of low operation costs; on the other hand, it has the disadvantage of leaving a higher moisture content in the pulp. For this reason, the dewatering of pulps containing fine particles often involves a combination of thickening and filtration. The thickening of finely grained pulps is often aided by the use of flocculating agents.
To start with, mineral thickener works on the principle of Gravity sedimentation and the most common construction of a thickener would be of iron or steel.
The continuous thickener consists of a cylindrical tank. Pulp is fed into the centre of the tank via a feed-well placed up to 1 m below the surface of the suspension. The clarified liquid overflows a trough, while the solids which settle at the bottom of the tank are withdrawn as a thickened pulp from an outlet at the centre. One or more rotating radial arms are there within the tank, from each of which are suspended a series of blades, shaped so as to rake the settled solids towards the central outlet.
Need help from engineers?
Technical parameter
Structure
Sludge system
Technical parameter
Model
Dia
Depth
Angle
Drive time
Lifting
Capa.
Power
Weight
m
m
(°)
min
mm
t/24h
kw
t
NZS-1
1.8
1.8
 
2
160
5.6
1.1
1.24
NZS-3
3.6
1.8
 
2.5
350
22
1.1
3.1
NZS6
6
3
8
3.7
200
62
1.1
3.7
NZS9
9
3
8
4.3
250
140
3
5.2
NZS12
12
3.5
8
5.2
250
250
3
8.5
NZS15
15
4.4
9
10.4 
400
350
5.5
21.76
NZS20
20
4.4
9
10.4
400
500
5.5
24.5
NZS30
30
5.112
9
13,16,20
400
384
7.5
34.46
Structure
Sludge system