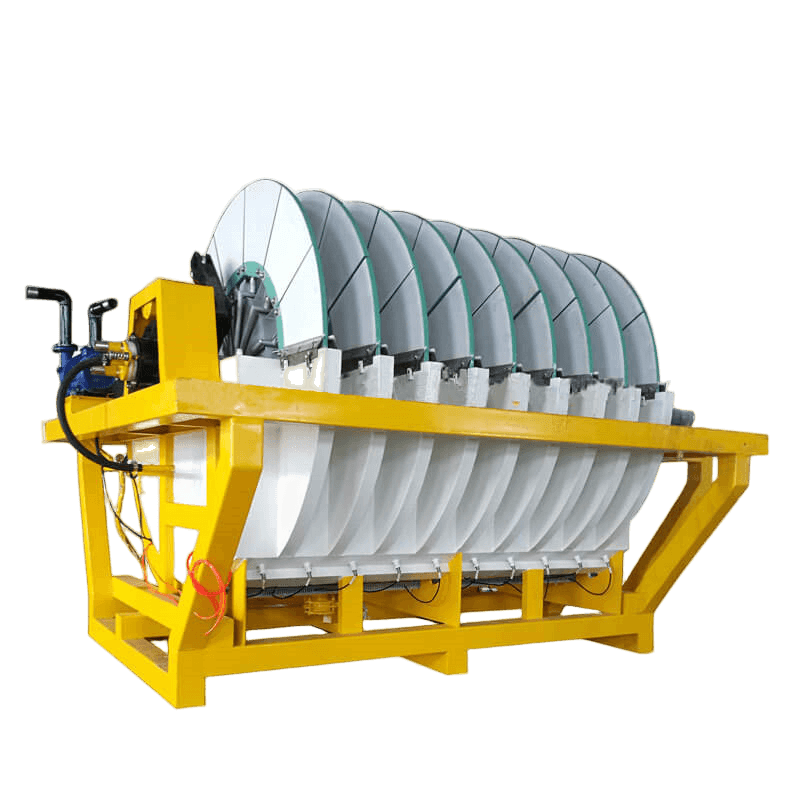 Capacity: 0.85-1.2 t/h·m² (Different material processing capacity is different)
Application: It is suitable for fine material filtration and dehydration of fine tailings and non-ferrous metal concentrates in mineral processing plants and can also be used for sewage, sludge, and solid-liquid separation processing in metallurgy, chemical industry, petroleum, and sewage treatment industutry.
Introduction: Our disc vacuum filter adopts a polyurethane or industrial polypropylene filter plate, which is lightweight and corrosion-resistant. It is an excellent filter equipment for tailings filtration and dehydration in non-ferrous metal and non-metal beneficiation. Aiming at the characteristics of the high density of metal minerals, fast settling, and strong impact of filtrate-containing solid particles on the filter tube, JXSC has optimized the overall performance and reliability of each component of the vacuum disc filter. It can efficiently separate the solid particles from the slurry, fully guarantee the excellent dehydration index of the metal minerals in the solid-liquid separation and improve the ore grade.
We also provide ceramic filters, which use microporous ceramics as filter media, saving more than 90% energy consumption. The panel is covered with 3-5 micron pores, more suitable for tailings or finer mineral powder dehydration. It can resist almost all temperatures and has a long service life. Both are a new type of high-efficiency and energy-saving filter equipment.
Advantage
Widely used in many fields and industries such as mining, environmental protection, chemical industry, food, pharmaceuticals, etc., to achieve technical requirements such as solid-liquid separation, concentration and dehydration;
Automatic variable speed strong stirring, reliable shaft end seal, wear-resistant and durable;
Sturdy structure, smooth operation of the filter plate; high strength filter fan, large porosity;
High-strength filter cloth with smooth surface, high cake unloading rate and long service life;
Reduce wastewater discharge, achieve sludge dehydration and volume reduction treatment, and at the same time realize water recovery and recycling;
High finished product quality, waste reduction and building a friendly beneficiation environment.
Working principle of Disc Vacuum Filter
The components of the disc vacuum filter include filter disc, vacuum system, suspended matter supply system, filter cake cleaning system and slag discharge system, etc. Filter discs typically consist of flat or uneven filter media (usually fine-pore filter cloth or membrane) that trap solid particles or suspended matter while allowing liquid to pass through. Start spinning at low speed to ensure the liquid is evenly coated on the filter media when operating. The material flows into the center of the filter disc from the feed pipe, and the solid particles remain on the surface of the filter medium to form a filter cake. At the same time, the clarified liquid enters the collecting tank or pipeline below through the filter medium. Through the rotation of the filter disc, the filter cake can be continuously formed and removed, realizing a continuous solid-liquid separation process.
Parameter
Structure
Features
Parameter
Filter tray diameter(mm)

filtration area

Filter tray quantity(m²)

power of main spindle motor

power of stirring motor(kw)

Discharge method

Length(mm)

Width(mm)

Height(mm)

Processing Capacity(t/h·m²)

2100

10

2

2.2

3

Blowback

2535

2480

2690

0.85-1.2

15

3

2925

20

4

3

4

3315

25

5

3705

30

6

4

5.5

4095

35

7

4485

40

8

5.5

7.5

4875

45

9

5265

50

10

5655

60

12

6435

3100

60

5

5.5

7.5

Blowback

4735

4280

3740

0.85-1.2 (Different material processing capacity is different)

72

6

7.5

11

5235

84

7

5735

96

8

11

15

6235

108

9

6735

120

10

7235
Please get in touch with us for more models; it can also be customized!
Structure
Features
Please fill out the information below for the quotation price and engineer's help. We will reply asap!
Notice:
We do not provide jobs and no interest in investment or partnerships.
We provide equipment and mineral processing solutions; don't buy and sell mineral /ore /materials.

We value your privacy and keep your information safe.