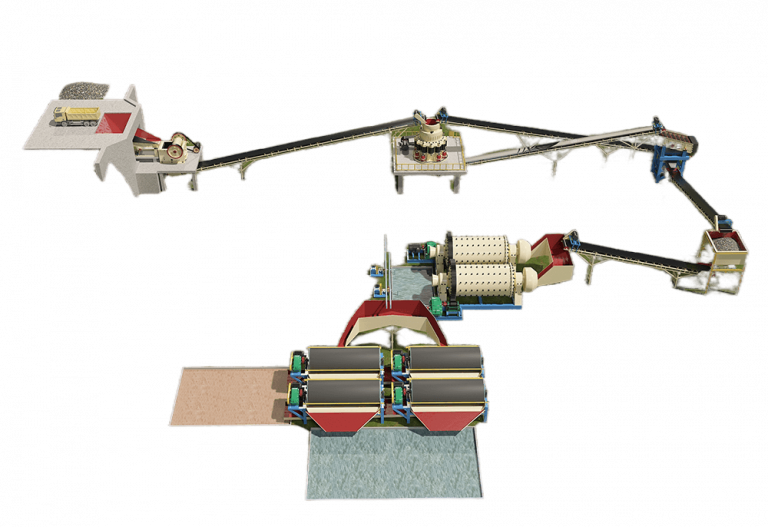 There are many types of iron ore, and different iron ore processing techniques are also completely different.
The commmom iron ore beneficiation process: gravity separation, magnetic, it's to choose different beneficiation methods according to the properties of different ores to achieve the best beneficiation effect.
iron ore beneficiation Process
There are many types of iron ore, which can be mainly divided into strong magnetic iron ore and weak magnetic iron ore.
Strong magnetic iron ores include: magnetite, titanomagnetite, pyrrhotite;
Weak magnetic iron ores include: hematite, pseudo-hematite, limonite, siderite, and ilmenite.
Among them, the main types of iron minerals are magnetite, hematite, limonite and siderite. Combining the characteristics of different iron ores, we will provide different beneficiation processes as per your needs.
Magnetite: The main iron mineral contained in magnetite is iron tetroxide (Fe3O4). And iron in the form of magnetite accounts for more than 85% of iron ore. Its outstanding feature is strong magnetism, so weak magnetic beneficiation is its main method.
Ilmenite: A weakly magnetic black or steel-grey mineral. The common ilmenite beneficiation process is "gravity separation – strong magnetic separation – flotation" and "gravity separation – strong magnetic separation – electric separation (sulfur removal before separation)".
Limonite: A typical refractory iron ore with easy sludge. Most limonite beneficiation plant usually use washing-gravity separation process, first use washing machine, trough washing machine and other equipment to wash the ore, and then use heavy media and jig and other gravity separation equipment for sorting.
Siderite: A common carbonate mineral with low iron grades. The commonly used methods for siderite beneficiation are gravity separation and strong magnetic separation.
Iron Ore Processing Plant
The iron ore beneficiation process mainly includes crushing, screening, grinding (ball mill), classification (classifier), separation (gravity separation, flotation, magnetic separation), and mineral dehydration (concentration, filtration, drying, etc.). The ultimate purpose of beneficiation is mainly to dissociate minerals and gangue, so as to achieve monomer separation and make final preparations for the separation operation.
1. Iron ore washing Plant
This setup is for the iron ore washing plant, the size range of the iron ore is 0-230mm, main machines as below:
Jaw crusher
Spiral sand washing machine
Vibrating screen
Ball mill
Spiral classifier
The Hopper+vibration feeder(with grizzly bar) for feeding materials to the jaw crusher automatically, and sieve the size 0-50mm to the spiral washing machine. you only need to load the materials to the hopper by truck or excavator or else as you want.
the jaw crusher is for crushing the iron ore 50-230mm, then to the fine jaw crusher.
the spiral washing machine is for washing the size 0-50mm then to the fina jaw crusher.
the fine jaw crusher is for crushing the iron ore to 0-20mm then to the ball mill.
the vibration screen is separating the size 0-20mm to the ball mill, +20mm back to the fine jaw crusher.
the hopper+feeder is for feeding the materials to the ball mill more smoothly.
the ball mill and spiral classifier is for grinding the iron ore and making sure the size of the final product to 0-0.074mm.
the magnetic separator is for separating the iron concentrate.
The capacity for these plants can be customized as per request such as 10tph, 50tph,100tph, etc.
Notes: if the materials are not much sticky, will not need the spiral washing machine, and the quantity of the machines just for your reference, we will depend on your capacity.
Raw ore information as below:
Rock iron ore, magnetite Fe3O4
Rock ore needs to be crushed to 5mm for releasing inside the iron
Processing capacity: 500tph
Require for dry process
1-Dump truck feeds raw ore to the hopper, then to the vibrating feeder.
2-Vibrating feeder evenly feeds the jaw crusher. jaw crusher crush big rock to a medium size less than 200mm
3-Jaw crusher output is sent to an underground transit silo via a belt conveyor. There is an electromagnetic vibrating feeder installed under the silo
4- The electromagnetic vibrating feeder feeds the output out of -200mm to 1st coarse cone crusher crush rock to less than 100mm
5-Cone crusher output is sent to the 1st and 2nd vibrating screen via belt conveyor. The vibrating screen is a 2-layer screen with a 5mm 20mm mesh size.
6-Over screen more than 20mm is back to the other 2 fine cone crushers for re-crushing via belt conveyor. and less than 5mm will send to the 1st and 2nd magnetic separators
7-Under screen 5-20mm are sent to 4 sets of double roll crusher via belt conveyor. double roll crusher crush ore to 0-5mm
8-Double roll crusher output is sent to the 2nd and 3rd vibrating screen. This vibrating screen is a 1 layer screen with a 5mm mesh size.
9-Over screen more than 5mm is back to double roll crusher for reprocessing.
10-Under screen less than 5mm are sent to 1st and 2nd magnetic separators.
11-The output of 1st and 2nd magnetic separators will be sent to the 3rd magnetic separator to separate again. The magnetic separator concentrating iron.
12-Iron concentrate and tailing are sent to the stockpile by belt conveyors.
iron ore mining equipment
Please fill out the contact form below to get the quotation price and engineer help.
We will response your request within 24 hours.
Notice:
We do not provide jobs, nor do we interested in investment or partnerships.
We provide equipment and mineral processing solution, we don't buy and sell mineral ores.

We value your privacy and keep your information safe.