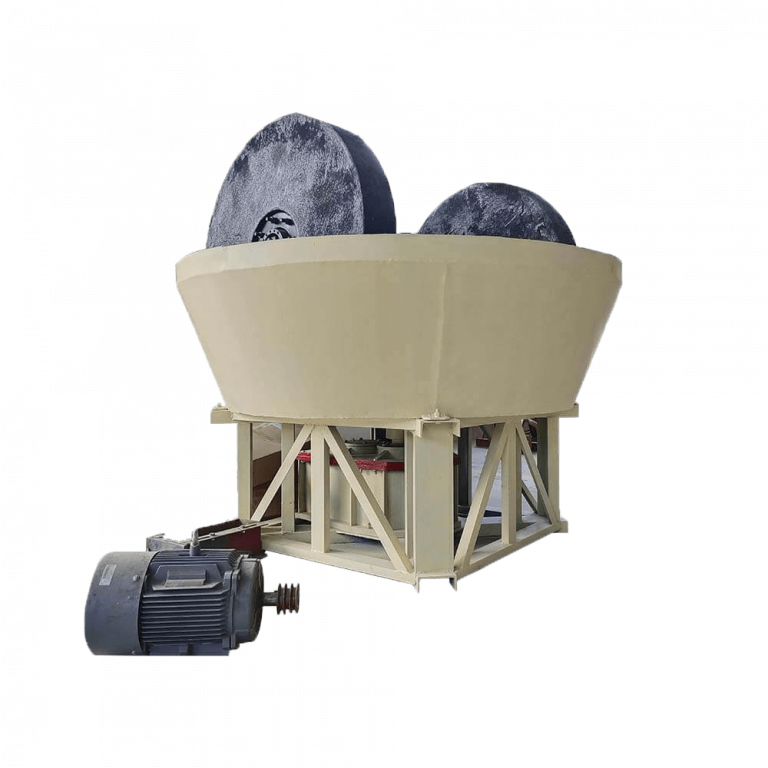 Capacity: 0.5-6t/h
Feeding size: <30mm
Output size: 0.074-0.6mm
Application: Mainly used for gold, silver, lead, zinc, tantalum niobium ore, molybdenum, copper, tin ore, etc.

Introduction: The wet pan mill is the full name of the wet pan grinding mill, gold pan mill, or wheel pan mill. According to the different applications, it is divided into the gold mill, amalgam mill, iron mill, and electric mill;
According to the different structure, it is divided into single pan mill, double pan mill and three pan mill. The equipment is mainly composed of a power unit, a frame, a water basin, a grinding wheel, a grinding plate and other components.
It is used for grinding operations of various ferrous metals, non-ferrous metals and non-metallic minerals, as well as grinding, beneficiation and processing operations of rare and precious metals gold and silver. Wet pan mill is the optimal first grinding equipment for the majority of small-scale rock gold processing plants, alternative equipment for ball mills. Wet pan mills are usually connected with equipment such as crushers, centrifuges, and shakers. It is widely sold in most African countries such as Sudan and Zimbabwe.
Advantages of wet pan mill
A piece of multi-purpose grinding equipment, not only for grinding gold ore but also for gold amalgam;
Small investment, high output, low production costs, good benefits, well received by users, is the best equipment to replace the ball mill;
The products formed by the material milled by this machine have the advantages of high density, good strength, and non-porous ratio;
Through repeated rolling, rolling and crushing of the ore, the moisture content of the ore is balanced, the gas content is low, and the ratio is uniform, so as to improve the forming rate and quality of the gold ore;
A good casting process can ensure high rigidity of casting rollers, roller rings, and rollers, and ensure that the castings are wear-resistant, good toughness, and high density.
Working principle Of Wet pan mill
The electric motor transmits the power to the reducer. Under the drive of the reducer, the rolling wheel obtains the driving force and rotates counterclockwise along the horizontal direction of the horizontal axis.
When working, the grinding wheel can not only revolve around the large vertical shaft of the wet mill, but also rotate around the central axis of the grinding wheel, while the grinding plate is fixed. The added ore material is subjected to squeezing force from the weight of the wheel in the mill, and the huge friction force generated by the wheel during rotation and rotation of the wheel and the grinding disc is completely crushed after repeated extrusion, kneading and grinding.
Parameter
Structure
Replacement
Parameter
| | | | | | | | |
| --- | --- | --- | --- | --- | --- | --- | --- |
| Model | Feeding size | Output size | Capacity | RPM | Power | Weight | Overall dimension |
| 900 | <15mm | 0.6-0.07mm | 0.1-0.4 T/H | 13-20 RPM | 3KW | 3.2T | 2300*300*1500mm |
| 1000 | <20mm | 0.6-0.07mm | 0.5-0.8 T/H | 13-20 RPM | 5.5KW | 4.8T | 2400*2400*1600mm |
| 1200 | <20mm | 0.6-0.07mm | 0.8-1.2 T/H | 13-20 RPM | 7.5KW | 6.2T | 2400*2400*1600mm |
| 1400 | <20mm | 0.6-0.07mm | 1-3 T/H | 13-20 RPM | 18.5KW | 9.5T | 2700*2700*2100mm |
| 1500 | <30mm | 0.6-0.07mm | 2-5 T/H | 13-20 RPM | 22KW | 12.5T | 2800*2800*2100mm |
| 1600 | <30mm | 0.6-0.07mm | 4-6 T/H | 13-20 RPM | 30/37KW | 16.2T | 2850*2850*2200mm |
Structure
Replacement
Please fill out the information below for the quotation price and engineer's help. We will reply asap!
Notice:
We do not provide jobs and have no interest in investment or partnerships.
We provide equipment and mineral processing solutions; not buy and sell mineral /ore /materials.

We value your privacy and keep your information safe.