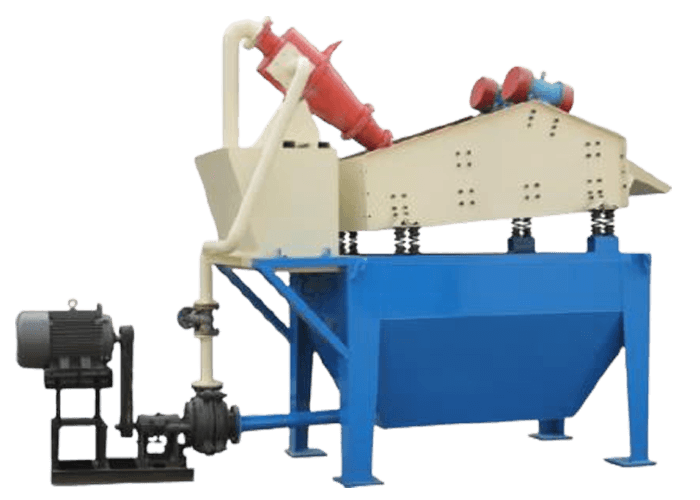 Fine Sand Recycling Machine
Capacity: 30-250TPH
Application: It is mainly used for dewatering and recycling fine sand and fine materials (slurry materials below 0.16mm). It is widely used in sand and gravel aggregate sand washing production lines, tailings recycling in mineral processing plants, silica/quartz sand processing systems, etc.
Introduction: Fine sand recovery machine is also called tailing sand recovery machine, fine sand extraction machine, fine sand collector, sediment separator, mud separator, sand-water mixture treatment system, etc. The fine sand recovery machine mainly consists of a motor, a slurry pump, a sediment separator, a cyclone, a TS dewatering screen, a cleaning tank, and a return box. It can also be equipped with a sand washing machine to form a modular sand washing – dewatering – recycling integrated machine.
Solution: It is mainly used to solve the problem of fine sand loss in the sand-making industry: good sediment separation, fine sand recovery, and wet sand dehydration.
When the sand washing machine washes the sand, it will inevitably cause the loss of fine sand. The lost fine sand may be contained in the sedimentation tank, and the fine sand may flow along the river. However, the existence of the fine sand recovery machine is to recover fine sand particles of less than 0.16mm that will flow away from the sedimentation tank.
Working principle of Fine Sand Recycling Machine
The slurry pump transports the sand-water mixture to the high-pressure mud and sand separator, and the centrifugally classified and concentrated tailings are supplied to the dewatering screen through the grit nozzle. After dewatering through the dewatering screen, the tailings and water are effectively separated; a small number of tailings and mud return to the cleaning tank through the return box, mix with the mixed liquid returned by the cyclone, and are sent to the cyclone for separation again. When the liquid level in the cleaning tank is too high, it is discharged through the water outlet.
Features Of Fine Sand Recycling Machine
The fine sand recovery machine can effectively reduce the loss of fine sand during sand washing and control it within 5%-10%.
The polyurethane screen used in the dewatering screen lasts longer than others and does not block the holes.
The hydrocyclone is lined with polyurethane, which increases the service life of the entire device and can complete slurry concentration, liquid clarification and other tasks.
High comprehensive utilization rate, safe and reliable; low power consumption, high efficiency, easy installation and maintenance
Use a closed circulating water system to recycle water resources and reduce water consumption.
No dust spillage, automatic discharge; while improving economic benefits, it also reduces the environmental pollution of materials, making it more environmentally friendly.
It alleviates the problem of coarse sand fineness modulus, improves the situation of unreasonable sand gradation, and improves the quality of finished products.
Parameter
| | | | | | | |
| --- | --- | --- | --- | --- | --- | --- |
| Model | Dewatering Screen | Motor Power | Hydrocyclone | Slurry Pump | Power of Slurry Pump (kw) | Capacity(t/h) |
| DN1224 | 1200*2400 | 2.2kw*2 | φ250*2 | 4/3AH | 15kw | 30-50 |
| DN1530 | 1500*3000 | 3kw*2 | φ300*2 | 4/3AH*2 | 11kw*2 | 50-80 |
| DN1840 | 1800*4000 | 5.5kw*2 | φ350*2 | 4/3AH*2 | 15kw*2 | 80-120 |
| DM2045 | 2000*4500 | 11kw*2 | φ500*2 | 6/4AH*2 | 30kw*2 | 120-150 |
| DN2245 | 2200*4500 | 15kw*2 | φ500*3 | 6/4AH*2 | 30kw*2 | 150-200 |
| DN2445 | 2400*4500 | 18.5kw*2 | φ500*4 | 6/4AH*2 | 37kw*2 | 200-250 |
Structure
Please fill out the information below for the quotation price and engineer's help. We will reply asap!
Notice:
We do not provide jobs and have no interest in investment or partnerships.
We provide equipment and mineral processing solutions; not buy and sell mineral /ore /materials.

We value your privacy and keep your information safe.