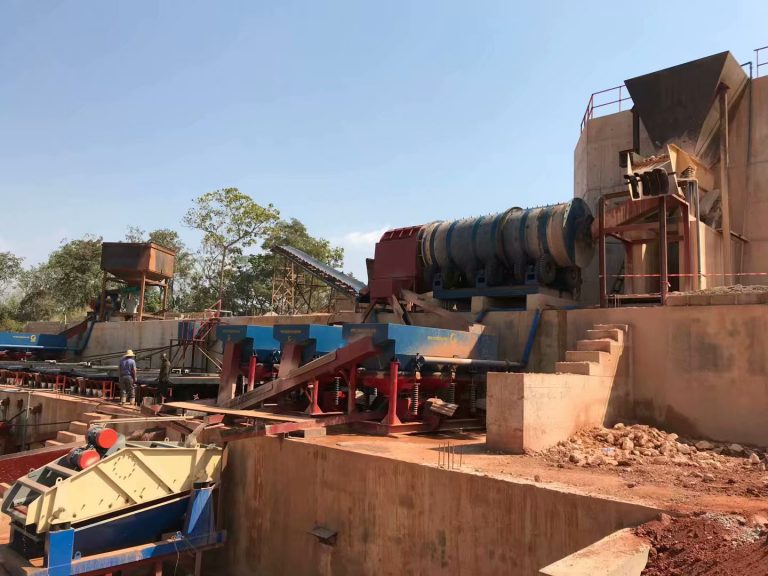 Tantalum Niobium Ore Processing
JXSC provides complete solutions for tantalum and niobium ore processing plants. We are one of the leading project suppliers for tantalum and niobium processing plants and we work closely with our customers to meet specific needs.
Focusing on the manufacture of these machines for 30 years has allowed us to take the lead in the processing of tantalum and niobium.
Tantalum niobium ore refers to the general term for minerals containing tantalum and niobium, and there are more than 100 species. Which can be used for ore mining, mainly from tantalite, niobium iron ore and pyrochlore. The main associated minerals of tantalum-niobium ore mining and processing equipment are processing tantalum-niobium ore, tantalum-niobite, niobite, tantalite, tin-manganese-tantalite, fine crystal and so on.
Tantalum niobium ore mining process
The mining and processing equipment of tantalum and niobium ore is generally divided into roughing equipment and selection equipment. The roughing mostly adopts the method of washing and gravity separation for enrichment, discarding a large amount of waste rock in the ore, and then entering the selection process. The selection methods of ore are magnetic separation method, flotation method, electric separation method, etc.
The specific beneficiation method should be determined according to the specific nature and composition of the ore.
Ore washing: For the extraction of tantalum and niobium ore with large mud content and strong viscosity, washing operation is essential. The washing of tantalum and niobium ore usually adopts large cylindrical washing machine, which is washed and deslimed by the rotary scrubber.
Crushing & Grinding:The mined tantalum and niobium ore is firstly crushed by a hammer crusher, crushed to a reasonable fineness, and then evenly sent to a ball mill through a hoist and a feeder, and the ore is crushed and ground by the ball mill.
Grading:The tantalum-niobium ore fines ground by the ball mill enter the next process – classification. Based on the principle that the specific gravity of solid particles is different and the speed of precipitation in the liquid is different, the spiral classifier cleans and classifies the ore mixture.
Gravity separation: The raw ore contains tantalite, niobite, cassiterite, zircon sand, ilmenite, monazite and other useful metals. The raw ore content is low, but the monomer dissociation degree of useful minerals and waste rock is very high, and the specific gravity difference is relatively large, and the tantalum-niobium ore composite concentrate with good purity can be extracted by jig gravity separation. The shaking table has high separation accuracy. After one separating, high-grade concentrate or waste tailings can be obtained, and multiple products can be picked up at the same time.
Magnetic separation: When the washed and classified tantalum-niobium mineral mixture passes through the magnetic separator, due to the different specific magnetic susceptibility coefficients of various minerals, the magnetic substances in the mixture are separated by magnetic force and mechanical force.
Tantalum niobium ore processing plant flow
The principles for determining the beneficiation method of tantalum-niobium ore equipment are, firstly, the selectivity of ore when adopting this beneficiation method, and secondly, the economy of adopting this beneficiation method. We adopt a beneficiation method with good selectivity and maximum economic benefits.
This setup is a 200tph Tantalum Niobium Tin Processing Plant:
It is configured with two sets of vibrating feeders, one set of trommel screens, one set of vibrating screens, eight sets of jig separators, eight sets of shaking tables, one set primary jaw crusher, one set of secondary fine crushing jaw crusher, two sets of third crushing hammer crusher, four sets of slurry pump,  one set of three discs magnetic separator and four sets of conveyors. 
The trucks load the raw material to the first vibrating feeder equipped with a 70mm grid sieve. The +70mm will be sent to the transfer silo by the 1st conveyors.
The 0-70mm material will be sent to the trommel scrubber with 8mm and 15mm screens to wash and separate. The 0-8mm material will be sent to the vibrating screen with a 2mm sieve to separate again. And 8-15mm materials will be sent to two jig separators to concentrate. The 15-70mm material will be sent to the transit silo too. 
After vibrating screen separating, 0-2mm material will be sent two jig separators, each jig will be equipped with two shaking tables for further selection. 2-8mm material will be sent to two sets of jig separators to concentrate.
The concentrate of 2-8mm and 8-15mm material after jig separating will be sent to the drying yard directly.
The material in the transit silo will be fed to the primary jaw crusher by the 2nd vibrating feeder under the silo.  6. the output of the primary jaw crusher will be sent to the secondary crushing to crush to 0-20mm.
After secondary crushing, the material will be sent to the hammer crusher to crush to 0-2mm. The 0-2mm will be stored in a pool with water.  And then they will be pumped to the rest two jig separators equipped with two shaking tables for further selection. 
All the concentrates of the shaking table will be sent to the drying yard to dry by the sun or other dryers. The dried  0-2mm contrate will be separated by the three-disc magnetic separator. In the end, magnetite, ilmenite or hematite, tantalum-niobium concentrate, non-magnetic materials will be distinguished.
Different types of tantalum-niobium ore beneficiation equipment in different regions require different types of tantalum-niobium ore process plants. If you want to buy a satisfactory set of tantalum-niobium ore beneficiation equipment, we are a professional beneficiation equipment manufacturer.
Professional Mineral Beneficiation Equipment, Solutions & Services
Talk with JXSC's mining experts to get more help, free to conslution!
Equipment list for Tantalum niobium ore mining
Tantalum niobium ore processing plant for sale
We have more than 30 years of experience in the manufacture of tantalum, niobium and tin mineral processing equipment. We are a large-scale mining service organization engaged in mining machinery manufacturing, mineral analysis, mineral processing process design, equipment selection,  installation and commissioning. Manufacturer and seller of Tantalum niobium processing plant equipment.
Please fill out the contact form below to get the quotation price and engineer help.
We will response your request within 24 hours.
Notice:
We do not provide jobs, nor do we interested in investment or partnerships.
We provide equipment and mineral processing solution, we don't buy them.

We value your privacy and keep your information safe.
More ways to get in touch with us.