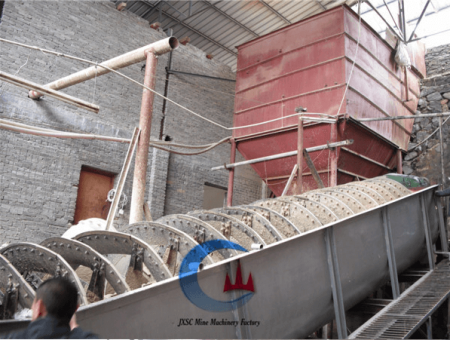 phosphate rock beneficiation
Phosphate beneficiation methods include: scrubbing and desilting process, gravity separation, flotation, combined maglev process, etc.
Different ore types are suitable for different beneficiation processes. Only by selecting the appropriate phosphate rock ore beneficiation process can obtain phosphate concentrate with high grade, high recovery rate and low cost.
phosphate rock beneficiation process
The selection of phosphate ore beneficiation process is mainly based on the nature of the ore.
Scrubbing and desilting process is suitable for treating phosphate rock with high degree of weathering, but the grade and recovery rate of phosphorus concentrate are both low;
Heavy medium beneficiation process of gravity separation, the specific gravity of the main gangue minerals such as calcite, dolomite and quartz in the phosphate rock is similar to that of apatite, and the heavy medium separation method is mainly used. The pollution to the environment is small, and it is good for coarse-grained phosphate rock, but it is not suitable for processing fine-grained phosphate rock.
Flotation separation is the main method for beneficiation of phosphate ore. It is suitable for processing complex and difficult phosphate ore, and the final concentrate has a high grade and recovery rate.
Combined gravity-magnetic-floating process is suitable for phosphate rock containing useful associated minerals, and the utilization rate of the ore is high, but the beneficiation process is complex, and complex drug removal treatment is often required.
phosphate rock Processing Plant
Phosphate ore beneficiation process can be applied to phosphate ore with complex and diverse ore structures, complex mineral occurrence relationship, small khenpo particle size, close mosaic relationship, common mixed symbiosis, and difficult monomer dissociation. Phosphate ore beneficiation process can be divided into three processes: phosphate ore crushing—separation—concentrate dehydration.
1. Ore crushing process includes crushing, screening, grinding and grading processes. Use crushers and ball mills to reduce the particle size of ore to dissociate phosphorus minerals from impurity mineral monomers. The degree of grinding depends on the particle size of phosphorus minerals and impurity minerals.
2. Separation process of phosphate rock usually adopts the flotation machine. Usually, phosphate rock contains recyclable iron ore and other associated metals. At this time, magnetic separation and other processes can be added to the flotation process. The magnetic impurity minerals in the phosphate rock are separated and removed by a magnetic separator. The useful associated metals are recovered.
3. Ore dehydration usually includes two processes of concentration and filtration. Thickener are generally used for concentration, and disc filters are generally used for filtration, so that products such as phosphate rock can be easily stored and transported.
The selection of phosphate ore process solutions needs to be determined according to the phosphate concentrate product index requirements and the differences in the properties of the raw ore. JXSC designs reasonable phosphate ore crushing and grinding processes, beneficiation processes, and beneficiation equipment for customers. This can effectively reduce the customer's phosphate beneficiation cost and rationalize the customer's interests.
Please fill out the contact form below to get the quotation price and engineer help.
We will response your request within 24 hours.
Notice:
We do not provide jobs, nor do we interested in investment or partnerships.
We provide equipment and mineral processing solution, we don't buy and sell mineral ores.

We value your privacy and keep your information safe.