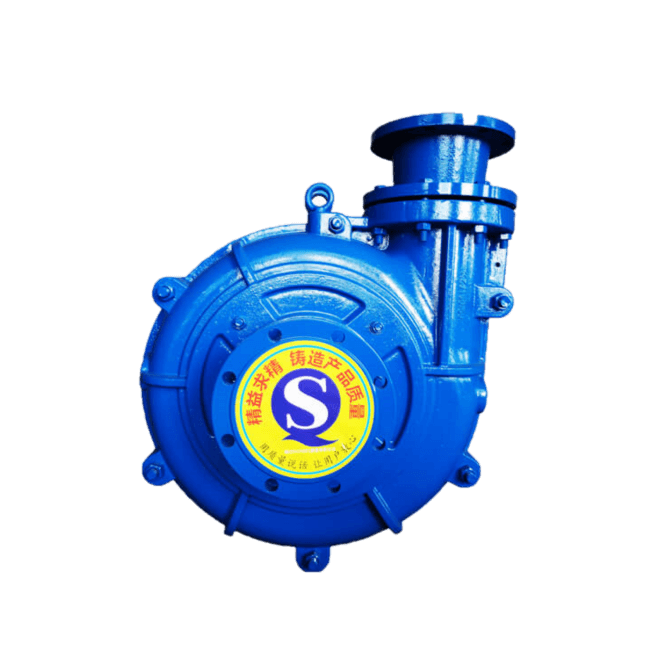 Capacity: 4.5-3741m3/h
Head: 6-130m
Speed: 300-2930rpm
NPSHr: 1.3-10.7m
Eff: 83%
Handling solids: 180mm
ZJ Series Slurry Pump are a new high-efficiency energy-saving anti-wear pump. The series pumps are innovative in hydraulic design, structural design and wear-resistant materials. The utility model has the advantages of high efficiency, energy saving, small vibration, low noise, reliable operation, long service life and convenient maintenance. The comprehensive performance of pumps in the domestic leading level, most of the pump efficiency indicators in the international advanced level.
Widely used in electric power, metallurgy, coal, building materials and other industries conveying solid particles slurry. Such as power plant hydraulic ash, metallurgical ore dressing plant slurry transport, coal washing plant slurry and heavy medium transport.

Parameter
Construction Drawing
Features
Parameter
Type

Allowable Max. Power of ass. Motor(Kw)

Clear Water Performance

Handled Particle Dia.

Max. (mm)

Pump Weight

(Kg)

Capacity

(m3/h)

Head

(m)

Speed

(r/min)

Max.eff.

(%)

(NPSH)r

(m)

350ZJ-I-F100

560

526-2339

14.9-62.8

300-590

77.6

4.4

96

5465

350ZJ-I-C104

560

1335-3300.6

36.6-66.9

490-590

77.6

7.3

180

5465

350ZJ-I-C100

710

834-3502

11.1-60.0

300-593

73.0

7.4

160

7120

350ZJ-I-A85

710

1025-3741

12.3-62.3

400-742

77.2

10.5

100

5461

350ZJ-I-A80

630

837-3575

8.4-56.4

400-742

75.7

10.5

92.8

4920

300ZJ-I-A100

450

464-1826

15.3-65.2

300-590

81.1

3.0

88

5265

300ZJ-I-A95

400

441-1735

13.8-58.8

300-590

78.1

3.0

88

5220

300ZJ-I-A90

560

505-1844

21.2-79.9

400-730

82.8

3.9

85

5005

300ZJ-I-C90

400

604-2392

10.9-50.9

300-590

78.6

3.6

160

6290

300ZJ-I-A85

450

477-1742

18.9-71.3

400-730

79.8

3.8

85

4965

300ZJ-I-A70

630

635-2333

16.0-76.8

490-980

80.4

3.9

92

3560

300ZJ-I-A65

500

589-2166

13.8-66.2

490-980

77.4

3.7

92

3531

300ZJ-I-A56

250

395-1568

9.7-46.0

490-980

80.9

3.5

96

3030

250ZJ-I-A103

560

402-1573

29.7-110.5

400-730

74.5

2.8

69

5085

250ZJ-I-A96

560

403-1466

25.4-93.7

400-730

77.8

3.5

69

5035

250ZJ-I-A90

450

378-1374

22.3-82.4

400-730

73.8

3.4

69

4980

250ZJ-I-A85

800

376-1504

30.1-128.7

490-980

76.5

3.5

76

4530

250ZJ-I-A83

800

367-1469

28.7-122.7

490-980

75.5

3.5

76

4514

250ZJ-I-A80

710

354-1416

26.7-114.0

490-980

73.5

3.4

76

4490

250ZJ-I-C80

450

451-1790

7.4-38.3

300-592

75.1

3.3

144

5203

250ZJ-I-A78

630

415-1796

21.1-102.5

490-980

71.5

3.2

76

4474

250ZJ-I-A75

560

300-1480

20.8-97.5

490-980

77.5

3.0

72

3480

250ZJ-I-A73

500

292-1441

19.7-92.4

490-980

76.5

3.0

72

3466

250ZJ-I-A70

450

280-1381

18.1-84.9

490-980

74.5

2.9

72

3446

250ZJ-I-A68

450

272-1342

17.1-80.1

490-980

73.5

2.7

72

3432

250ZJ-I-A65

315

299-1249

15.4-71.0

490-980

76.9

3.0

72

3020

250ZJ-I-A63

315

290-1211

14.4-66.7

490-980

75.9

3.0

72

3008

250ZJ-I-A60

280

276-1153

13.1-60.5

490-980

73.9

2.8

72

2991

200ZJ-I-A85

560

221-907

32.0-133.7

490-980

70.5

2.8

54

4110

200ZJ-I-A75

355

225-900

22.8-102.9

490-980

74.1

3.0

56

3070

200ZJ-I-A73

355

219-876

21.6-97.5

490-980

73.1

3.0

56

3056

200ZJ-I-A70

315

205-976

19.4-86.41

490-980

75.6

2.8

56

2465

200ZJ-I-A68

315

199-948

8.3-81.5

490-980

74.6

2.8

56

2453

200ZJ-I-A65

250

235-950

16.4-72.0

490-980

79.6

2.5

62

2323

200ZJ-I-A63

250

228-921

15.4-67.6

490-980

78.6

2.5

62

2311

200ZJ-I-A60

185

218-870

13.9-62.0

490-980

83.5

2.5

62

2223

200ZJ-I-A58

185

211-841

13.0-57.9

490-980

82.5

2.5

62

2214

200ZJG-I-B45

132

85-538

10.5-72.9

700-1480

68.0

10.7

28

1531

150ZJ-I-A71

220

142-552

21.8-93.8

490-980

69.8

2.4

48

2263

150ZJ-I-A70

185

93-401

20.2-91.2

490-980

62.3

2.0

37

2245

150ZJ-I-A65

200

150-600

17.4-75.7

490-980

70.8

2.5

48

2223

150ZJ-I-A63

185

146-582

16.3-71.1

490-980

69.8

2.5

48

2211

150ZJ-I-A60

160

135-550

14.7-63.5

490-980

75.9

2.5

48

2203

150ZJ-I-A58

132

131-532

13.7-59.3

490-980

74.9

2.5

48

2033

150ZJ-I-C58

160

134-596

12.8-61.0

490-980

69.1

2.0

75

2063

150ZJ-I-A57

110

95-427

13.2-56.3

490-980

67.8

1.8

32

2023

150ZJ-I-A55

110

124-504

12.3-53.4

490-980

72.9

2.3

48

2019

150ZJ-I-A50

75

115-460

9.5-43.1

490-980

76.8

2.5

48

1735 (1648)

150ZJ-I-A48

75

111-442

8.7-39.7

490-980

75.8

2.5

48

1728 (1641)

150ZJG-I-B45

110

105-458

10.9-72.5

700-1480

65.4

7.3

25.6

1576 (1433)

150ZJ-I-C42

132

142-550

12.1-62.8

700-1480

77.1

2.2

69

1605 (1518)

100ZJ-I-A50

160

85-360

20.5-100.2

700-1480

69.6

2.5

34

1475 (1388)

100ZJ-I-A46

132

79-331

17.3-84.8

700-1480

67.6

2.3

34

1461 (1374)

100ZJ-I-A42

90

66-275

14.7-70.8

700-1480

71.0

2.5

35

1075 (1021)

100ZJ-I-A39

75

61-255

12.6-61.0

700-1480

39.0

2.4

35

1064 (1010)

100ZJ-I-B42

90

83-365

12.7-66.8

700-1480

71.6

2.5

40

1085 (1031)

100ZJG-I-B42

75

45-205

9.7

700-1480

63.2

1.8

18

1080 (990)

100ZJ-I-A36

55

61-245

49.5

700-1480

71.6

2.0

32

1010 (956)

100ZJ-I-A33

45

56-225

8.2-41.6

700-1480

69.6

1.8

32

1003 (949)

80ZJ-I-A52

160

51-242

22.1-109.8

700-1480

56.3

2.1

21

 1465 (1378)

80ZJ-I-A42

75

61-204

14.4-70.4

700-1480

66.7

2.5

24

1053 (963)

80ZJ-I-A39

55

57-189

12.4-60.7

700-1480

64.7

2.4

24

1042 (952)

80ZJ-I-A36

45

46-190

9.6-51.4

700-1480

67.7

2.5

24

980 (926)

80ZJ-I-A33

37

43-174

8.0-43.2

700-1480

65.7

2.3

24

973 (919)

65ZJ-I-A30

15

23-79

7.4-34.8

700-1460

63.5

2.0

19

504 (512)

65ZJ-I-A27

11

20-71

6.0-28.2

700-1460

61.5

1.8

19

500 (508)

50ZJ-I-A50

90

27-111

22.3-110.7

700-1480

45.1

3.0

13

1378

50ZJ-I-A46

55

23-94

17.9-85.8

700-1480

44.7

1.4

14

1082 (992)

50ZJ-I-A33

18.5

12-54

7.7-42.5

700-1480

42.1

2.9

13

537 (545)

40ZJ-I-A19

15

8.0-34.9

12.8-57.1

1430-2930

58.8

1.3

11

173

40ZJ-I-A17

7.5

4.5-23.4

9.1-44.6

1400-2900

52.4

2.5

11

121 (127)
Construction Drawing
Features