20TPH Alluvial Gold Gravity Separation Plant In Ghana
We guarantee the high quality machine in the mineral processing industry, established in 35 years of experience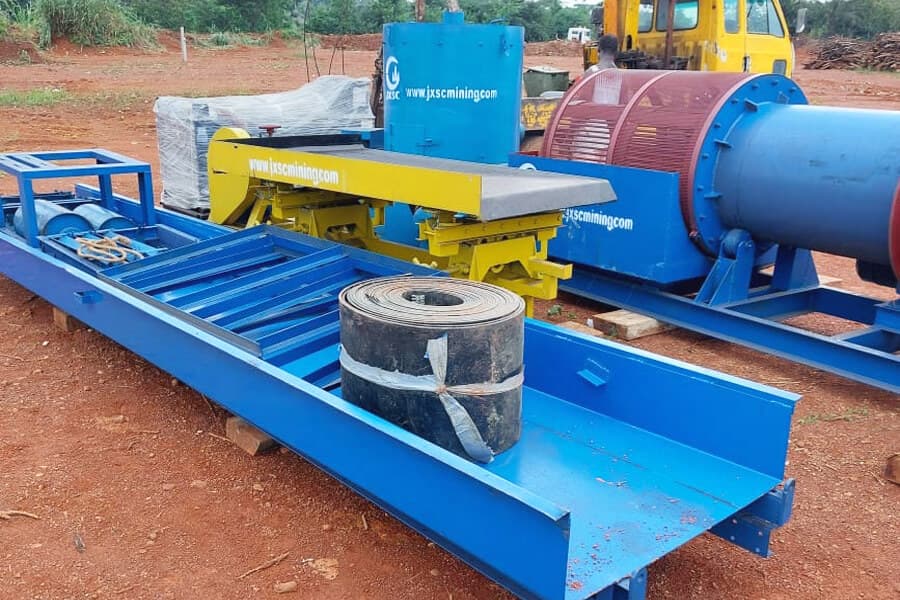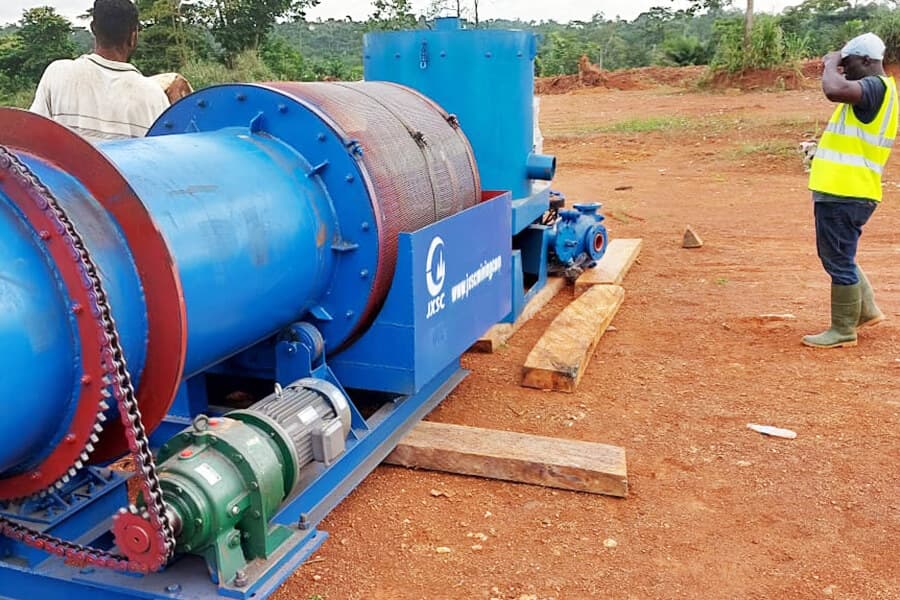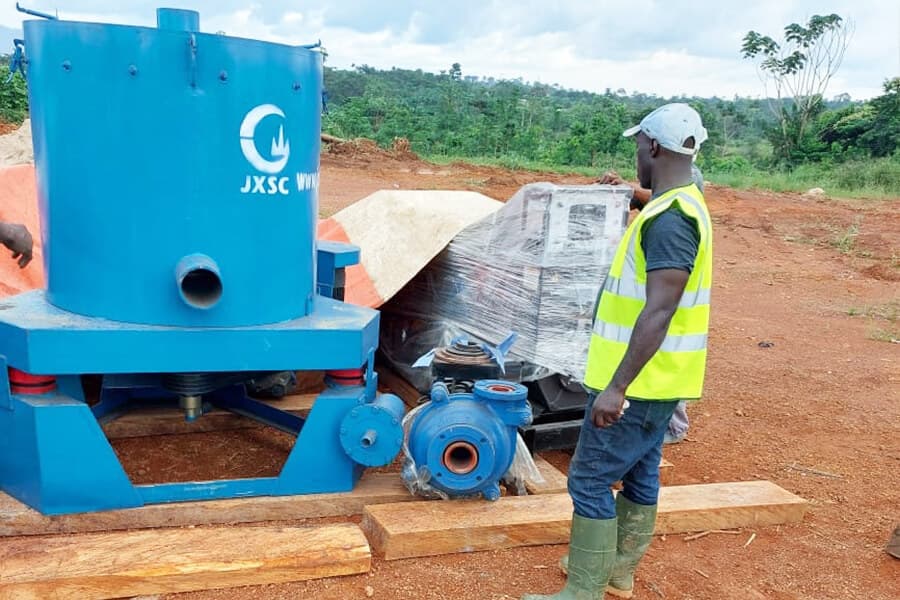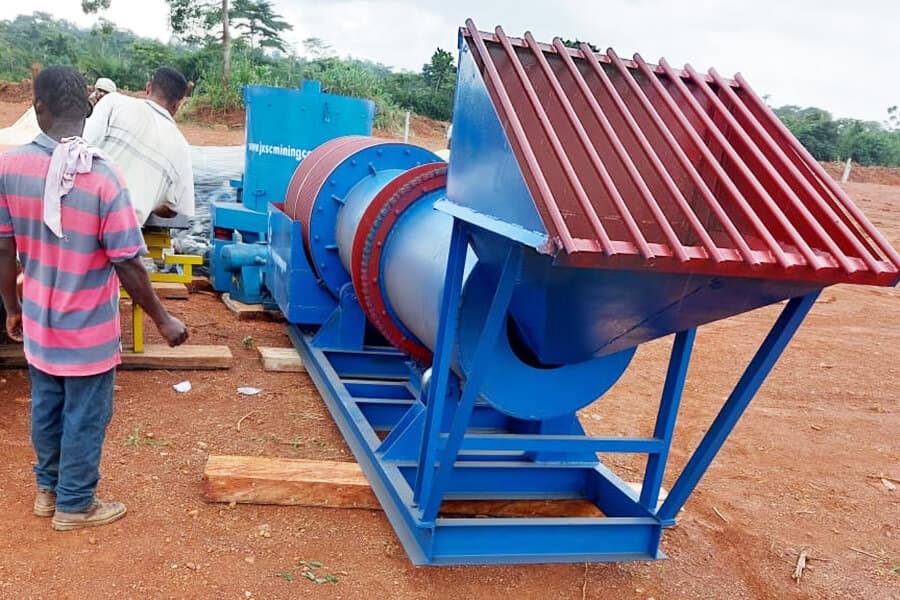 1. Raw ore: alluvial gold with sticky clay and big stones
2. Capacity: 20TPH
3. Location: Ghana
4. Feed size: about 20mm
Washing – Gravity separation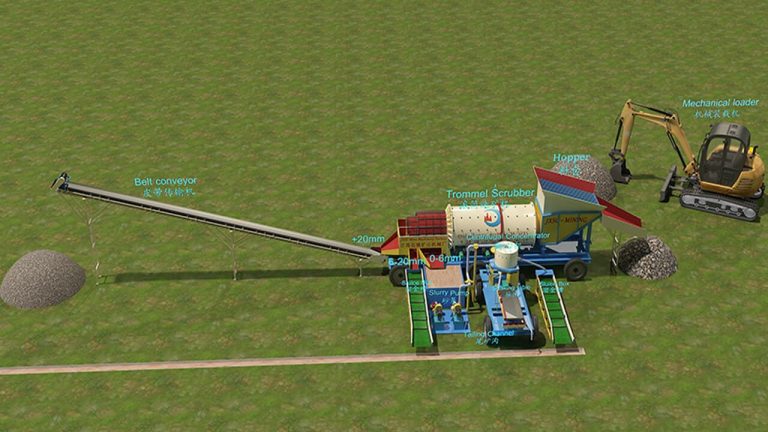 JXSC configured a 20TPH alluvial gold gravity separation plant, complete sets of machines and all accessories for Ghanaian customers. Among them, the raw ore contains clay & large stones, and the size of gold is mostly 0-6mm. Customers have their engineer team, and we provide detailed layout design drawings. Details are as follow:
1. Washing stage: Trommel scrubber with hopper and 75mm screen bar
The raw ore is sent into the hopper by the excavator. The material of +75mm is transported to the waste pile, and the material of 0-75mm is sent to the drum scrubber to wash and screen the material of 0-6mm and 6-20mm. The +20mm material is transported to the waste pile with a belt conveyor.
2. Gravity separation: Gold centrifugal concentrator, Shaking table
The centrifugal concentrator separates gold from the trommel scrubber's 0-6mm material. Among them, the tailings of the centrifugal concentrator and the 6-20mm material of the trommel scrubber are sent to the gold chute to recover the gold ore. Then the material is sent to the shaking table to extract 0-2mm gold concentrate.
| | | |
| --- | --- | --- |
| Product Name | Model No. | Quantity  (Set) |
| Trommel scrubber | JXSC750 | 1 |
| Belt conveyor | 500x15m | 1 |
| Gold centrifugal concentrator | STLB80 | 1 |
| Sluice box | 1x6m | 1 |
| Shaking table | 2100x1050mm | 1 |
| Water pump | IS100 | 1 |
| Water pump | IS80 | 1 |
| Slurry pump | 4/3inch | 1 |
Please fill out the contact form below to get the quotation price and engineer help.
We will response your request within 24 hours.
Notice:
We do not provide jobs, nor do we interested in investment or partnerships.
We provide equipment and mineral processing solution, we don't buy and sell mineral ores.

We value your privacy and keep your information safe.