20TPH Alluvial Gold Gravity Separation Plant In Ghana
We guarantee the high quality machine in the mineral processing industry, established in 35 years of experience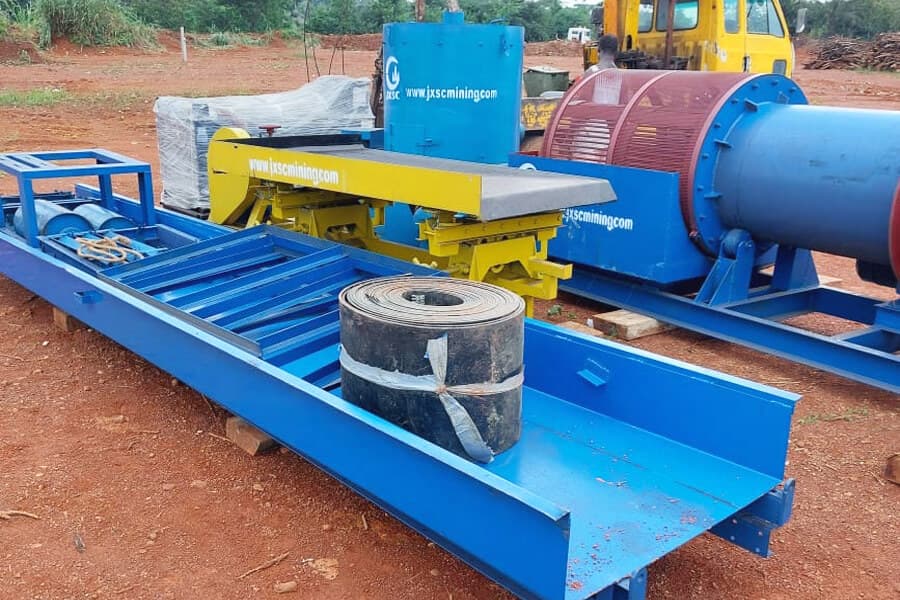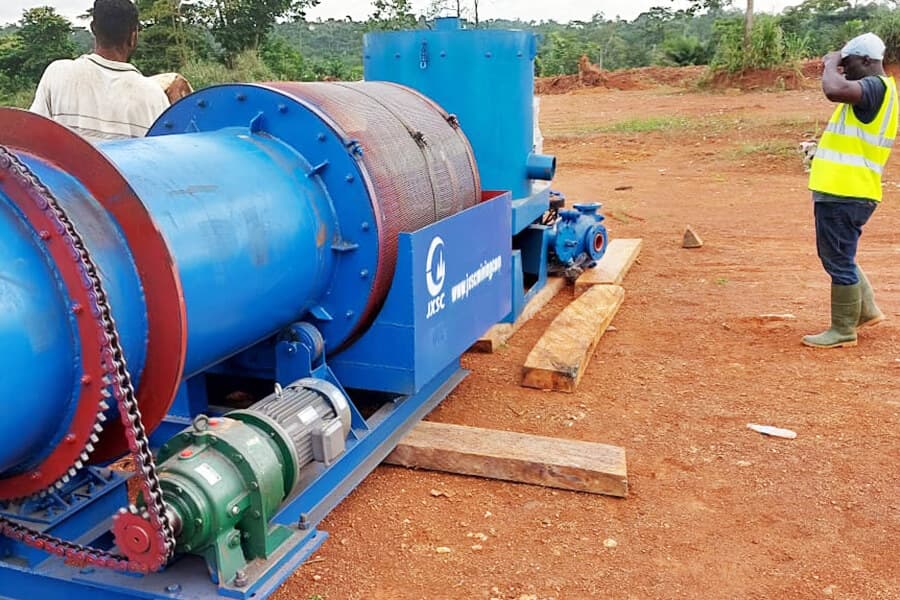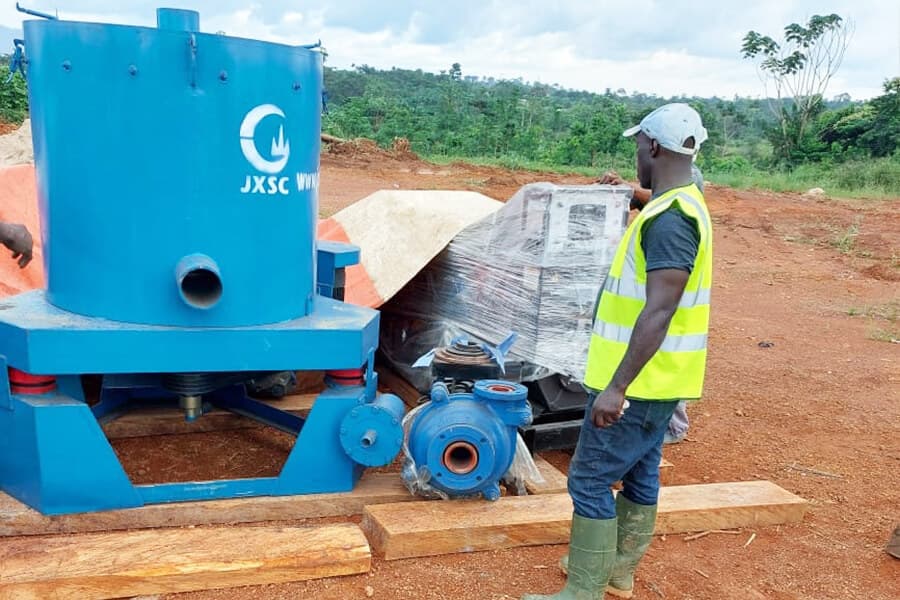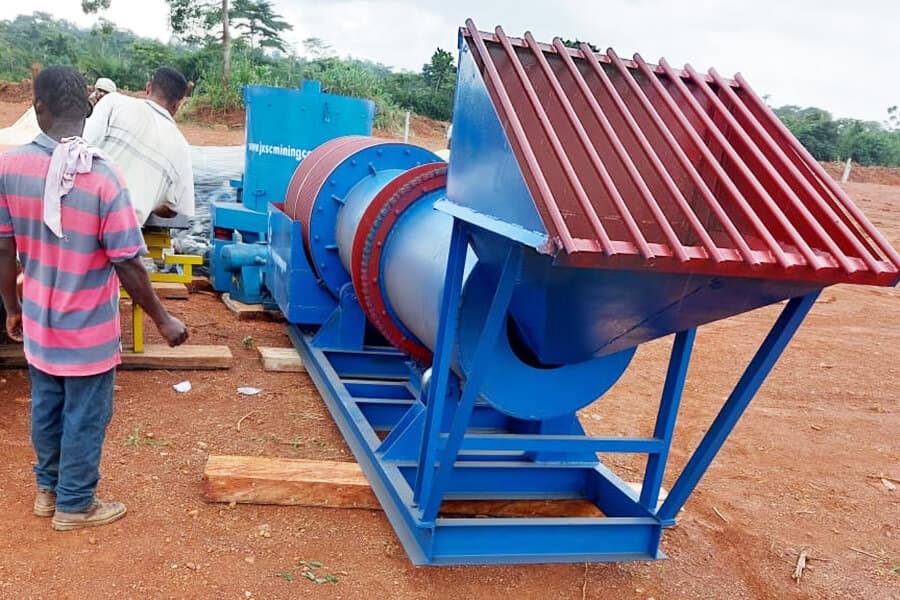 1. Raw ore: alluvial gold with sticky clay and big stones
2. Capacity: 20TPH
3. Location: Ghana
4. Feed size: about 20mm
Washing – Gravity separation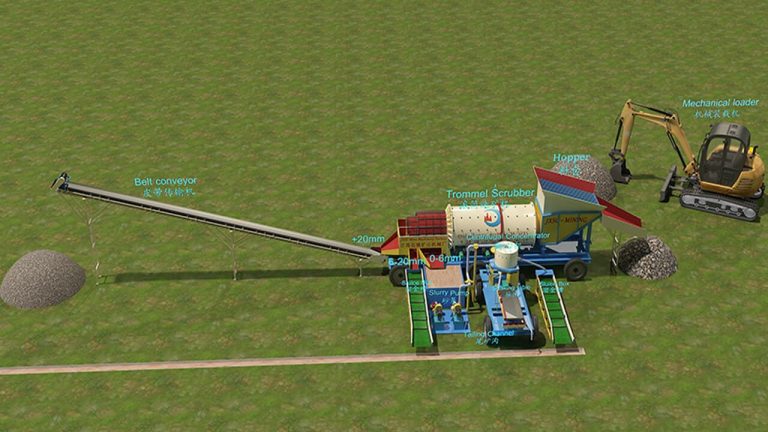 JXSC configured a 20TPH alluvial gold gravity separation plant, complete sets of machines and all accessories for Ghanaian customers. Among them, the raw ore contains clay & large stones, and the size of gold is mostly 0-6mm. Customers have their engineer team, and we provide detailed layout design drawings. Details are as follow:
1. Washing stage: Trommel scrubber with hopper and 75mm screen bar
The raw ore is sent into the hopper by the excavator. The material of +75mm is transported to the waste pile, and the material of 0-75mm is sent to the drum scrubber to wash and screen the material of 0-6mm and 6-20mm. The +20mm material is transported to the waste pile with a belt conveyor.
2. Gravity separation: Gold centrifugal concentrator, Shaking table
The centrifugal concentrator separates gold from the trommel scrubber's 0-6mm material. Among them, the tailings of the centrifugal concentrator and the 6-20mm material of the trommel scrubber are sent to the gold chute to recover the gold ore. Then the material is sent to the shaking table to extract 0-2mm gold concentrate.
| | | |
| --- | --- | --- |
| Product Name | Model No. | Quantity  (Set) |
| Trommel scrubber | JXSC750 | 1 |
| Belt conveyor | 500x15m | 1 |
| Gold centrifugal concentrator | STLB80 | 1 |
| Sluice box | 1x6m | 1 |
| Shaking table | 2100x1050mm | 1 |
| Water pump | IS100 | 1 |
| Water pump | IS80 | 1 |
| Slurry pump | 4/3inch | 1 |
Please fill out the information below for the quotation price and engineer's help. We will reply asap!
Notice:
We do not provide jobs and have no interest in investment or partnerships.
We provide equipment and mineral processing solutions; not buy and sell mineral /ore /materials.

We value your privacy and keep your information safe.