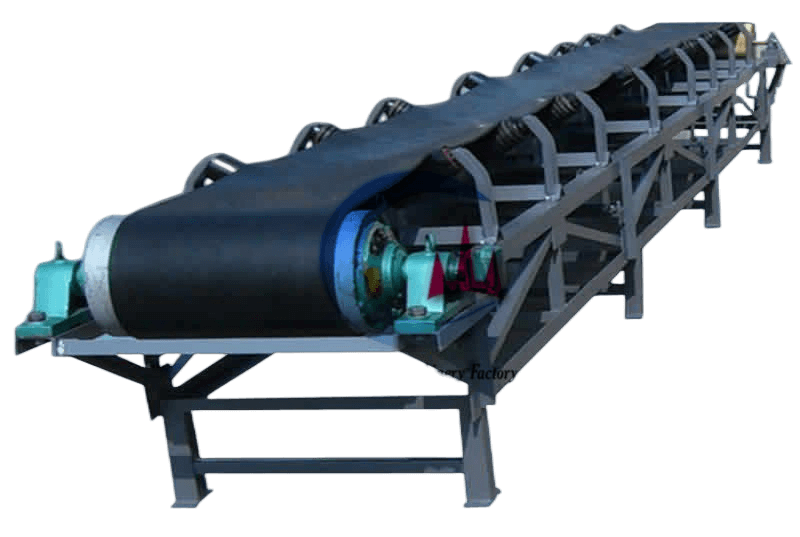 Capacity: 10-350TPH
Feeding: <800mm
Application: Material all kinds of ore, waste, tailings, steel slag, etc transport.


We're providing belt conveyors mainly for mining applications. It can seamlessly integrate with crushing processing, receiving and handling material from the production line.
Application: JXSC belt conveyors are designed to handle and move mediums in mineral processes, such as material inside a factory and bulk material handling. It also transports large volumes of resources and processed ores, such as gravel, sand, coal, ore, alluvial, overburden, etc.
Working principle of Belt Conveyor
The belt conveyor mainly comprises two end rollers and a closed conveyor belt tightly sleeved on them. The pulley that drives the conveyor belt to rotate is called a drive pulley (drive pulley); the other pulley that only changes the direction of movement of the conveyor belt is called a reversing pulley.
Material is fed on the feed-side and lands on the rotating conveyor belt, which relies on the conveyor belt friction to deliver to the discharge end. It has the advantages of strong conveying capacity, long conveying distance, large transport volume and continuous conveying.
Parameter
Structure
Main parts
Parameter
Model

Capacity
(t/h)

Max length
(m)

Belt width
(mm)

Speed
(m/s)

Upper slope
(°)

Power
(kw)

Drum dia
(mm)

Roller Dia
(mm)

DT75-500

87

20

500

1

<20

5.5

500

89

DT75-650

127

20

650

1

<20

7.5

500

89

DT75-800

198

15

800

1

<20

7.5

630

89

DT75-1000

507

20

1000

1.25

<20

11

800

108

DT75-1200

742

20

1200

1.25

<20

15

1000

108

DT75-1400

1032

30

1400

1.25

<20

22

1000

133
Structure
Main parts
Please fill out the information below for the quotation price and engineer's help. We will reply asap!
Notice:
We do not provide jobs and have no interest in investment or partnerships.
We provide equipment and mineral processing solutions; not buy and sell mineral /ore /materials.

We value your privacy and keep your information safe.