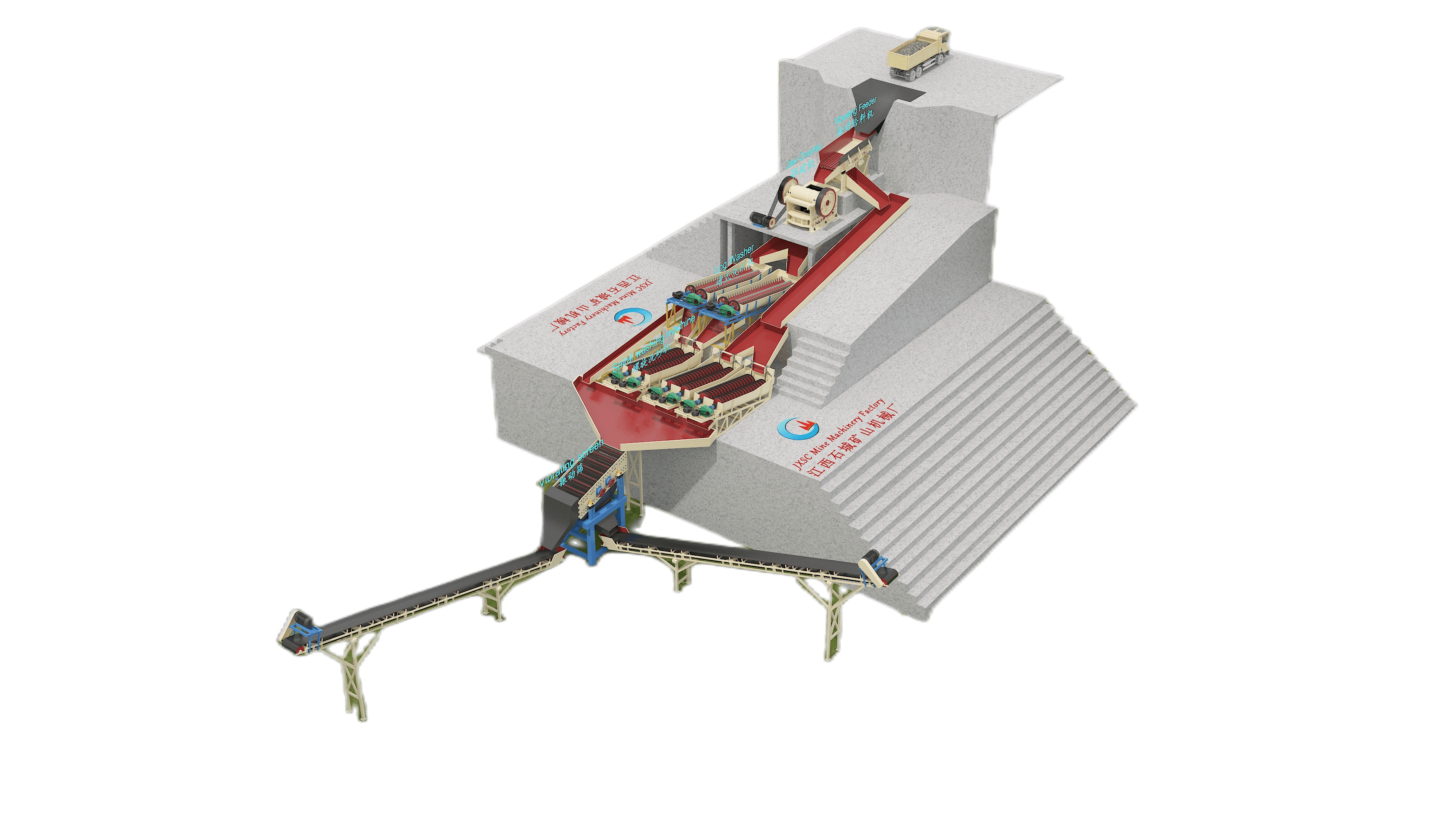 The composition of barite ore is complex, and there are strict requirements on the fineness of the product in application. The common barite beneficiation process are hand selection, gravity separation, flotation and magnetic separation.
JXSC supports customized complete set of barite processing plant and equipment according to the specific types of barite mines to satisfy your needs.
&nbsp Barite Beneficiation Process
According to the different ore properties, it can be divided into four types: sedimentary type, volcanic sedimentary type, hydrothermal type and residual slope accumulation type. The types of ore are different, and barite beneficiation methods and equipment are different.
Hand selection: For purer barite ore, hand selection or ore washing is often used to obtain barite concentrate;
Gravity separation: For residual barite ore with relatively simple composition and coarse particle size, it often coexists with galena, sphalerite, chalcopyrite, cinnabar, etc. Generally, equipment such as jigs and shaking table are used for separation.
Flotation separation: Utilize the large specificity characteristics and good hydrothermal barite buoyancy. The flotation method can be used to remove gangue minerals such as sulfide ore and fluorite ore associated with barite, and can be used to treat ore with finer particle size.
Magnetic separation: mainly used to remove iron-containing minerals in barite associated minerals, such as siderite. Sorting is achieved by using the magnetic difference between barite and iron-bearing minerals. Magnetic separation is mostly used in combination with gravity separation.
Combined process: In addition, for barite composite ore with complex associated minerals, and sedimentary barite ore with fine mineral distribution, low raw ore grade and high concentrate grade, gravity separation and flotation should be combined.
&nbsp Barite Processing Plant
This setup is a barite processing plant, main equipment and flow details as follows:
1. The materials under the grizzly bar of the vibrating feeder are conveyed to 2 spiral sand washers through the material guide chute;
2. The material above the grizzly bar is fed to the jaw crusher, the discharged material of the jaw crusher enters the 2nd spiral log washers, and the out materials is fed into 1st spiral sand washer,
3. The overflow of the spiral ore washer is guided to the vibrating screen,
and the discharging materials of the 3 spiral sand washers are all fed into
the vibrating screen, and the vibrating screen sieve out 2 kinds of finished products with different particle sizes, 0-20mm and materials over 20mm.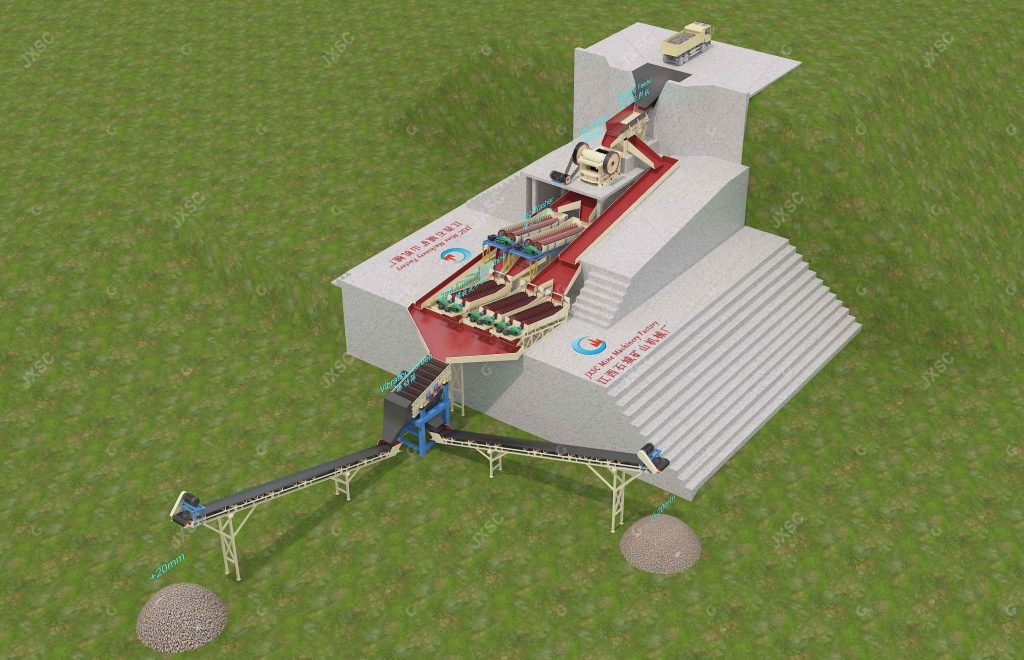 2. Barite Gravity separation
1. Crushing: barite is brittle and fragile, so the crushing process mainly adopts simple and practical jaw crusher; after the first stage of crushing, the material is transported to the second stage of fine jaw crusher for secondary crushing
2. Screening: Jig separation has strict requirements on the particle size of materials, and a screening process needs to be set up. The circular vibrating screen screens the broken products.
3. Stock bin and feeder: The function of the silo is to avoid sudden and small workload of the previous equipment, and properly store certain materials. The function of the vibrating feeder is to feed the jig material evenly and stably;
4. Gravity separation: Crushed products are divided into different particle sizes and enter the jig concentrator for separation;
5. Dewatering stage: Design a suitable mechanical dehydration process according to the requirements.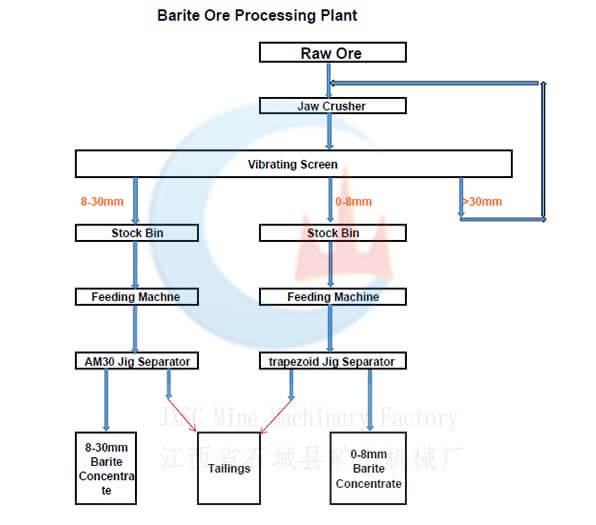 Please fill out the information below for the quotation price and engineer's help. We will reply asap!
Notice:
We do not provide jobs and no interest in investment or partnerships.
We provide equipment and mineral processing solutions; don't buy and sell mineral /ore /materials.

We value your privacy and keep your information safe.