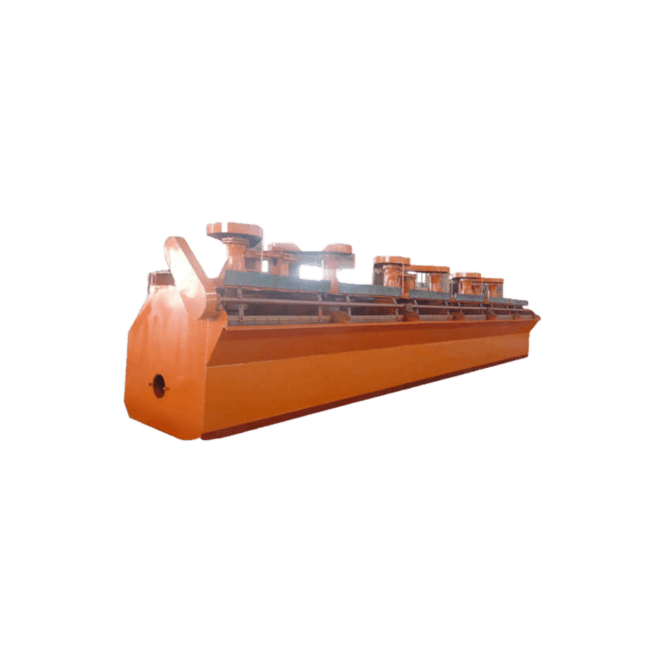 Capacity: 0.18-20m³/min per cell
Use area: copper, gold, zinc, lead, etc
Flotation is an economical and effective separation of refined gold technology, especially for these ores that are not suitable for other processes, such as gold-bearing copper ore, base metal ore, copper-nickel ore, platinum group ore, etc.
Flotation is also used to remove impurities before hydrometallurgical treatment (ie, carbon pre-flotation) to purify low-sulfide and refractory ores for further processing.
Flotation is considered to be the most cost-effective method of concentrating refined gold and is often used in conjunction with flotation and/or cyanidation.
Working principle of flotation cell
The impeller is rotated by V-belt of motor and produces negative pressure by centrifugal function. Enough air is sucked to mix slurry, and slurry mixes drug at the same time. Mineral sticks on bubble completely and floats on the surface of slurry to form mineralized bubble. Useful bubble is scraped out by adjusting flashboard height and controlling liquid surface.
Need help from engineers?
Technical parameter
Structure
Technical parameter
Model
Volume
Cell size
Impeller Dia.
Impeller speed
Capacity
Power
Singe cell weight
m3
mm
mm
r/min
m3/min
kw
kg
XJK-3A
0.35
700×700×700
300
483
0.18-0.4
2.2/0.55
430
XJK-4A
0.62
820×900×850
350
400
0.3-0.9
3/1.1
755
XJK-5A
1.1
1100×1100×1000
500
330
0.6-1.6
5.5/1.1
1416
XJK-6A
2.8
1750×1600×1100
600
280
1.5-3.5
11/1.1
2113
XJK-7A
5.8
2200×2200×1200
750
240
3–7
22/1.5
3400
SF-0.37
0.37
700×700×750
296
386
0.2-0.4
1.5/0.55
468
SF-0.7
0.7
820×900×950
350
400
0.3-0.9
3/1.1 
805
SF-1.2
1.2
1100×1100×1100
450
312
0.6-1.2
5.5/1.1
1373
SF-2.8
2.8
1700×1600×1150
550
268
1.5-3.5
11/1.5
2138
SF-4
4
1850×2050×1200
650
220
2–4
15/1.5
2582
SF-8
8
2200×2900×1400
760
191
4–8
30/1.5
4129
SF-10
10
2200×2900×1700
760
191
5–10
30/1.5
4486
SF-16
16
2850×3800×1700
760
191
5–16
30×2/1.5
8320
SF-20
20
2850×3800×2000
760
191
5–20
30×2/1.5
9828
Structure