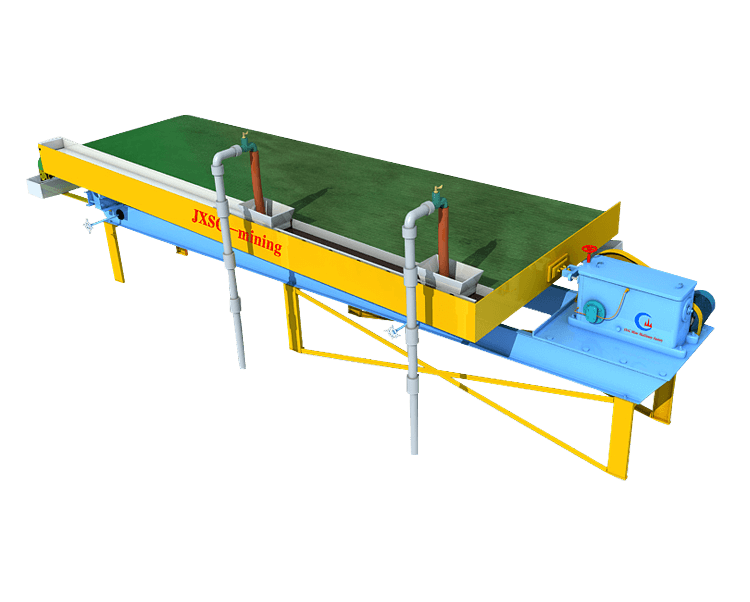 Big and steady steel frame than other competitors
Lightweight and corrosion-resistant Polypropylene materials feeding chute and collection chute
High-quality & wear-resisting fiberglass deck
Heighten steel stand for more convenient feeding
Protective cover for belt wheel that ensures safe production
Shaking tables are one of the oldest gravity separators in the mineral processing industry, capable of handling minerals and coal of 0-2mm.
Shaking tables are rectangular-shaped tables with riffled decks across which a film of water flows. The mechanical drive imparts motion along the long axis of the table, perpendicular to the flow of the water. The water carries the particles of the feed in slurry across the riffles in a fluid film. This causes the fine, high density particles to fall into beds behind the riffles as the coarse, low-density particles are carried in the quickly-moving film. The action of the table is such that particles move with the bed towards the discharge end until the end of the table stroke, at which point the table rapidly moves backwards and the particles' momentum propels them still forward.
The capacity of the shaking table is about 0.5 t/h. 1.5-2TPH depending on the particle size of the process. In chromite processing and dressing industry, it is usually dozens of shaking table series or parallel installation to deal with excess tons. Therefore, the required installation space, equipment control difficulties due to the increased number of installations and the need for more automated processes have brought new challenges to the process design.
Need help from engineers?
All Types of shaking tables to choose from
As a shaking table manufacturer, JXSC provides all kinds of popular types of shaker tables for sale.
Our Shaker tables by deck numbers: 
Single deck shaker tables
Double deck shaker tables
Mult deck shaker tables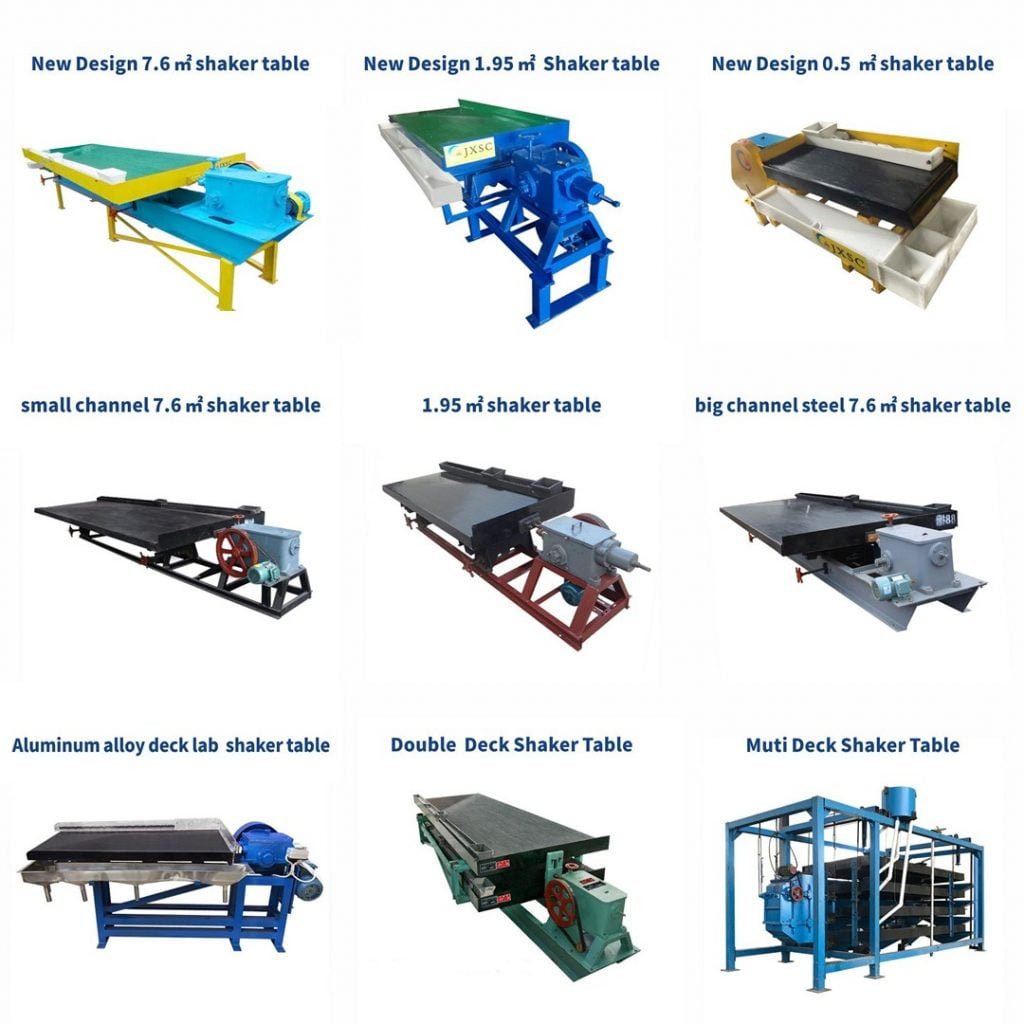 Customizable deck for your need.
1. Laboratory small shaker table, deck size 1100*500*430mm
2. Standard shaker table, deck size 2100*1050*850mm
3. 6S small shaker table, deck size 4500*1850*1560mm
According to different feed particle size, 6S shaker is separately suited for coarse sand, fine sand, slime. There are 5 different grooves available: 46/60/88/120/138.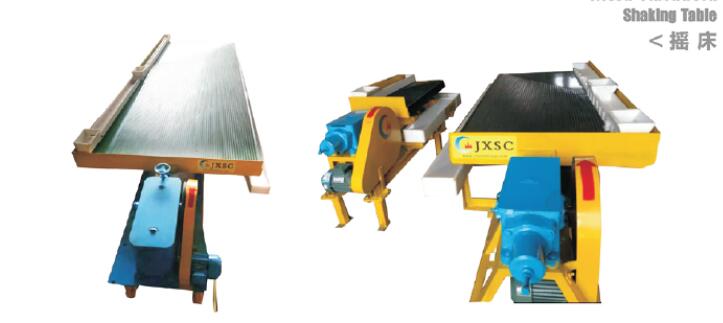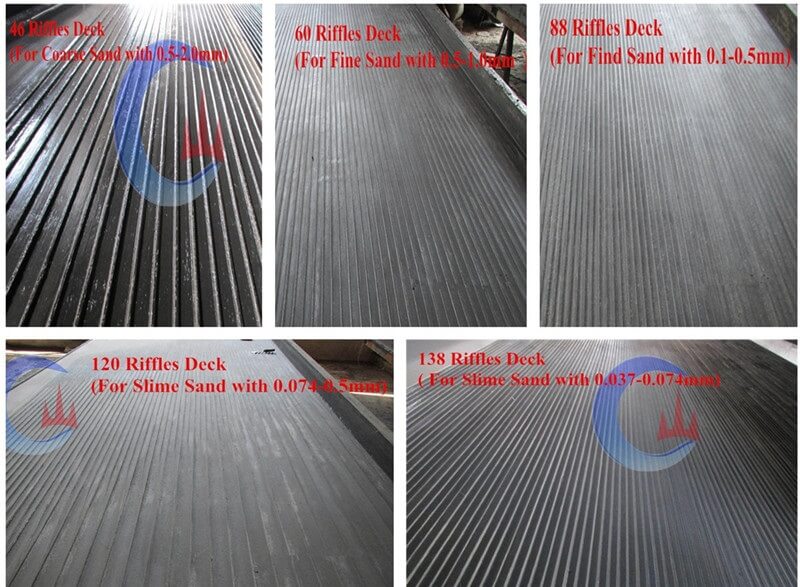 Compared with competitor' shaking table,our shaking table has below outstanding advantages:
1. Big channel frame, very strong steel base structure( other companies use small channel frame)
2. Polypropylene materials feeding chute and collection chute.(other companies dont have )
3. Heighten steel stand,making it more convenient when feeding materials.
4. Add cover for belt wheel
5. Use top quality fiberglass deck,more wear-resisting
6. Has various grooves on the table for your choice. We will recommend the best grooves to you according to your gold size.
Parameter
Replacement
Structure
Parameter
Deck type

Unit

Course sand

Fine sand

Slime Deck

Three different kinds of decks are available

Beneficiation Area

m2

7.6

7.6

7.6

4.08

1.95

0.5

Deck Size

Length

mm

4450

4450

4450

3000

2100

1100

transmission end width

mm

1855

1855

1855

1320

1050

500

Concentrate end width

mm

1546

1546

1546

1100

850

430

Maximum Feeding Size

mm

2

0.5

0.15

0.1-2

0.074-2

0.074-2

Feeding Amount

t/d

30-60

10-20

15-25

0.4-1.5t/h

0.3-0.8t/h

0.05-0.2t/h

Feeding Density

%

25-30

20-25

15-25

10-30

Stroke

mm

16-22

11-16

8-16

6-30

12-28

9-17

Frequency

f

45-48

18-53

50-57

210-320

250-450

280-460

Water added

t/d

80-150

30-60

10-17

0.3-1.5t/h

0.2-1t/h

0.1-0.5t/h

Transverse slope of Deck

°

2° 30-4° 30

1° 30-3° 30

1° -2°

0 -10°

0 -8°

0 -10°

Longitudinal slope of Deck

°

1.4

0.92

——

——

——

——

Cross-section Shape of Deck

 

rectangular

saw tooth

triangle

Avaliable rectangular, saw tooth, triangle

Motor Power

KW

1.1

1.1

1.1

1.1

1.1

1.1
Replacement
Structure
Please fill out the contact form below to get the price of our equipment and engineer help.
More ways to get in touch with us.