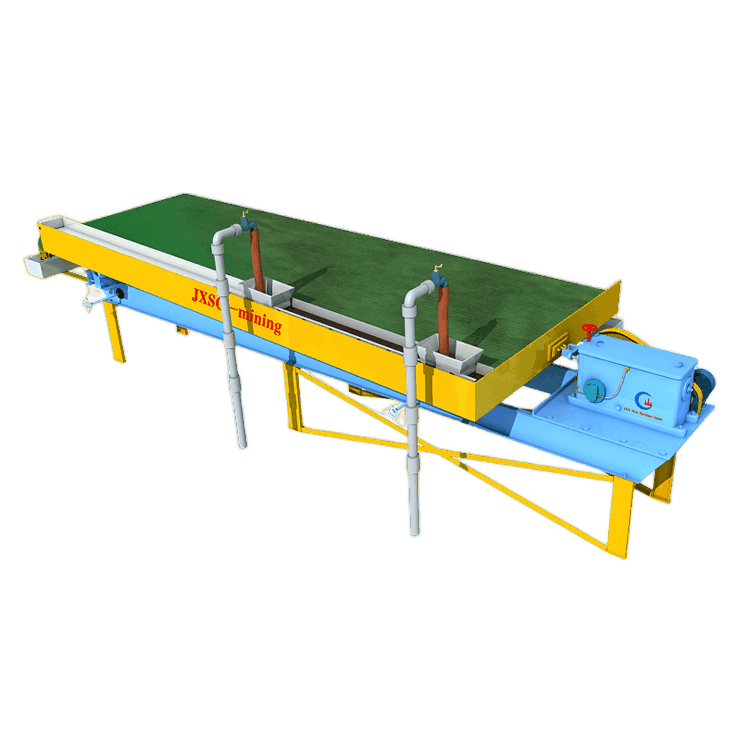 Capacity: 10-20 t/d, Some model max capacity up to 60 t/d
Application:  Tin, tungsten, gold, silver, lead, zinc, tantalum, niobium, titanium, manganese, iron ore, coal, etc. 
Advantage:
Lightweight and corrosion-resistant Polypropylene materials feeding chute and collection chute
High-quality & wear-resisting fiberglass deck
Heighten steel stand for more convenient feeding
Protective cover for belt wheel that ensures safe production
Introduction: In gravity separation, the shaking tables (gravimetric tables, shaker tables) are the most widely used and efficient sorting equipment for fine ore separation. The shaking table beneficiation is not just applied as an independent beneficiation method. Still, it is often combined with equipment such as jig separators, centrifugal concentrators, spiral classifiers, spiral chutes, etc.
Features Of Shaking tables
It is often connected with gold trommel scrubber, trommel screen, centrifuge concentrator, sluice box and other beneficiation equipment, and is used in alluvial gold processing plants
It has the advantages of high enrichment ratio, good separation efficiency, easy care, easy adjustment and simple operation, and can obtain the final concentrate and tailings at one time;
The bed surface is flat, has good corrosion resistance, is durable, not easy to deform, has a long service life, and does not need to be replaced frequently;
Easy installation, simple operation, low cost, high cost performance, good sorting performance and stable indicators.
working principle of shaking table
The ore are fed from the ore feeding trough at the corner of the shaking table bed, and the horizontal flushing water is supplied from the feeding trough. Mainly on an inclined bed surface, with the help of the combined action of symmetrical reciprocating motion of mechanical stone slabs and thin-layer inclined plane water flow. The mineral particles on the bed surface according to specific gravity and water flow impulse so that the minerals are sorted according to different densities. Finally, the ore particles with different specific gravity and particle sizes gradually flow down in a fan shape along their respective directions of movement. It's discharged from other areas on the concentrate end and tailings side of the shaking table, respectively, thus forming concentrate, middlings and tailings.
Compared with competitor' shaking table,our shaking table has below outstanding advantages:
Big channel frame, very strong steel base structure( other companies use small channel frame)
Polypropylene materials feeding chute and collection chute.(other companies dont have )
Heighten steel stand,making it more convenient when feeding materials. Add cover for belt wheel.
Use top quality fiberglass deck,more wear-resisting.
Has various grooves on the table for your choice. We will recommend the best grooves to you according to your gold size.
Parameter
Structure
Customizable Deck
Parameter
Deck type

Unit

Coarse sand

Fine sand

Slime Deck

Three different kinds of decks are available

Beneficiation Area

m2

7.6

7.6

7.6

4.08

1.95

0.5

Deck Size

Length

mm

4450

4450

4450

3000

2100

1100

transmission end width

mm

1855

1855

1855

1320

1050

500

Concentrate end width

mm

1546

1546

1546

1100

850

430

Maximum Feeding Size

mm

2

0.5

0.15

0.1-2

0.074-2

0.074-2

Feeding Amount

t/d

30-60

10-20

15-25

0.4-1.5t/h

0.3-0.8t/h

0.05-0.2t/h

Feeding Density

%

25-30

20-25

15-25

10-30

Stroke

mm

16-22

11-16

8-16

6-30

12-28

9-17

Frequency

f

45-48

18-53

50-57

210-320

250-450

280-460

Water added

t/d

80-150

30-60

10-17

0.3-1.5t/h

0.2-1t/h

0.1-0.5t/h

Transverse slope of Deck

/

2° 30-4° 30

1° 30-3° 30

1° -2°

0 -10°

0 -8°

0 -10°

Longitudinal slope of Deck

/

1.4

0.92

——

——

——

——

Cross-section Shape of Deck

 

rectangular

saw tooth

triangle

Avaliable rectangular, saw tooth, triangle

Motor Power

KW

1.1

1.1

1.1

1.1

1.1

1.1
Structure
Customizable Deck
Please fill out the information below for the quotation price and engineer's help. We will reply asap!
Notice:
We do not provide jobs and have no interest in investment or partnerships.
We provide equipment and mineral processing solutions; not buy and sell mineral /ore /materials.

We value your privacy and keep your information safe.