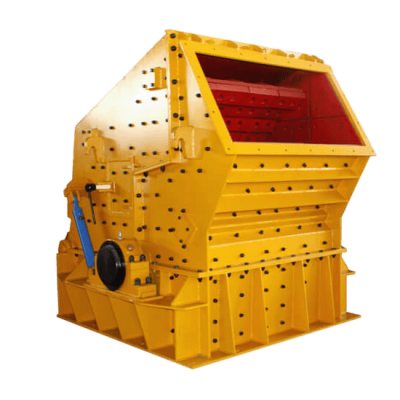 Impact crushers are widely used in the mineral processing plant, with high production efficiency and good safety performance. The finished product has a cubic shape, avoiding stretching and cracking, and have a better grain size distribution.
impact crusher is the use of impact instead of pressure to break the material.
According to the arrangement type of impact rotor and shaft, impact crushers can be further divided into horizontal shaft impact crushers (HSI) and vertical shaft impact crushers (VSI).
The three basic comminution principles are compressive crushing, impact crushing and attrition. Impact crusher uses the impact energy to break the stone.
The rotor of the impact crusher rotates in a fixed direction by the driving action of the V-belt connected to the motor. There are multiple sets of suspended impact plates above the rotor. The material enters the crushing cavity through the feed hole and feed guide. The blower rod fixed on the rotor impacts the feed to the impact plate, and then falls from the impact plate onto the blocks of materials that collide with each other.
Therefore, the material will repeatedly move in the crushing cavity composed of the rotor, impact plate/anvil, hammer/strike bar, so as to mainly act on the strong impact phenomenon and crush the material along its natural cracks. So bulge. By adjusting the angle and distance of the impact anvil, the gap between the impact plate and the hammer/hammer can be adjusted according to actual needs.
By changing the rotor speed, input feed rate and grinding screen configuration, you can easily control product output.
Need help from engineers?
Parameter
Structure
Replacement
Features
Parameter
Model
Specification
(mm)
Feed opening
(mm)
Max feeding size
(mm)
Capacity
(t/h)     
Motor
(kW)
Pf-0607
φ-644*740
320*770
100
10-20
30
Pf-0807
φ-850*700
400*730
300
15-30
30—45
Pf-1008
φ-1000*800
400*830
300
30-50
37–55
Pf-1010
φ-1000*1050
400*1080
350
50-80
55–75
Pf-1210
φ-1250*1050
400*1080
350
70-120
110-132
Pf-1212
φ-1250*1250
400*1300
350
100-150
132-160
Pf-1214
φ-1250*1400
400*1430
400
130-180
160*200
Pf-1315
φ-1320*1500
860*1520
500
160-250
180-260
Pf-1320
φ-1320*2000
860*2030
500
300-350
300*375
Structure
Replacement
Features