5TPH Tungsten Processing Plant in Mongolia
We guarantee the high quality machine in the mineral processing industry, established in 35 years of experience

minerals
Wolframite, raw ore 2-5%


feed size
0-150mm, wolframite size <3mm

Customer's request
grade to 65%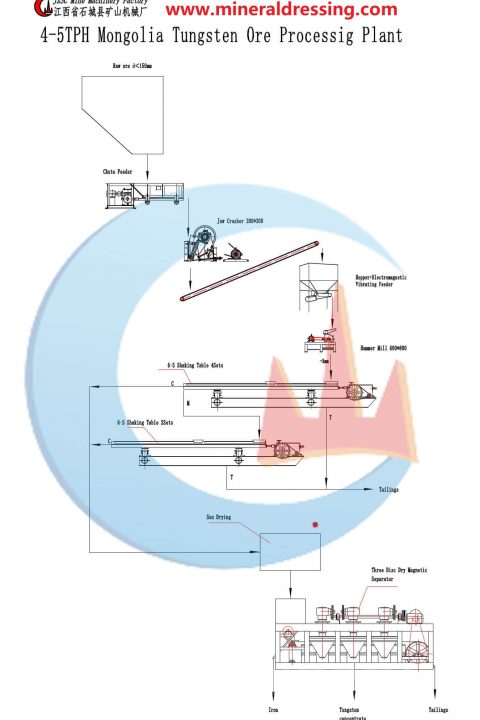 1. Crushing stage: jaw crusher, hammer crusher
The 0-150mm material enters the 200*300 jaw crusher through the trough feeder, the crushed material is transported to the hopper through the belt conveyor, and feed to the 600*800 hammer crusher by the electromagnetic vibrating feeder for secondary crushing.
2. Gravity separation: shaking tables
It is crushed into materials smaller than 3mm by the hammer crusher, transported to the 6s shaker, and the tungsten ore concentrate and tailings are separated by gravity beneficiation.
3. Magnetic separation: three discs dry magnetic separator
The tungsten ore concentrate is dried under the sun, and then enters the three-disc dry magnetic separator to separate the iron ore and improve the grade of the tungsten concentrate.
Tungsten Processing Plant Solutions & Flow Design
Please fill out the contact form below to get the quotation price and engineer help.
We will response your request within 24 hours.
Notice:
We do not provide jobs, nor do we interested in investment or partnerships.
We provide equipment and mineral processing solution, we don't buy and sell mineral ores.

We value your privacy and keep your information safe.