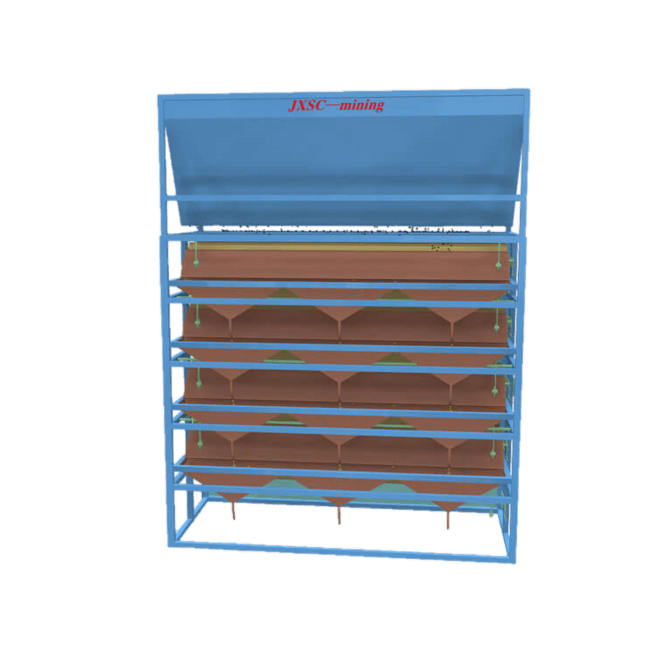 Uses: magnetite, ilmenite, rutile, monazite, zircon, etc
Electrical separation is a physical beneficiation method that utilizes the different electrical properties of various minerals and materials for separation. The commonly used electrical separation equipment is a drum-type electrical separation machine.
The most suitable granularity of the selected materials for the drum-type electric separator is 0.1-1mm. The selected materials need to be dried, because moisture will reduce or disappear the electrical difference between conductor and non-conductor minerals. The nature of the selected materials is different, and the conditions for electrical selection should also change accordingly. Therefore, in actual production, the voltage, motor position, drum speed, and ore plate position should be adjusted at any time.
Need help from engineers?
Technical parameter
Structure
Application
Technical parameter
| | | |
| --- | --- | --- |
| Model  | BXJ-2A4-30 | BXJ-2A5-60 |
| Capacity | 1-2T/H | 1-2T/H |
| Feeding size | 0.1-3mm | 0.1-3mm |
| Feeding speed | 10-15cm/s | 10-15cm/s |
| Arc-Plate size | 1600 | 1600 |
| power consumption | 125W |   |
| Operation voltage | 0-60KV | 0-60KV |
| High voltage current | 0-10MA | 0-10MA |
| machine weight | 1688KG | 2100KG |
| Overall size | 2.1*1.6*2.3 | 2.1*1.6*2.5 |
Structure
Application
Please fill out the contact form below to get the quotation price and engineer help.
We will response your request within 24 hours.
Notice:
We provide equipment and mineral processing solution, we don't buy it.
We value your privacy and keep your infomation safety.
We do not provide jobs, nor do we interested in investment or partnerships.
More ways to get in touch with us.
The jaw crusher is usually used as the primary crusher which is fed with blasted rock material. The main crusher must have a large inlet opening because the size of the blasted material can vary greatly. The secondary crusher is usually cone crusher or gyratory crusher, and the third and final crushers are mainly cone crushers. In cases where very high cubicity is required, if the rock is particularly difficult to form, the final crusher may become an impact crusher.