Sand Washing Production Line
Capacity: 30-1000TPH / Customizable
Main Equipment: feeder, crusher, sand maker, vibrating screen, belt conveyors, sand washing machines, dewatering screens, filter presses
Application material: Sand washing production lines are often used to clean river sand, lake sand, beach sand, artificial sand, gravel, gravel, limestone, various types of ores/ mineral sand, and even coal processing plant.
Application fields: It's widely used in the production of construction aggregates, quarries, mining, mineral processing, sand making plants, concrete production, highway construction, cement manufacturing, environmental protection facilities and other industries
Types Of Sand Washing Production Line
A sand washing production line, also known as a sand washing plant, is a facility used to produce clean, high-quality sand and gravel materials, such as cleaning metal ores, coal ores, limestone, granite, quartz sand, and other ores or aggregates to remove impurities and dust and improve the quality of the ores. Sand washing plants usually include a series of equipment, such as vibrating screens, wheel /spiral type sand washing machines, log washers, conveyor belts, dewatering screens, filter presses, etc. Its main function is to clean and screen sand obtained from rivers, lakes, mining sites, or other places to remove impurities, dust, and mud to produce clean sand for construction and engineering projects.
Sand washing lines are usually combined with feeding, crushing, screening, sand making, cleaning, dehydration and other processes to ensure that the washed sand and aggregate produced meet quality standards. We support installing mobile-type sand washing plants to improve production efficiency. We also provide integrated sand washing and fine sand recovery equipment, which simultaneously achieves the triple effect of one-stop cleaning, dewatering and grading of machine-made sand.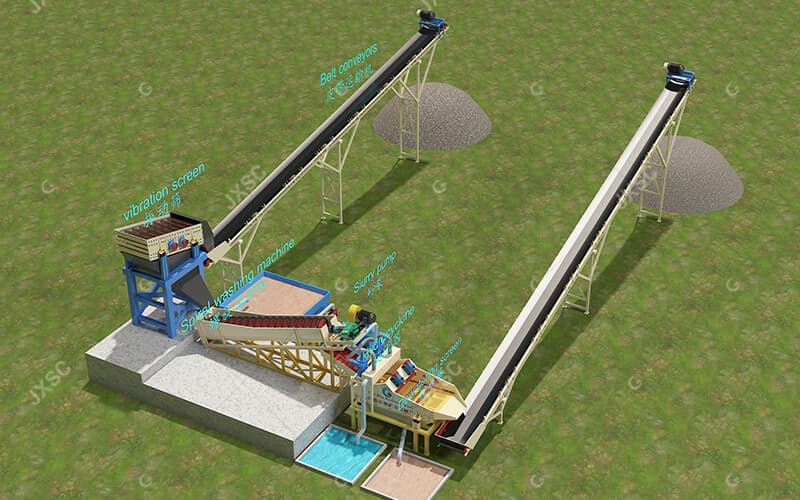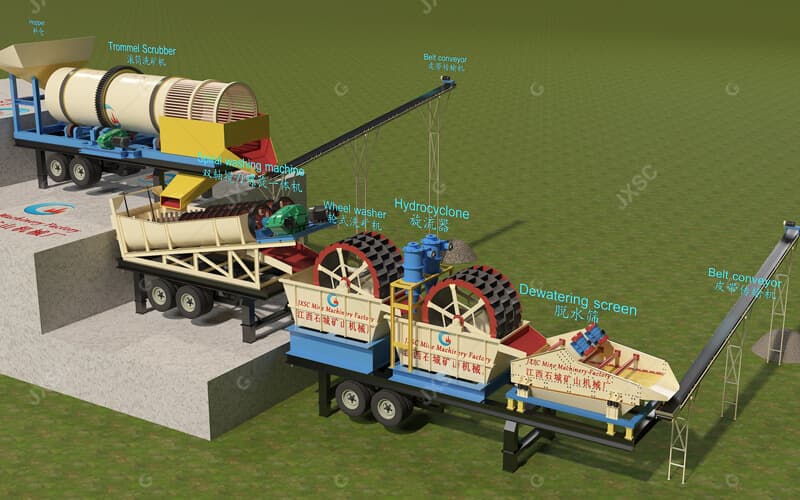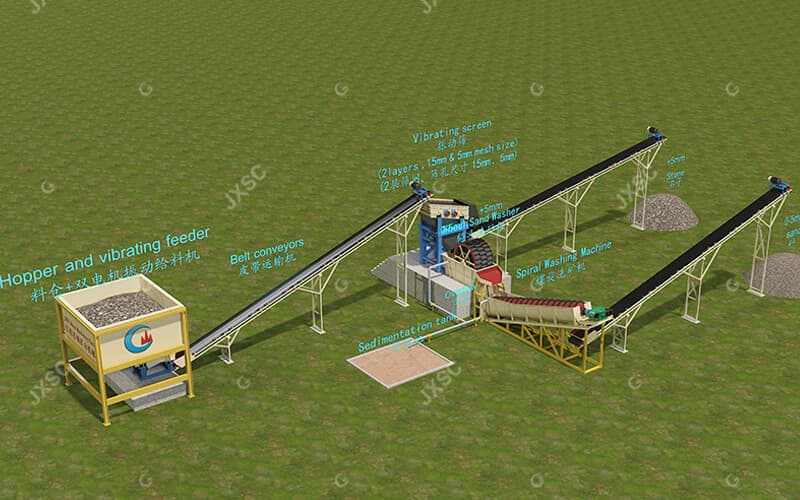 Sand Washing Production Line Process
Sand washing production lines usually involve a combination of water and mechanical force to remove impurities through the impact and stirring of water, and then separate and recover clean materials.
1. Crushing- sand making- screening: The raw material may contain larger stones, which need to be broken into particles of appropriate size by rock crushers or sand-making machines. Then, the sand and gravel of different particle sizes are separated by vibrating screening equipment to obtain the required sand and gravel size.
2. Washing process: The screened sand and gravel need to be washed to remove dust; this process uses a spiral or wheel sand washing machine, and water is sprayed onto the sand and gravel to help wash away soil, mud and other impurities. Clean water is usually recycled through the sand washing plant system.
3. Classification and separation: The washed sand and gravel may still contain particles of different sizes; therefore, screening equipment needs to be used again to separate the sand and gravel into grades of different sizes to meet the requirements of different uses.
4. Dehydration-drying: If necessary, the washed sand is usually passed through a dewatering screen or filter press to remove moisture from the sand and gravel so that the product meets quality standards. Once the impurities are separated, the clean water can be recycled and used again in the washing process.
To meet environmental standards, some sand washing plants may also need to take measures to control dust and wastewater discharge. Therefore, relevant regulatory and environmental requirements need to be taken into consideration when designing and operating a sand washing plant. JXSC can customize different types of sand washing line equipment according to the type and requirements of the materials processed to meet the needs of various industries.
Sand Washing Line Solutions
Please fill out the information below for the quotation price and engineer's help. We will reply asap!
Notice:
We do not provide jobs and have no interest in investment or partnerships.
We provide equipment and mineral processing solutions; not buy and sell mineral /ore /materials.

We value your privacy and keep your information safe.