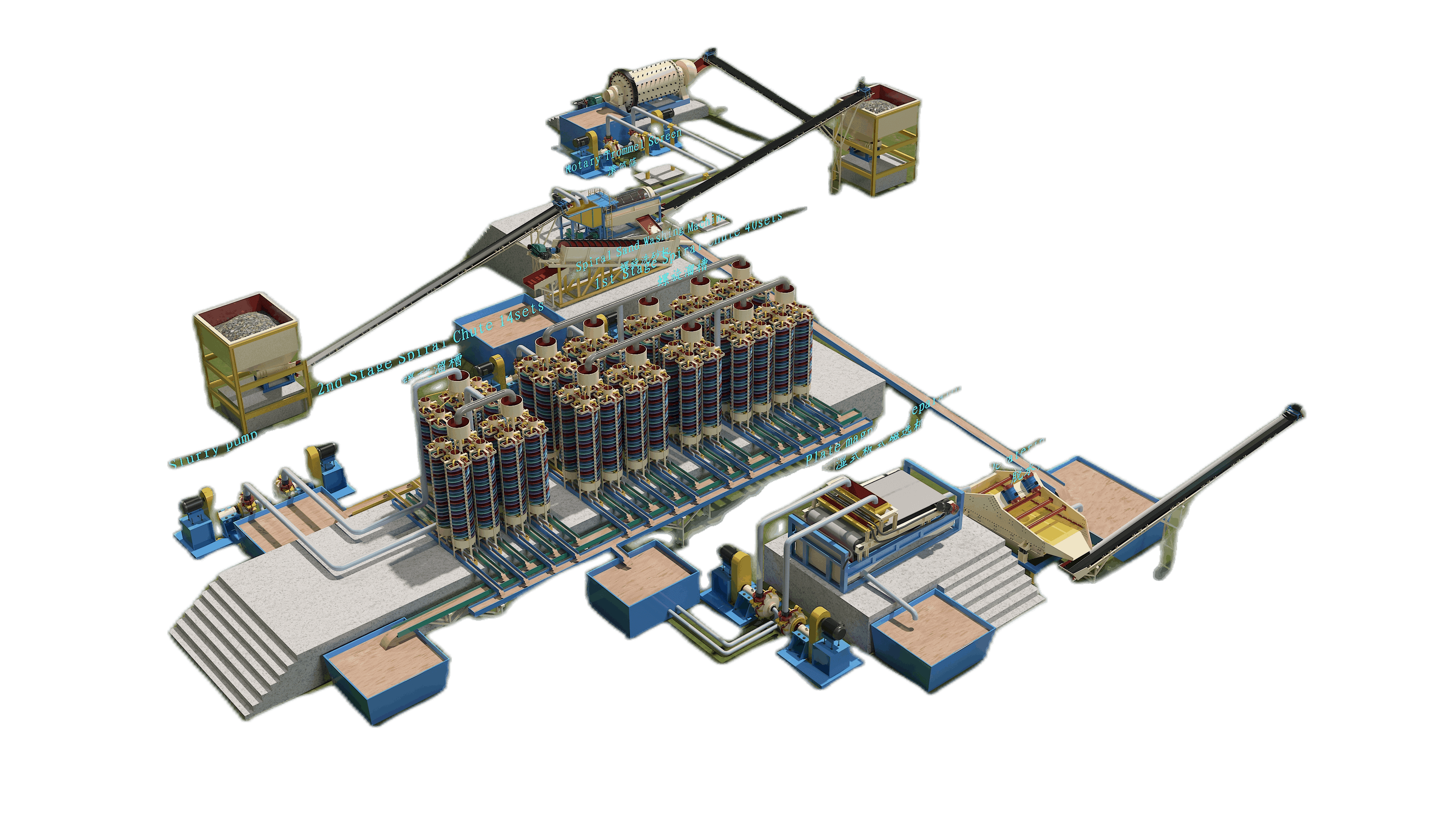 Quartz sand, also known as silica sand, is a common non-metallic mineral raw material with a wide range of applications.
Quartz sand beneficiation plant is a difficult separation process to remove small or trace impurities in quartz and obtain refined quartz sand or high-purity quartz.
Quartz beneficiation Process
There are many types of silica resources and large storage capacity. quartzite, quartz sandstone and vein quartz are the main raw materials for producing high-purity quartz sand.
(1) Quartzite: a metamorphic rock dominated by quartz. It is formed by the metamorphism of quartz sandstone and siliceous rock, where the silica content is above 85%.
(2) Quartz sandstone: a sedimentary rock formed by cementing quartz particles, and its silica content is as high as 95%.
(3) Vein quartz: formed by filling silicon thermal fluid secreted by underground magma into rock fissures, and its silica content is as high as 99%.
For the refined sand quartz for general industrial use, the simple process flow is selected as much as possible to reduce the purification cost. It is recommended to use the scrubbing-desliming-magnetic separation process to meet the spiritual quality requirements.
For high-purity and ultra-high-purity quartz used as high-tech, it is necessary to further purify the quartz by flotation and acid leaching.
Gravity separation

method is suitable for quartz ore associated with iron-bearing heavy minerals;

Magnetic separation method is suitable for quartz ore associated with hematite, limonite, biotite and other impurities;
Flotation separation method is suitable for quartz ore associated with feldspar mine.
The specific quartz stone beneficiation equipment is corresponding to which quartz stone beneficiation method is used. If users want to know more, or the quartz stone beneficiation plan, the price of quartz stone beneficiation equipment, etc., just consult JXSC online for more information.
The steps of quartzite beneficiation process are roughly jaw crusher coarse crushing- pre-screening – controlled screening – ball mill grinding- classifing & desliming – magnetic separator magnetic separation – desliming – spiral chutes classification -Dryer/Press filter for dehydration.
1. Washing-classifying-desilting
In the quartz sand beneficiation process, the fine-grained grade with a particle size of less than 0.1 mm is usually called slime. For quartz sand with a large amount of clay and ore mud, as the particle size becomes finer, the grade of silica gradually decreases, while impurities such as iron and aluminum rise instead. Using water washing-classifying-desilting method can effectively improve quartz grade.
2. Scrubbing
For the thin film iron and adhesion impurities on the surface of quartz sand, the effect of water washing-grading desilting is poor. This requires the removal of the thin film iron and adhesion impurities suitable for the sand surface by means of mechanical force and the abrasive force between the sand particles. After the grading desilting, a better impurity removal effect can be achieved.
3. Gravity separation
Gravity separation is to screen minerals according to their different gravity. Due to the difference in density, the mineral particles are affected by the fluid force and mechanical force in the medium, resulting in loose stratification, so that the ore particles are separated.
4. Magnetic separation
Magnetic separation is to separate the magnetic impurity minerals and particles in the quartz sand. The use of strong magnetic separator to separate the impurity iron in quartz is the key link. Magnetic separation can remove mechanical iron minerals (hematite, limonite, pyrite, ilmenite, biotite, etc.) mixed in quartz sand. It can also remove weak magnetic minerals and inclusions and disseminate impurities containing iron minerals.
5. Flotation
Flotation machine is the process of separating mineral particles by different physical and chemical properties on the surface of the mineral particles. The main function is to remove the related mineral mica and feldspar from the quartz sand.
The physical beneficiation method can only remove the impurities of mineral structure, and rarely remove the impurities on the surface of quartz sand. The purer the quartz sand, the higher the use value, so it is necessary to further purify the quartz sand after flotation.
6. Dewatering: Quartz stone is dehydrated and dried to obtain the required products, and the actual configuration should be adjusted according to the production needs.
Please fill out the contact form below to get the quotation price and engineer help.
We will response your request within 24 hours.
Notice:
We do not provide jobs, nor do we interested in investment or partnerships.
We provide equipment and mineral processing solution, we don't buy and sell mineral ores.

We value your privacy and keep your information safe.