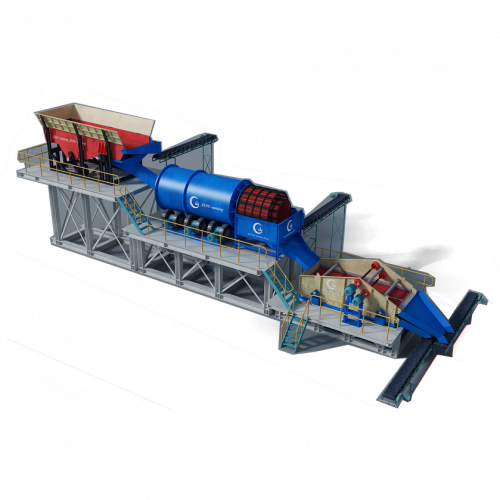 Algola 200TPH Diamond Washing Plant
Raw Material: 0-200mm raw diamond ore with sticky mud
Designed Capacity: 200 TPH (ton per hour)
Main Equipment: Trommer scrubber, high frequency vibrating screen, jig separator, ore feeder, belt conveyor, etc.
There is sticky mud in raw diamond ore. The particle size of the diamond ore is 2-30mm. The Angola customer wants to separate 2-5mm, 5-10mm, and 10- 30mm, then let the jig concentrator separate the diamond concentrate.
After using our equipment, this customer needed to open a similar diamond wash plant the following year. The customer did not hesitate to choose us and it is the same program. Thanks to the trust and support of our customers, our profession is worth your choice.
Diamond Wash Plant Process Flow
First, use the vibration feeder to feed material to the trommel scrubber; The Trommel scrubber is for washing and separating big sizes out, then to the vibration screen. Vibration screen also for separator different sizes.
This process is for the Angola clay diamond separator line. The capacity is 200 tons per hour. Using a backhoe get the material to the hopper; Under the hopper is a vibration feeder, which can separator out +70mm size, then 0-70mm size to the trommel scrubber; Trommel scrubber has two parts, one part scrubber is for washing, one part screen is for separator different size. After the trommel scrubber then to the vibration screen, separator size again then use a jig machine to get the diamond product.
Trommel scrubber is good for clay mineral washing. Some ore has much clay; if not washed first, the recovery rate is much lower. It fits washing and screening all clay ore, such as gold, diamond, tin, chrome, tantalum-niobium ores, etc.
Choose JXSC's high-quality equipment to ensure the best diamond recovery rate for you; don't hesitate to contact us for a quotation and process design!
Please fill out the information below for the quotation price and engineer's help. We will reply asap!
Notice:
We do not provide jobs and have no interest in investment or partnerships.
We provide equipment and mineral processing solutions; not buy and sell mineral /ore /materials.

We value your privacy and keep your information safe.