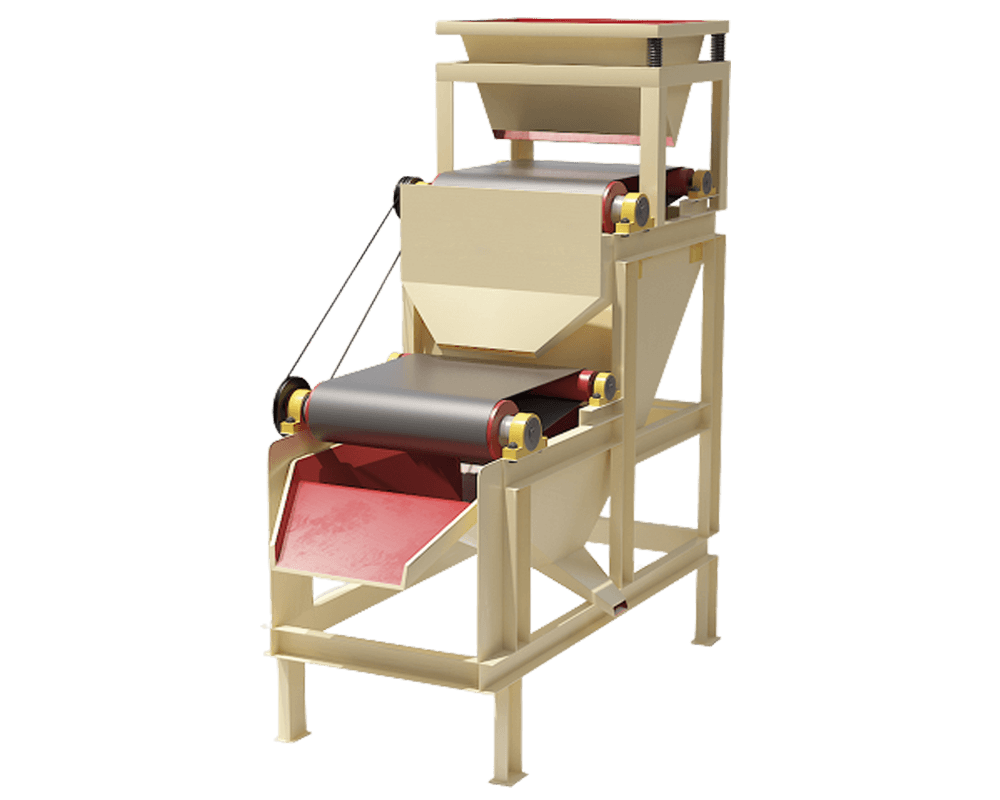 High Intensity Dry Magnetic Separator
Capacity: 0.2-9 t/h
Application: It is suitable for the separation of weakly magnetic minerals and non-magnetic minerals such as tantalum niobium, tin, hematite, limonite, manganese ore, chromium ore, ilmenite, monazite, garnet, rutile, zircon, beach sand, etc.
High-intensity dry magnetic separators, or multi-roller magnetic separators, are iron removal/magnetic separation equipment for sorting weak magnetic minerals. It is widely used in limonite, manganese ore, and beach sand mineral processing. This magnetic separator uses a strong magnetic field to effectively separate ferromagnetic materials from non-ferrous metal materials, extracting fine particles from the feed without water or any other media; it can completely ensure product quality and purity, ultimately increasing output and reducing production costs.
Features Of High intensity dry magnetic separator
The dry magnetic separator is equipped with an adjustable feeding system, such as a vibrating feeder, which is suitable for feeding different materials evenly;

This magnetic separator has stable performance, no material blockage, and high iron removal and sorting efficiency;

The speed of the belt is controlled by a frequency converter, and the rotation speed of the magnetic roller is adjustable.

The magnetic induction intensity on the surface of the magnetic roller can reach 8000GS-15000GS, with high magnetic induction intensity and large magnetic field gradient.

According to user requirements, JXSC high-intensity magnetic separators can be designed as one-four or multi-roller magnetic separation.
working principle of High intensity dry magnetic separator
The materials are evenly distributed on the strong magnetic roller separator belt through the electromagnetic vibrating feeder. When the material passes through the strong magnetic roller, the magnetic material is adsorbed to the strong magnetic roller due to the magnetic adsorption. Non-magnetic and unselected magnetic materials fall directly into the tailings hopper under gravity as the belt rotates. As the annular belt rotates, the magnetic mineral particles fall into the middle ore hopper and the concentrate hopper successively, thereby completing the mineral sorting operation.
Parameter
Model

Cylinder size
(mm)

Capacity
(t/h)

Power
(kw)

HYF-1060

D100*600

0.2–1

0.37

HYF-1080

D100*800

0.3–1.4

0.37

HYF-1210

D120*1000

0.4–2

0.55

HYF-1610

D160*1000

0.6–2.5

0.55

HYF-2060

D200*600

0.45–2.3

0.55

HYF-2010

D200*1000

0.7–3.8

0.75

HYF-2475

D240*750

0.9–4.5

0.75

HYF-2410

D240*1000

1.2–5

1.1

HYF-3060

D300*600

1–4.5

1.1

HYF-3010

D300*1000

1.6–7

1.1

HYF-3860

D380*600

1.8–5.5

1.1

HYF-3810

D380*1000

2.8–9

1.5
Structure
Please fill out the information below for the quotation price and engineer's help. We will reply asap!
Notice:
We do not provide jobs and have no interest in investment or partnerships.
We provide equipment and mineral processing solutions; not buy and sell mineral /ore /materials.

We value your privacy and keep your information safe.