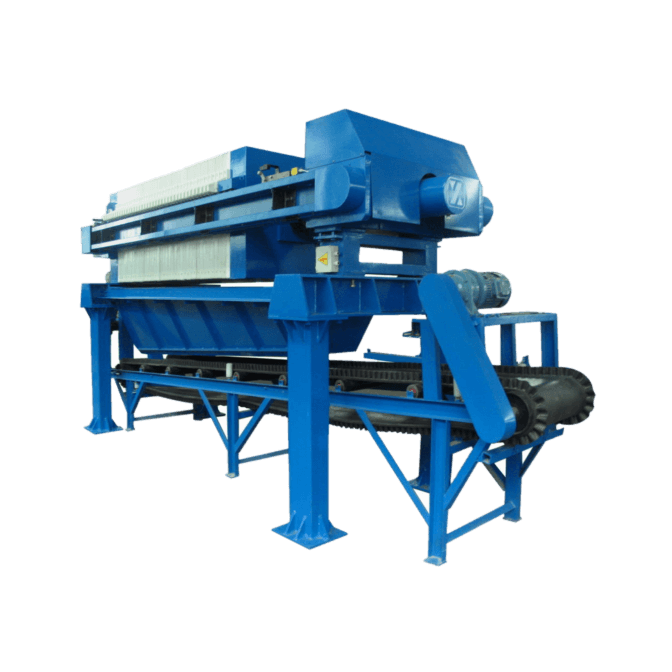 Filter press is the most commonly used pressure filter machine in some industries. By applying a certain pressure between filter plates, this batch-operated filter makes it possible to produce filter cakes that reach the desired moisture.
When your investment is limited while can't afford a more expensive continuous pressure or vacuum filters. Or your filter capacity is rather small, the filter press could be the best choice when choosing a filter.
Working principle of filter press
JXSC's plate and frame filter press is composed of alternately arranged filter plates and filter frames to form a group of filter chambers. The surface of the filter plate has grooves, and its protruding parts are used to support the filter cloth.
There are through holes in the corners of the filter frame and the filter plate. After assembly, they form a complete channel, which can pass into the suspension, wash water and lead the filtrate.
Handles are supported on the beams on both sides of the board and frame, and the board and frame are pressed by the pressing device. The filter cloth between the plate and the frame acts as a sealing gasket. Suspended hydraulic pressure is fed into the filter chamber by the feed pump to form filter residue on the filter cloth until the filter chamber is filled.
The filtrate passes through the filter cloth and flows along the filter plate groove to the corner channel of the plate frame, and is discharged in a concentrated manner.
After filtering, the filter residue can be washed with clean water. After washing, compressed air is sometimes passed to remove the remaining washing liquid. Then open the filter press to remove the filter residue, clean the filter cloth, repress the plate and frame, and start the next working cycle.
Parameter
Drying system
Structure
Replacement
Parameter
Model
Filter Area
/m²
Cake Thickness
/mm
Filter Chamber Volume
/L
Filtration Pressure
/Mpa
Motor Power
/kw
Weight
/kg
Dimensions
/mm
XMY50/1000-30u
50
30
736
≥0.6
4.0
4072
4040×1500×1400
XMY60/1000-30U
60
889
4468
4460×1500×1400
XMY70/1000-30U
70
1011
4863
4760×1500×1400
XMY80/1000-30U
80
1193
5259
5120×1500×1400
XMY100/1000-30U
100
1473
5985
5800×1500×1400
XMY120/1000-30U
120
1777
6776
6500×1500×1400
Drying system
Structure
Replacement
Please fill out the contact form below to get the quotation price and engineer help.
We will response your request within 24 hours.
Notice:
We do not provide jobs, nor do we interested in investment or partnerships.
We provide equipment and mineral processing solution, we don't buy and sell mineral ores.

We value your privacy and keep your information safe.