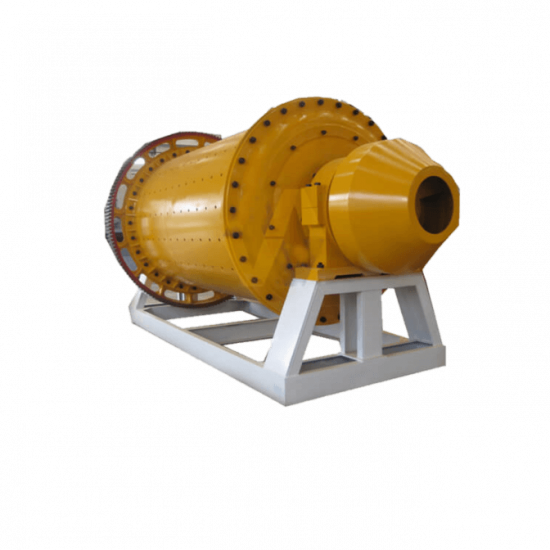 The ball mill is a tumbling mill that uses steel balls as grinding media. Ball mills can be used in wet or dry systems for bulk and continuous milling, and are most widely used in small or large-scale beneficiation plant.
The feed can be dry with a water content of less than 3% to minimize the coverage of the ball, or it can be a slurry with a water content of 20-40%. The ball mill can be used for primary or secondary grinding applications. In the primary application, they receive feed from the crusher, and in the secondary application, they receive feed from the rod mill, autogenous mill or semi-autogenous mill.
Main parts
The mill includes motor, reducer, slow drive, power distribution control cabinet, feeding device, main bearing, rotary part, discharging device, transmission part, lubrication system (mainly including high-pressure pump station and low-pressure thin oil station) and other parts.
The main working part of the ball mill is a rotary cylinder mounted on two large bearings and placed horizontally. The cylinder body is divided into several compartments by a partition plate, and a certain shape and size of grinding body is installed in each compartment. The grinding bodies are generally steel balls, steel forgings, steel rods, pebbles, gravel and porcelain balls. In order to prevent the barrel from being worn, a liner is installed on the wall of the barrel. The length of a cylindrical shell is usually 1–1.5 times the diameter of the shell.
The grinding elements including grinding media and material in the ball mill move at different speeds. Therefore, the collision force, direction and kinetic energy between two or more elements vary greatly in the ball charge. Friction and wear or friction and collision energy all act on the particles. These forces come from the rotating motion of the ball and the particle motion in the mill and the contact area of the collision ball.
Need help from engineers?
Parameter
Structure
Replacement
Features
Parameter
| | | | | | | | |
| --- | --- | --- | --- | --- | --- | --- | --- |
| Model | Shell rotation speed (r/min) | Ball load (t) | Feeding size (mm) | Discharging size (mm) | Capacity (t/h) | Motor power (kw) | Weight (t) |
| Ø 900*1800 | 36-38 | 1.5 | < =20 | 0.075-0.89 | 0.65-2 | 18.5 | 4.6 |
| Ø 900*3000 | 36 | 2.7 | < =20 | 0.075-0.89 | 1.1-3.5 | 22 | 5.6 |
| Ø 1200*2400 | 36 | 3 | < =25 | 0.075-0.6 | 1.5-4.8 | 30 | 12 |
| Ø 1200*3000 | 36 | 3.5 | < =25 | 0.074-0.4 | 1.6-5 | 37 | 12.8 |
| Ø 1200*4500 | 32.4 | 5 | < =25 | 0.074-0.4 | 1.6-5.8 | 55 | 13.8 |
| Ø 1500*3000 | 29.7 | 7.5 | < =25 | 0.074-0.4 | 2.0-5.0 | 75 | 15.6 |
| Ø 1500*4500 | 27 | 11 | < =25 | 0.074-0.4 | 3.0-5.0 | 110 | 21 |
| Ø 1500*5700 | 28 | 12 | < =25 | 0.074-0.4 | 3.5-6 | 130 | 24.7 |
| Ø 1830*3000 | 25.4 | 11 | < =25 | 0.074-0.4 | 4.0-10.0 | 130 | 28 |
| Ø 1830*4500 | 25.4 | 15 | < =25 | 0.074-0.4 | 4.5-12 | 155 | 32 |
| Ø 1830*6400 | 24.1 | 21 | < =25 | 0.074-0.4 | 6.5-15 | 210 | 34 |
| Ø 1830*7000 | 24.1 | 23 | < =25 | 0.074-0.4 | 7.5-17 | 245 | 36 |
| Ø 2100*3000 | 23.7 | 15 | < =25 | 0.074-0.4 | 6.5-36 | 155 | 34 |
| Ø 2100*4500 | 23.7 | 24 | < =25 | 0.074-0.4 | 8-43 | 245 | 42 |
| Ø 2100*7000 | 23.7 | 26 | < =25 | 0.074-0.4 | 8-48 | 280 | 50 |
| Ø 2200*4500 | 21.5 | 27 | < =25 | 0.074-0.4 | 9-45 | 280 | 48.5 |
| Ø 2200*6500 | 21.7 | 35 | < =25 | 0.074-0.4 | 14-26 | 380 | 52.8 |
| Ø 2200*7000 | 21.7 | 35 | < =25 | 0.074-0.4 | 15-28 | 380 | 54 |
| Ø 2200*7500 | 21.7 | 35 | < =25 | 0.074-0.4 | 15-30 | 380 | 56 |
| Ø 2400*3000 | 21 | 23 | < =25 | 0.074-0.4 | 7-50 | 245 | 54 |
| Ø 2400*4500 | 21 | 30 | < =25 | 0.074-0.4 | 8.5-60 | 320 | 65 |
| Ø 2700*4000 | 20.7 | 40 | < =25 | 0.074-0.4 | 12-80 | 400 | 94 |
| Ø 2700*4500 | 20.7 | 48 | < =25 | 0.074-0.4 | 12-90 | 430 | 102 |
| Ø 3200*4500 | 18 | 65 | < =25 | 0.074-0.4 | —– | 800 | 137 |
Structure
Replacement
Features