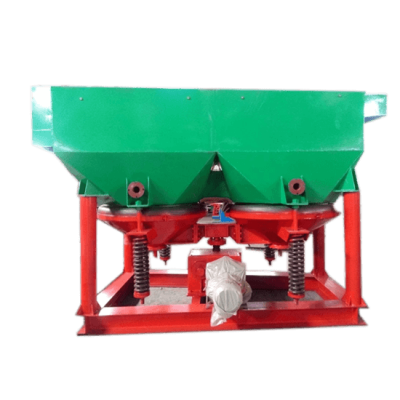 Application: alluvial gold, coltan,tin, etc
A jig is a device that drives pulses of water upwards through a thick bed of settled sediment in order to keep it loose and agitated. This achieves gravitational separation by allowing the denser minerals to sink easily and quickly through the lighter minerals. A typical jig consists of a water-filled tank known as a jig-cell, with a horizontal jig screen ('mesh') near the top, upon which sediment is able to settle as the jig bed. Pulses of water are injected from below, through the jig screen. Each pulse causes the jig bed to be watercharged, loose and agitated, permitting denser minerals to fall to the bottom of the jig bed. The jig screen traps gold nuggets, but the smaller gold falls through the jig screen and to the bottom of the hutch (water tank) to accumulate as a concentrate. The concentrate is bled off continuously through a spigot ('tap') in the base of the hutch, as shown below:
A feature of jigs is that the composition of the jig bed can be carefully designed by placing a layer of coarse dense particles known as 'ragging' on the jig screen. These may include steel balls or a suitable heavy mineral such as hematite Fe2O3. By this means, only very dense grains will penetrate through the ragging and fall through the jig-screen. Grains of lower density (e.g. quartz SiO2) remain above the ragging.
Need help from engineers?
Parameter
Replacement
Structure
Features
Parameter
| | | | | | | | | | |
| --- | --- | --- | --- | --- | --- | --- | --- | --- | --- |
| Model | Jig Area (M2) | Stroke (R/Min) | Feeding size (mm) | Hutch Water ( T/H) | Pressure Water (kg/cm2) | Capacity;(T/H) | Power;(KW) | Overall dimensions (mm) | Weight (T) |
| JT0.57-1 | 0.57 | 60-160 | <6 | 1-2 | ≥0.3 | 1-2.5 | 1.5 | 1560x820x1550 | 0.612 |
| JT1-1 | 1.04 | 60-160 | <10 | 2-3 | ≥0.3 | 4-10 | 2.2 | 1322x1190x1915 | 0.9 |
| JT2-2 | 2.28 | 60-160 | <10 | 2-4 | ≥0.3 | 8-15 | 3 | 3225x1550x2150 | 1.637 |
| JT4-2 | 4 | 50-125 | <10 | 4-8 | ≥0.1 | 8-16 | 7.5 | 4240x1990x2750 | 4.6 |
| JT4-2A | 4 | 50-125 | <10 | 4-8 | ≥0.1 | 8-16 | 8 | 4240x1990x2750 | 4.6 |
| JT5-2 | 4.86 | 80-120 | <10 | 4-10 | ≥0.1 | 10-20 | 7.5 | 3940x2006x2580 | 4.6 |
Replacement
Structure
Features