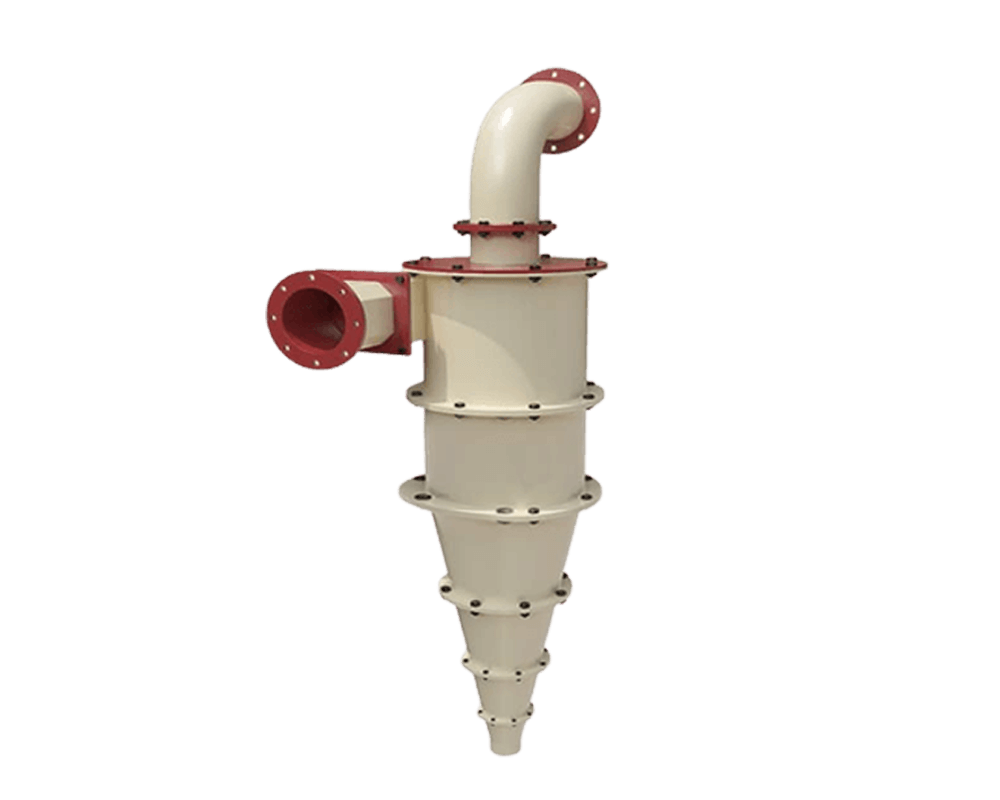 Capacity: 10-524m³ /h
Application: Classification, concentration, dehydration, desliming, sand removal, washing, superfine classification of various minerals, separating and removing heavy mud in mineral processing plant.
Introduction: The hydrocyclone is grading equipment that uses centrifugal force to accelerate the sedimentation of ore particles. It is mostly used for grading operations in the second stage of closed-circuit grinding, and is sometimes used for mud dehydration to obtain very fine overflow products. We can also customize multiple hydrocyclones to form a group to improve classification efficiency.
Advantages of Hydrocyclones
Hydrocyclones can adapt to liquids of different flow rates and particle sizes, effectively remove fine solid particles, and help remove suspended solids, sediment or other solid impurities.
With no moving parts, maintenance costs are relatively low
Compact design, takes up relatively little space and is easy to operate
Hydrocyclone performance can be optimized by adjusting the feed flow rate, feed concentration, and cyclone geometric parameters to meet the requirements of different applications.
Working Principle Of Hydrocyclone
The structure of the hydrocyclone is relatively simple. Its upper end is a cylindrical part, and its lower part is a conical container.
The slurry is fed into the cyclone at a certain speed (generally 5 to 12 meters per second) along the tangential direction, and obtains a rotary motion, thus generating a large centrifugal force (usually tens of times or even hundreds of times greater than gravity) . Under the action of centrifugal force, the coarser particles are thrown toward the wall of the vessel and move downwards with a spiral track, which is discharged from the grit nozzle to become coarse-grained products; the finer particles and most of the water are in the spiral path, discharge from the flow tube.
Parameter
Structure
Application
Parameter
Specification

Capacity
(m3 /h)

Separation Particle
Size(μm)

Diameter of Overflow
Outlet(mm)

Diameter of 
Spigot (mm)

Inlet Pressure
(MPa)

150

10.0-23.0

25-74

30-50

8.0-20.0

0.060-0.15

200

17-38

28-80

40-65

16-32

0.060-0.15

250

24-53

30-82

65-100

16-40

0.060-0.15

300

40-100

36-90

65-120

20-40

0.060-0.15

350

56-118

40-100

80-120

30-70

0.060-0.15

375

74-157

42-105

90-135

30-70

0.060-0.15

450

90-192

44-110

100-150

30-70

0.060-0.15

500

128-300

50-115

130-220

35-100

0.060-0.15

610

200-468

57-125

160-260

65-110

0.060-0.15

660

237-524

60-130

180-280

80-150

0.060-0.15
Structure
Application
Please fill out the information below for the quotation price and engineer's help. We will reply asap!
Notice:
We do not provide jobs and have no interest in investment or partnerships.
We provide equipment and mineral processing solutions; not buy and sell mineral /ore /materials.

We value your privacy and keep your information safe.