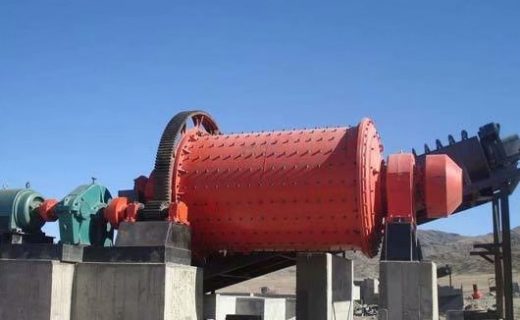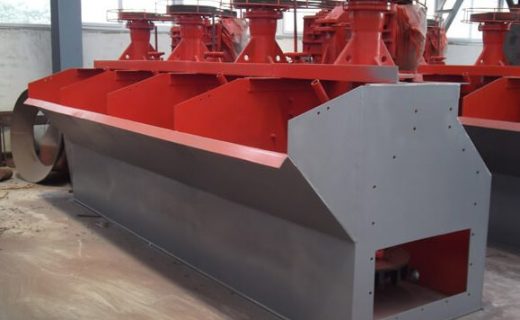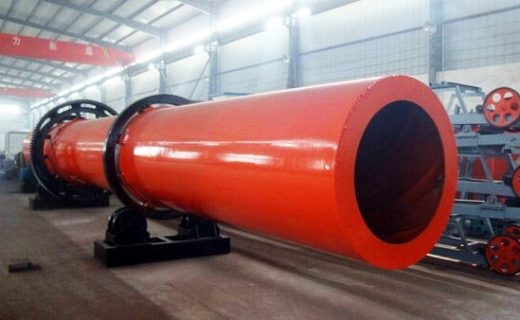 Nickel ores mainly include copper-nickel sulfide ore and nickel oxide ore (laterite nickel ore). The most important is the nickel ore flotation process, magnetic separation and gravity separation are usually auxiliary beneficiation methods.
We can customize nickel ore beneficiation process and equipment to achieve comprehensive utilization of resources and economic benefits.
Nickel Ore Beneficiation Process
1. Copper-nickel sulfide ore
When the nickel content is more than 3%

, it is a rich ore, which can be directly smelted;

When the nickel ore content is less than 3%

, it is mainly accompanied by a large amount of metal mineral (pyrrhotite, pentlandite, chalcopyrite)and gangue minerals (olivine, pyroxene, plagioclase, talc, mica, quartz, etc.);
The most important mineral processing method is flotation separation, magnetic and gravity separation are usually auxiliary mineral processing methods. Collectors and foaming agents for flotation of copper sulfide minerals are often used in copper-nickel sulfide ores flotation separation.
Note: A basic principle for determining the flotation process is to avoid nickel entering the copper concentrate as much as possible. Because the nickel in the copper concentrate is lost in the smelting process, and the copper in the nickel concentrate can be recovered completely.
2. Nickel oxide ore (Nickel laterite)
Most of the nickel oxide ore exists in the form of nickel laterite, with low silicon and magnesium content, and the nickel content is 1~2%. Secondly, it is mainly nickel silicate ore, with high silicon and magnesium content, low iron content, and nickel content of 1.6~4%.
Usually adopts crushing, screening and other processes to remove large bedrock with weak weathering degree and low nickel content in advance. Because nickel in nickel oxide ore is often dispersed in gangue minerals in the same quality and shape, and the particle size is very fine. Therefore, it cannot be enriched by mechanical beneficiation, but can only be smelted directly.
Nickel Ore Processing Plant
Nickel ore processing usually needs to go through three processes: crushing – screening- grinding- flotation separation- drying, and magnetic separation and gravity separation are usually auxiliary beneficiation methods.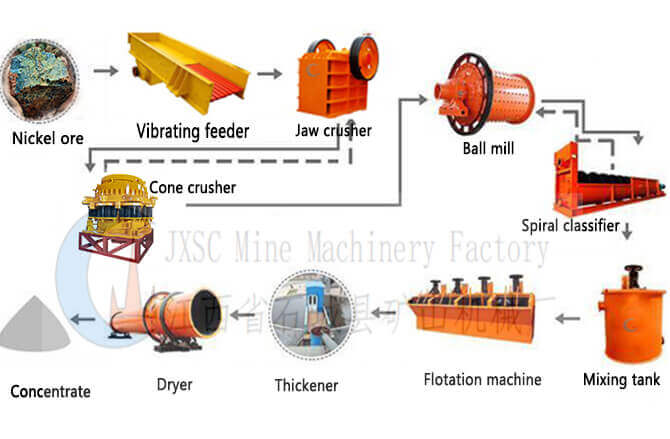 1. Crushing and screening: The feeder sends the mined raw ore to the jaw crusher for coarse crushing. The raw ore after coarse crushing is sent to the cone crusher by the conveyor for secondary crushing. Materials after secondary crushing are screened by screening equipment. The qualified ore particles can be directly sent to the next milling link, and the unqualified materials are returned to cone crusher crushing.
2. Grinding and screening: Qualified ore particles are sent to a ball mill for grinding, and the ore particles are ground to form ore powder, which is sent to a spiral classifier for sorting.
3. Flotation separation: The graded and qualified materials are sent to the mixing tank to be fully stirred, and then sent to the flotation machine, and a reasonable flotation agent is added. The specific flotation method needs to be customized by us.
4. Dehydration and drying: The water content of the material after flotation is relatively large, and the concentrate material obtained by flotation is sent to the thickener for initial concentration and precipitation. In order to speed up the drying speed of the product, a concentrator is usually used for dehydration and separation, and then dried with a rotary dryer to obtain the finished product.
The specific nickel ore flotation process has an important relationship with the mineral properties. JXSC's scientific and reasonable nickel mining process and beneficiation equipment are naturally the most important plus points for users' economic benefits.
Please fill out the contact form below to get the quotation price and engineer help.
We will response your request within 24 hours.
Notice:
We do not provide jobs, nor do we interested in investment or partnerships.
We provide equipment and mineral processing solution, we don't buy and sell mineral ores.

We value your privacy and keep your information safe.