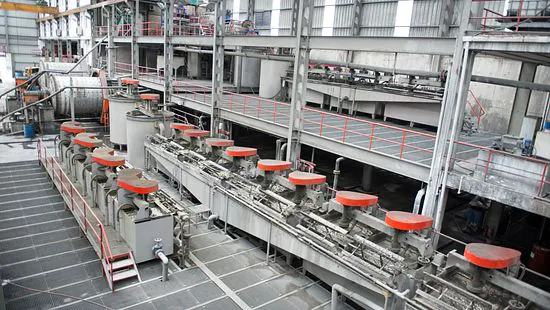 Flotation is a common method for gold concentrators to process rock gold ore, and it is often used to process sulfide mineral gold-bearing ores with high floatability. The flotation gold process can directly discard the tailings, and at the same time consider the convenience of operation, low operating cost and maximum recovery of useful minerals.
Our flotation process is use to process fine gold, sulfide gold-containing quartz ore, multi metal gold-containing sulfide ore and carbon-containing ore.
The flotation gold recovery process is widely used in fine gold, sulfide gold-containing quartz ore, multi metal gold-containing sulfide ore and carbon-containing ore beneficiation process plant.
Our gold flotation recovery solutions:
The gold flotation process also used to process gold-copper-lead-zinc-sulfur ore, it can effectively identify and extract various gold-bearing sulfide concentrates, which is conducive to the comprehensive recovery of mineral resources. 

The

flotation gold recovery plant maximizes the enrichment of gold into sulfide minerals. The tailings can be directly discharged, with high-strength gold flotation machine, low costs, and long use life. It can easily applicate to small and medium scale flotation plants.
Since JXSC was founded 30+ ago, we have accumulated a lot of rich experience in flotation gold extraction process, support process flow design and finally deploy those gold flotation production lines, and custom flotation machines for you.
Gold Flotation process Flow
The complete sulfide gold flotation process plant:
Feeding hopper
Chute feeder
Jaw crusher
Vibrating screen
Belt conveyor
Vibration feeder
Ball mill
Spiral classifier
Mixing tank
Slurry pump
Thickener
Disc vacuum filter machine
Crushing System
Chute feeder is for feeding raw material to primary jaw crusher stably and evenly, can feed 0-300mm stones, if bigger size and capacity, can use grizzly vibration feeder. Then primary jaw crusher crushes the big rock to a smaller size, about 0-80mm. The output sends to a fine jaw crusher to crush again to below 25mm particles. But there still have some +25mm particles, so better send to vibration screen to sieving out 0-25mm go to ball mill grinding system. and +25mm go back to fine crushing again. The feeding size of the ball mill can be smaller, the smaller, the better, grinding efficiency will much higher. So sometimes, will have 3 stages crushers in the crushing system to make a smaller feeding size for the ball mill (0-5mm or 0-8mm or 0-10mm).
Grinding System
The 0-25mm material will firstly go to a storage bin before feeding to the ball mill, so the crushing system can work separated from the grinding system as long as has stock enough 0-25mm in a storage bin. Then feed the 0-25mm material by swing feeder or electromagnetic vibration feeder to ball mill through belt conveyor. The ball mill is for grinding material to small fine powder because flotation process needs 200mesh material, need work together with a spiral classifier to reach 200mesh output from the overflow of classifier, the underflow coarse particles will go back to ball mill grind again, to be closed-circuit. So from this grinding system will get 200mesh slurry.
Flotation System
The 200mesh slurry will be firstly sent to mixing tank by slurry pump, to make sure material is mixed completely, then from mixing tank go to flotation machines, need to add different chemicals in flotation machine to separate out different minerals, the flotation process has the primary selection, secondary selection, and final selection, this is for increase minerals gra de to maximum after the process. If need a higher grade, then need to flotate more times. Will get each mineral concentrate ore after flotation system.
Concentrate ore filtering system
After getting the minerals to concentrate ore from the flotation system, for the high-grade minerals, such as copper, Zinc, Lead, Fluorite, use the thickener to concentrate, make higher density, then send to disc vacuum filter machine to filter water, and get more dry concentrate minerals. Then can dry in the sun or by drying machine to get complete dry minerals to concentrate ore.
At the same time, we provide various ore flotation process solutions, it also suitable for sulfide silver, zinc, lead, fluorite ore, and copper flotation processing plants. The beneficiation plant efficiency and the recovery rate are high, especially effective for fine-grained ores, high-quality concentrates can be obtained, and mineral resources can be fully utilized.
Please fill out the contact form below to get the quotation price and engineer help.
We will response your request within 24 hours.
Notice:
We do not provide jobs, nor do we interested in investment or partnerships.
We provide equipment and mineral processing solution, we don't buy and sell mineral ores.

We value your privacy and keep your information safe.