12TPH Lead Zinc Copper Ore Process Plant in Morocco
We guarantee the high quality machine in the mineral processing industry, established in 35 years of experience

minerals
lead zinc oxide, copper oxide



Customer's request
Same one processing line to separate these different minerals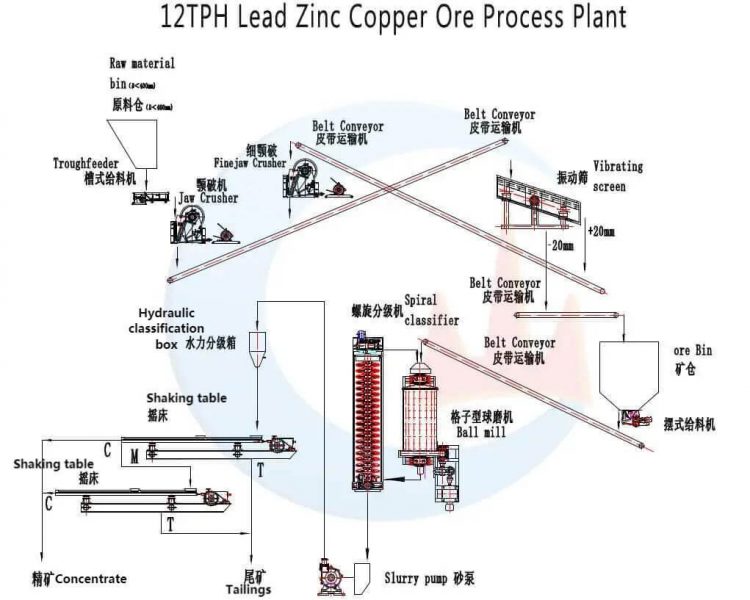 1. Crushing & Screening stage: jaw crusher, fine jaw crusher, vibrating screen
The raw materials are sent to the jaw crusher by the trough feeder for crushing. The crushed materials are conveyed by the belt conveyor to the vibrating screen for screening. The stone that meets the particle size is sent to the fine jaw crusher for secondary crushing.
2. Grinding stage: ball mill, spiral classifier
The copper ore material crushed by the crushing section enters the ball mill for grinding and pulverization, and the classifier can classify and screen the copper ore to release the required ore powder.
3. Gravity separation: shaking tables
Then, the middling of 1st stage shaking table will go to 2nd stage shaking table to concentrate again, it will get higher copper concentrate ore from the two shaking tables.
Mineral Processing Plant Solutions & Flow Design
Notes: in order to reduce the investment in the early stage of equipment, belt conveyors and hopper are made locally according to the site conditions.
Please fill out the contact form below to get the quotation price and engineer help.
We will response your request within 24 hours.
Notice:
We do not provide jobs, nor do we interested in investment or partnerships.
We provide equipment and mineral processing solution, we don't buy and sell mineral ores.

We value your privacy and keep your information safe.
Capacity: 1-200 TPH
It can wash and sieve ore material which contains sticky clay, mud.
All services in one place