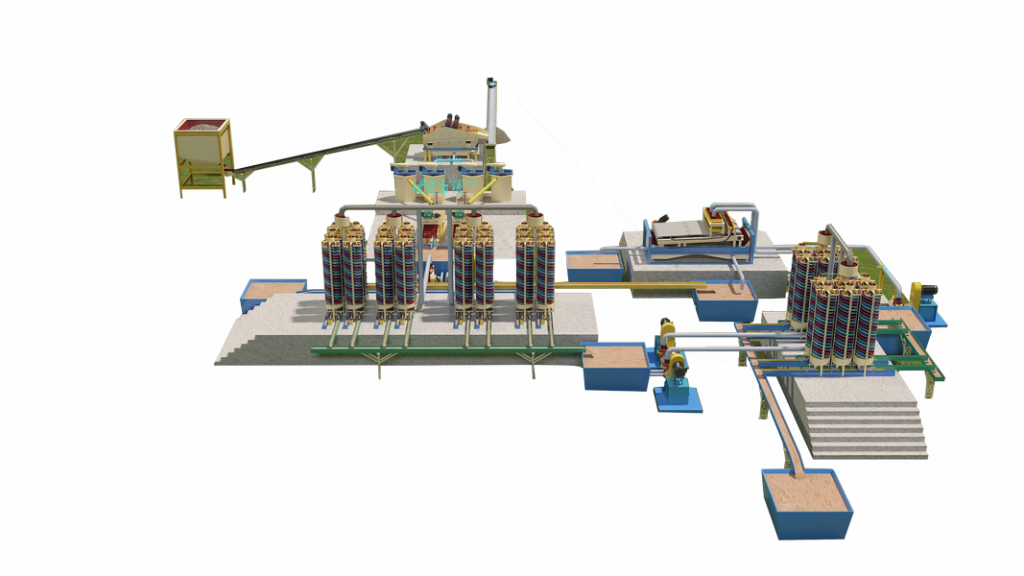 Silica Sand processing Plant
Silica sand or quartz sand, its main component is SiO2 and the content below 98.5% is called silica sand.
High-purity silica sand that meets the requirements is often obtained by mineral processing and purification, including washing and desliming, magnetic separation, gravity separation, flotation and other combined processes.
&nbsp silica sand beneficiation process
Silica sand beneficiation mainly includes crushing, washing, classifying, magnetic separation, flotation, etc,  to remove small or trace impurities in silica sand. We supports customized silica sand washing plant solutions according to mineral composition and customer requirements.
Crushing & Grinding: The original silica sand ore is crushed and ground into finer particles for better subsequent processing.
Washing: Remove impurities in silica sand, such as soil, clay and organic matter by trommel screen or trommel scrubber.
Classification: The washed silica sand is classified according to the particle size, and the silica sand particles in different particle size ranges are separated, and vibrating screens or classifiers are often used.
Magnetic separation: If there are magnetic impurities such as iron minerals in the silica sand, they can be removed by magnetic separation.
Flotation: The flotation process can be used for silica sand ore containing flotation impurities such as diatomaceous earth.
Concentrate treatment: During the beneficiation process, further fine treatment may be required to improve the purity and quality of the silica sand. It includes steps such as magnetic separation, gravity separation, electrical separation, etc.
Drying: Using a rotary dryer the silica sand is treated to remove moisture for subsequent processing and application.
&nbsp Silica sand Processing Plant
This setup is a 100tph silica sand washing plant, that includes screening, grinding, washing, gravity separation, magnetic separation and dewatering, main equipment and details as follows:
Trommel screen
Spiral washer
Spiral chute
Plate magnetic separator
Fine sand recycling machine
Raw ore information in this silica sand washing project is as follows:
1. Raw sand contains 5% clay
2. Maximum feeding size of raw sand is 20mm
3. Finished silica sand size the customer need is less than 2mm
4. Raw sand contains 1% Fe2O3, customer's requirement for removing Fe2O3 is less than 0.02%
5. Feeding capacity is 100 tons per hour
6. Over 2mm size proportion in raw sand is 20%
Flow details explanation: According to this raw sand information, JXSC engineer designed an efficient flowchart solution as follows:
1. Feeding & screening: The excavator or loader sends the raw sand into the raw material hopper, and the sand is evenly sent to the belt conveyor by the electromagnetic vibrating feeder and then sent to the trommel screen. The trommel and its hopper have a 2 mm screen opening.
2. Grinding: The material above 2mm enters a transfer bucket through the belt conveyor, is then evenly fed to the belt conveyor by the electromagnetic vibrating feeder, and enters the ball mill to be ground to below 2mm. A sand pump delivers The ball mill output to the trommel hopper.
3. Washing: The trommel screen smaller than 2mm flows to the spiral sand washing machine by gravity. Spiral sand washing has the function of washing clay and removing muddy water. The washed sand enters a trough and is then pumped to the first stage spiral chute by the sand pump.
4. Gravity separation: The spiral chute can separate heavy minerals from sandy iron and other minerals. The spiral chute produces three outputs: concentrate, medium ore and tailings. Middling may still contain some silica sand. The concentrate from the first-stage spiral chute is sent to the concentrate chute, and the medium ore enters the second-stage spiral chute through the sand pump for reprocessing.
5. Magnetic separation: All the concentrate in the two-stage spiral chute is sent to the plate magnetic separator with sand pump to further remove Fe2O3. During this step, the iron content will drop below 0.02%.
6. Fine sand recovery system: The output of the plate magnetic separator is sent to the fine sand recovery system through the sand pump, including cyclone, dewatering screen, belt conveyor, and slurry pump. The main function is fine sand recovery and dehydration. Tailings water is recycled and enters sedimentation tanks. The dry fine sand is transported to the stockpile by the belt conveyor. This is the finished silica sand.
Our silica sand processing plant has the advantages of high efficiency and processing capacity, low energy consumption and reasonable economy.
Please fill out the information below for the quotation price and engineer's help. We will reply asap!
Notice:
We do not provide jobs and no interest in investment or partnerships.
We provide equipment and mineral processing solutions; don't buy and sell mineral /ore /materials.

We value your privacy and keep your information safe.