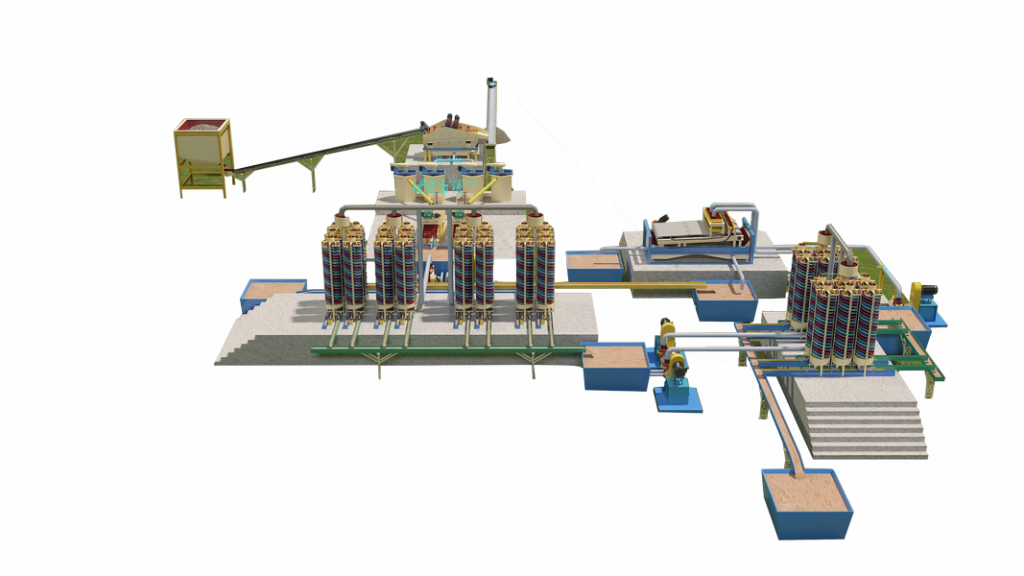 Silica Sand processing Plant
Recovery silica sand contains at least 95% SiO2 and less than 0.6% iron oxide, which meet the industry-standard requirements.
Scrubbing and removing clay from silica sand rock.
Separate the silica sand from other heavy materials.
Washing and clean water-soluble clays, deleterious materials and get a cleaner and brightness silica sand product.
Sizing and classification to get the particle size you want.
Silica sand, also known as quartz sand, white sand, or industrial sand, is formed with two main elements: silica and oxygen. Specifically, silica sand is made up of silicon dioxide (SiO2). Silica sand processing plant mainly includes: crushing, sand making, washing, grading, desliming, washing, magnetic separation, flotation, acid leaching and other processes to remove small or trace impurities in silica sand. Obtained high-purity silica sand can be used in glass, ceramics, construction, chemical and other industries.
According to different mining and processing methods, silica sand can be divided into artificial silica sand, water washed sand, scrubbed sand, selected (flotation) sand, etc. We can customize silica sand washing plants according to customer requirements, and provide EPC basis service.
Silica sand Processing Plant
The silica sand mining processing plant consists of screening, grinding, washing, gravity sepration, magnetic separation and dewatering. JXSC can supply complete flowsheets using its own equipment and that of partners. Our plant helps reduce energy consumption and emissions, improve water efficiency, supports circularity and is designed to offer market leading safe operation.
This setup is a 100tph silica sand washing plant:
Electromagnetic vibrating feeder
Trommel screen
Spiral washer
Spiral chute
Plate magnetic separator
Fine sand recycling machine
Raw ore information in this silica sand project is as follows:
1. Raw sand contains 5% clay
2. Maximum feeding size of raw sand is 20mm
3. Finished silica sand size the customer need is less than 2mm
4. Raw sand contains 1% Fe2O3, customer's requirement for removing Fe2O3 is less than 0.02%
5. Feeding capacity is 100 tons per hour
6. Over 2mm size proportion in raw sand is 20%
Flow Details Explanation: According to this raw sand information, the JXSC engineer designed an efficient flowchart solution as follows:
Excavator or loader send raw sand to the raw material hopper, through electromagnetic vibrating feeder evenly feed sand to belt conveyor, then to a trommel screen.
Trommel screen with its own hopper, it has a screen with 2mm hole size, screening out over 2mm and less than 2mm.
Over 2mm of trommel screen go to one transit hopper via belt conveyor, then through electromagnetic vibrating feeder evenly feed it to belt conveyor, then to ball mill for grinding to 2mm below. The output of the ball mill is sent to the trommel screen hopper with a sand pump.
Less than 2mm of trommel screen flow to the spiral sand washing machine by gravity. Spiral sand washing has the function of washing clay and removing mud water. The washed sand goes to one tank, and using a sand pump sends it to 1st stage spiral chute.
The function of a spiral chute can separate out heavy minerals from sand-like iron etc. The spiral chute generates three outputs: concentrate, middling, and tailing. Middlings may still contain some silica sand.
Concentrate of 1st stage spiral chute go to concentrate tank, middlings goes to 2nd stage spiral chute with sand pump for reprocessing.
All concentrations from two stages spiral chute is sent to plate magnetic separator with sand pump for further removing Fe2O3, at this step the iron content will be reduced to less than 0.02%
The output of the plate magnetic separator is sent to a fine sand recycling system with a sand pump. The fine sand recycling system includes hydrocyclone, dewatering screen, belt conveyor, and slurry pump. The function of the fine sand recycling system is recycling fine sand and dehydration and tailing water recycled use. The tailing water goes to the settling pond.
Dewatered fine sand will be transported to stockpile by belt conveyor. This is finished silica sand.
The whole process includes washing, gravity separation, and magnetic separation to make the finished silica sand clean and meet with customer's requirement for iron content. This silica sand processing plant has the advantages of high efficiency, low energy, high throughput, economical and reasonable.
Silica Sand Processing Equipment
Please fill out the contact form below to get the quotation price and engineer help.
We will response your request within 24 hours.
Notice:
We do not provide jobs, nor do we interested in investment or partnerships.
We provide equipment and mineral processing solution, we don't buy and sell mineral ores.

We value your privacy and keep your information safe.