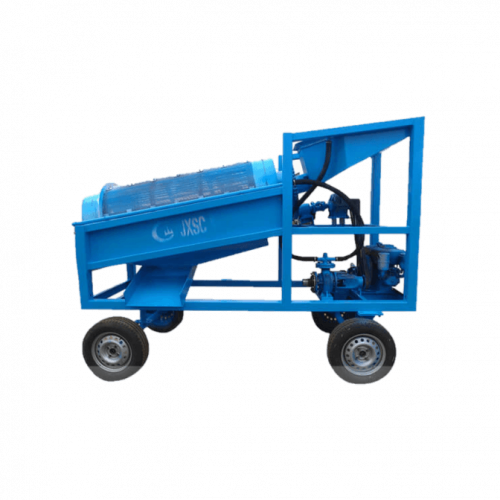 Capacity: 1-100TPH​
Feeding: <6mm
Feeding Density: 0-50%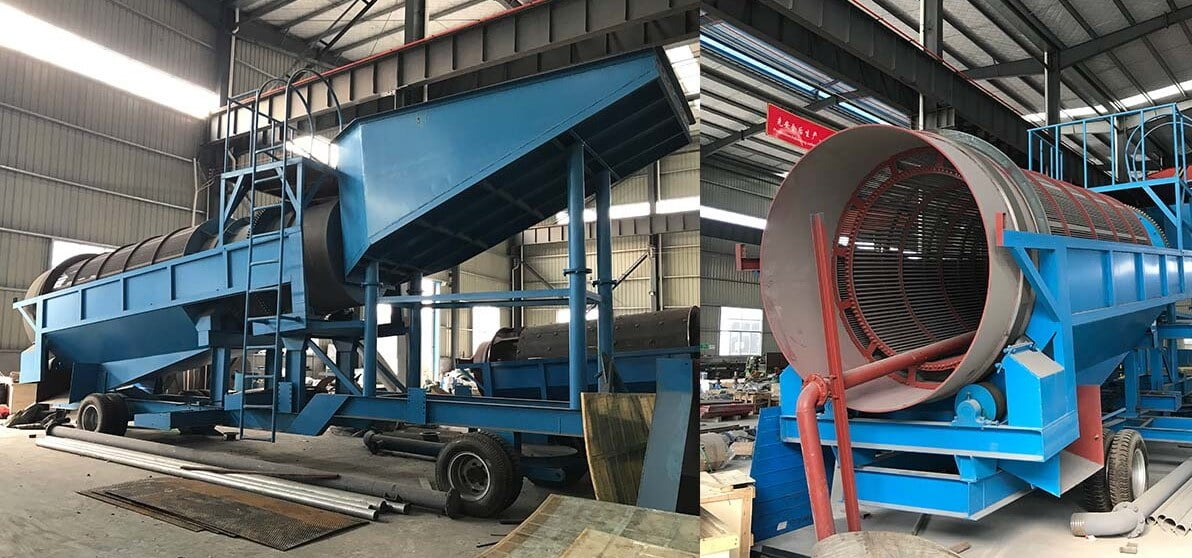 Trommel screens are one of the oldest screening devices, their structures are very simple but yet with high sorting accuracy and efficiency. So they are still widely used in China and many other countries.
Trommels can be made to deliver several sized products by using trommel screens in series from finest to coarsest such as the one shown; or using concentric trommels with the coarsest mesh being innermost.
Trommels remain widely used in some screening duties, including aggregate screening plants and the screening of mill discharge streams. They are also used for wet-scrubbing ores, such as Bauxite, alluvial gold, diamond ores and etc.
Trommels are installed on a small angle to the horizontal or use a series of internal baffles to transport material along with the cylinder.
When the feeding material enters the roller trommel, due to the tilt and rotation of the trommel, the material on the screen surface is turned and rolled, so that the qualified material (under-screen product) is discharged through the outlet at the bottom of the rear end of the roller, and the unqualified material (upper-screen product) is discharged through the discharge port at the rear of the trommel.
Trommels can handle material from 55 mm down to 6 mm, and even smaller sizes can be handled under wet screening conditions.
Although trommels are typically cheaper, vibration-free, and mechanically robust, they generally have lower capacities than vibrating screens since only part of the screen surface is in use at any one time.
Trommels remain widely and often work with the screening of mill discharge streams. Tumbling mill (AG, SAG, rod, and ball mills) discharge streams usually pass through a trommel screen attached to the mill outlet to prevent grinding media scats from reaching subsequent processing equipment, and the case of AG/SAG mills, to extract pebbles to send to crushing stage.
Professional Mineral Beneficiation Equipment, Solutions & Services
Talk with JXSC's mining experts to get more help, free to conslution!
Parameter
Structure
Main parts
Features
Parameter
Model
Capacity
Power
Drum diameter
Drum length
Screen size
Dimension
Weight
(t/h)
(kw)
(mm)
(mm)
(mm)
(mm)
(kg)
GT1015
10-15
4
1000
1500
<3~10
3000*1400*2145
2200
GT1020
15-25
5.5
1000
2000
3460*1400*2145
2800
GT1225
25-40
7.5
1200
2500
4146*1600*2680
4200
GT1530
60-80
11
1500
3000
4460*1900*2820
5100
GT1545
80-150
15
1500
4500
5960*1900*3080
6000
GT1848
150-200
22
1800
4800
6500*2300*4000
7500
GT2055
200-600
30
2000
5500
7500*2500*4000
8600
Structure
Main parts
Features
Please fill out the contact form below to get the quotation price and engineer help.
We will response your request within 24 hours.
Notice:
We provide equipment and mineral processing solution, we don't buy it.
We value your privacy and keep your infomation safety.
We do not provide jobs, nor do we interested in investment or partnerships.
More ways to get in touch with us.